BALLOON ANIMAL (USA 2020) **
Directed by Em Johnson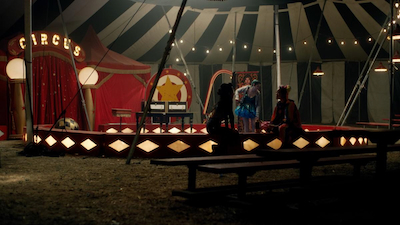 BALLON ANIMAL is a coming-of-age story of a 24-year old female balloon animal artist, Poppy (Katherine Waddell) who works closely with her father (Ilia Volok) in a circus environment. Her father is the boss of the Valentine Travelling circus.
Poppy Valentine, a young circus performer who has grown up in her family's traveling circus, begins dreaming of what life would be like outside of its fences. Now in her mid-20s and with more un-welcomed responsibility weighing her down, she is desperate to figure out if this life is for her. As she slowly begins to take time for herself, finding independence and even love, she strains her relationship with those around her in the tight-knit circus community. Amidst her overprotective father, stressful circus expectations, and a blossoming curiosity for a life of her own, Poppy must decide if the risk is worth leaving everything she's ever known behind.
A very simple story told simply - perhaps too simply. At one point in the film Poppy and her two girlfriends from the circus make it out together on a night of the town - the one they are performing at. At the local bar that they visit, one of them says: "this is pathetic, there are only about 4 people in here." The same can be said of the film. Though BALLOON ANIMAL is set in a circus environment, the amount of 'circus' shown is quite pathetic. There are no circus animals at all shown, no circus acts at all and believe it or not, not even a clown. One of Poppy's friends says she is an trapeze artist but not trapeze swings are shown at all. The other claims to be a kids clown. Again not clowns or clown costumes are seen. The only circus act shown is a sorry introduction the circus show that lasts some 3 minutes or so. There is one scene where Poppy sits in the empty seats of a ferris wheel. The excuse given in the film is that the season of the circus is over and that the perfjoamcne are therefore done. Will the audience fall for it?
Another unexplained situation is the difference in accent between Poppy and her father. Her father has a clear East European accent, which is unexplained at all, while Poppy speaks totally American.
Waddell is supposed to be a 24-year old, but she looks in her mid-30's. The Paris stylist of the film has her hair dyed in various colours from green to blue and other supposedly 'youthful' colours. Again, will the audience fall for it? The boy that Poppy's a fling with, a pimpled face skinny lad, looks so much younger than her. Despite the fact, Waddell tries her best to be convincing. Ih she, and all her friends are at the age of their characters, it can be safely said thatbtheyare doing a good job.
BALLOON ANIMAL is available on VOD on Friday, April 7, 2023 in North America on Amazon Prime Video, Vudu, Comcast/Xfinity, Charter, Cox and other viewing platforms.
Trailer:
OPERATION FORTUNE (RUSE DE GUERRE)(UK/USA 2022) ***
Directed by Guy Ritchie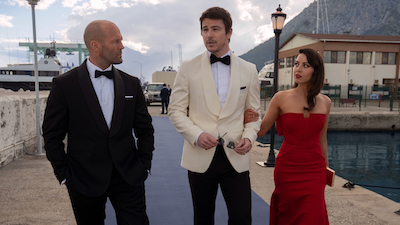 The new Guy Ritchie action comedy begins with a gang of Ukrainian mobsters stealing a device known as "The Handle"; it's worth estimated at billions of dollars. The British government person in charge (Eddie Marsan) hires Nathan Jasmine (Cary Elwes) to retrieve the Handle before billionaire arms dealer Greg Simmonds (Hugh Grant) can sell it to the highest bidder. Nathan hires super-spy Orson Fortune (Jason Statham) to lead a team made up of Sarah Fidel (Aubrey Plaza), JJ Davies (Bugzy Malone() and others. The team travel to Madrid, seeking the courier intended to transport the hard drive containing the data from the Handle. Their search is interrupted by a rival of Nathan's, Mike (Peter Ferdinando) who seems to have also been hired to retrieve the Handle. Sarah manages to copy the hard drive's contents first. Learning that Simmonds plans to host a charity gala in Cannes, the team decides to infiltrate it by blackmailing Simmonds' favourite movie star, Danny Francesco (Josh Haretnett), into helping them distract Simmonds. Simmonds encourages Danny to spend some time in his Turkish villa in Antalya. Orson infiltrates the Ukrainian mafia house to hack their computers, disguising it as a robbery. The British government warns Nathan that the Handle is an advanced AI that can be programmed to defeat any security system in the world. The story is by coincidentally timely, with the current banking crisis at hand.
OPERATION FORTUNE is typical Guy Ritchie and his fans should not be disappointed with what his new movie provides - which is more of the same in terms of stylized British crime action comedy. It also stars action Jason Statham who's collaborated with Ritchie many a time. If one wants to watch a serious crime caper auctioneer, the best of the best is THE SQUEEZE (1977) directed by Michele Apted. Director Ritchie has made his mark with his best film LOCK STOCK ANDTWO SMOKING BARRELS and his worst films like SHERLOCK HOLMES where he butchered the classic by swapping a mystery clue whodunit with fast editing action nonsense.
Fortunately, OPERATION FORTUNE falls in his spirit of LOCK STOCK AND TWO SMOKING BARRELS. The film contains exotic locations with filming shotgun Qatar and scenic Turkey. There is a car chase involving a vintage classic though the car chase which also involves helicopter is not really one to be remembered. There is sharp dialogue, expressive wardrobe worn by the stars as well as expensive set decor of the rich and wealthy. The characters that are equally flamboyant includes Danny, a Hollywood famous movie start and a billionaire arms dealer. So, there is plenty if opportunity for show. In fact, the film looks better that its $50 million budget spent on it.
OPERATION FORTUNE plays like Jason Statham as a Guy Ritchie type James Bond complete with tuxedo and suave fighting skills. The film is aided by spirited performances particularly by Plaza, Hartnett and Grant. Grant has been getting a lot of publicity for his 'rude' humour after the Academy Awards red carpet interview and his recent villain role in DUNGEONS AND DRAGONS. Aubrey Plaza is one of the most underrated actresses of the day, following her hardly seen comedy EMILY THE CRIMINAL. Gorgeous Hartnett surprises here with his stint at comedy.
OPERATION FORTUNE opens in Toronto April the7 th, though it has already opened internationally before the date.
Trailer:
OUT OF THE LOOP (USA 2023) ***
Directed by Michael Alexander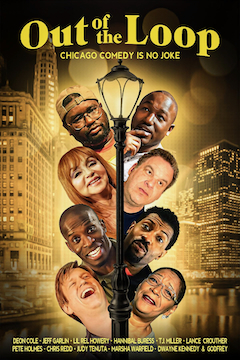 "Out of the Loop" is a 2022 documentary directed by Michael Alexander that focuses on stand-up comics in Chicago. The film features interviews with many lesser-known comics in the city, including Deon Cole, Hannibal Burris, Godfrey, Lil Rel Howery, Jeff Garlin, and the late Judy Tenuta. They share their experiences and stories about the trials and tribulations of starting their comedy careers in a polarized and segregated industry.
While the material may be somewhat limited, the documentary achieves its aim of providing an entertaining and informative look at the comedy scene in Chicago. Director Alexander poses basic questions to the comics, such as when they realized they wanted to become comedians, where they first performed, and what their influences are. These questions help put their experiences into perspective and highlight the challenges they face, especially for female comics of color who often face additional obstacles due to their race and gender.
Despite its focus on the entertainment industry, "Out of the Loop" also serves as an educational look at a different field. The documentary is interesting and funny, with comics telling jokes even during their interviews. After watching the film, viewers may be inspired to watch other comics, both famous and aspiring, to compare their standards and what makes a master comic.
"Out of the Loop" has a running time of 1 hour and 28 minutes and will be released on digital platforms by Gravitas Ventures on April 11, 2023. The documentary is not rated by the MPAA.
Trailer: https://drive.google.com/file/d/19cVmMgrTq2vLQhinGhWhurOnTaB3pBaC/view
SIMULANT (Canada 2022) ***
Directed by April Mullen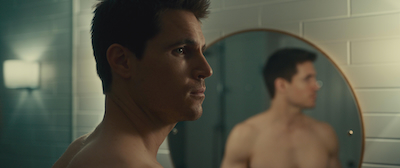 Director April Mullen raises a thought-provoking question about the consciousness of artificial intelligence in her new sci-fi thriller. Set in the future, the film features Faye (Jordan Brewster), a woman who activates her late husband's Simulant Evan (Robbie Amell), an android replica programmed with his memories, after a fatal car crash. Sims, which can dream and make love, are introduced in the story, stretching the limits of credibility. Faye struggles to love Sim Evan, but cannot bring herself to deactivate him. She seeks help from a programmer Casey (Simu Liu), who illegally hides Evan from authorities and helps him gain consciousness and become more human. Evan is determined to win back his wife's heart but must avoid capture by government agent Kessler (Sam Worthington), who oversees Simulant Compliance and the deactivation of dangerous and sentient Sims.
While the film's first act can be confusing due to the sudden introduction of characters like Casey and the coincidences of events, it eventually finds its footing. The story's surprises of revealing who is human or a sim can also be disorienting. The film contains a bit of action in segments where agent Kessler hunts down deviant Sims, who appear to have superhuman abilities. The audience is allowed to take either side, sympathizing with the Sims for their limited human qualities and desire for more powers such as overriding human commands. The Sims are controlled by four strict precepts, which are enforced and informed to the audience at the start of the film. If a sim disobeys a precept, it is known that the sim has been altered by Casey.
Director Mullen effectively utilizes the gritty landscape of Hamilton, Ontario, Canada, and its nearby rural lands to create the film's setting with some futuristic-looking alterations. The film contains elements of eeriness, a technical-styled score, fascination, and a futuristic art deco atmosphere, all essential to the success of a sci-fi film. Although not flawless, Simulant has the potential to engage audiences and spark discussions about artificial intelligence and its intersection with human consciousness.
Simulant opens on April 7th in theaters across Canada.
Trailer:
THE SUPER MARIO BROS. MOVIE (USA/Japan 2023) ****
Directed by Aaron Horwath and Michael Jelenic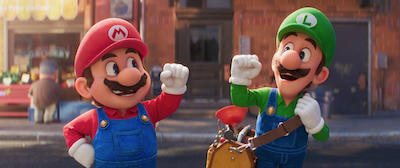 Live action adaptations have more often than not failed with horrid films. THE FLINTSTONES Warner ]Bros. Looney Tunes and The Marios Bros have seen similar fates. After the critical and commercial failure of the 1993 live-action Mario film, Nintendo became reluctant to license its intellectual properties for film adaptations. But surprisingly THE SUPER MARIO BROS MOVIE, a completely computer-animated adventure film based on the Nintendo's Mario video game franchise, with special appearance of Donkey Kong (Seth Rogen) is surprisingly inventive, hilarious and completely entertaining. The film has the feel of the Minion films as it was animated in the Illumination (The Minions) Universal Studio in Paris, France. Based on the Nintendo game, THE SUPER MARIO BROS. MOVIE is a U.S. and Japan co-production with a French touch.
The film combines both the elements of fantasy and reality. Being sucked by an oversized pipe in the underground sewers of Brooklyn Mario (Chris Pratt) finds himself in a colourful land filled with polka dot coloured mushrooms called the Mushroom Kingdom. The running joke is that Mario hates mushrooms. "Who does not like mushrooms?" screams Mario's dad at the dinner table. In reality the Marios Bros are "blue-collar guys", Italian-American plumbers from Brooklyn. There is also a little romance between Mario and the Princess Peach (Anya Taylor-Joy) from the Mushroom Kingdom, before Super Mario World 2: Yoshi's Island retconned them as lifelong residents of the world of the Mushroom Kingdom.
Entertaining the film is, but not necessarily for the whole family. Though basically a fairy tale fantasy complete with princess castle and all, there is one very dark and eerie scar sequin in which little children might have nightmares watching. This is when Luigi ends up in Darklands, pursued by monsters with large jaws as he jumps over flowing lava in the dark for his dear life. Another is the big fight segment, gladiator style between Mario and Donkey Kong.
Brian Tyler composed the score for the film, working closely with longtime Mario composer Koji Kondo to incorporate themes from the games within the film's score. The composition features an orchestra, choir and bands, as well as "Italian instruments, accordions, live drums, mandolins and whistling human voices. Songs from Jack Black and Keegan-Michael Key were improvised for the film. Donkey Kong is introduced in the film accompanied by the title theme music from Donkey Kong 64, the "DK Rap", composed by Grant Kirkhope.
The film works too largely because of its humour. Comedians Seth Rogen and Jack Black voice characters and tokens infections laugh can immediately be recognized. The humour is largely of the goofy sort that adults should also appreciate, with lots of references to the Nintendo game like the Italian stereotyped but still funny jokes, the jumping around and thereferences to the games like jumping over planks and pipes.
THE SUPER MARIO BROS. MOVIE has a Wednesday opening and is projected to earn at least $73–105 million domestically on its opening week.
Trailer: