FILM REVIEWS:
GOLDA (UK/USA 2022) ***
Directed by Guy Native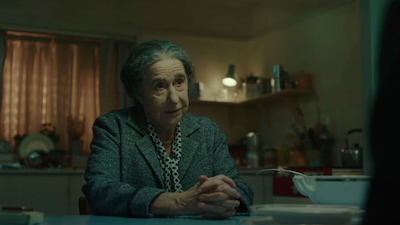 GOLDA is a 2022 biographical drama film directed by Guy Nattiv and written by Nicholas Martin. The film depicts the life of Golda Meir (Helen Mirren), Prime Minister of Israel, particularly during the Yom Kippur War.
The film begins in 1967 with the 6-day war. Six memorable days, known to Israelis as the Six-Day War and to Arabs and others as the 1967 War, redrew the region's landscape in fundamental ways. In those six days, Israel defeated three Arab armies, gained territory four times its original size, and became the preeminent military power in the region. The scene shifts to 1973 when a smoking sullen elderly lady immediately recognizable as Madame Prime Minister Gold Meir, exits her car and faces an enquiry. She has to answer questions to determine of she was guilty for any mis-doings during the disastrous Yom Kippur War,
The first observable fact is the incredible make-up done to have Academy Award Winner Helen Mirren (THE QUEEN) look so much like GOLDA. With Mirren's dead seriousness in her portrayal, (though Mirren had been criticized for the role - she not being Jewish; which she conceded the fact but argued that she had had talks with the director) one can automatically expect another Academy Award winning performance.
Another way in history house also be noted - the Yom Kippur War, also called the October War, the Ramadan War, the Arab-Israeli war of October 1973, or the Fourth Arab-Israeli War, fourth of the Arab-Israeli wars, which was initiated by Egypt and Syria on October 6, 1973, on the Jewish holy day of Yom Kippur. It also occurred during Ramadan, the sacred month of fasting in Islam, and it lasted until October 26, 1973. The war, which eventually drew both the United States and the Soviet Union into indirect confrontation in defense of their respective allies, was launched with the diplomatic aim of persuading a chastened—if still undefeated—Israel to negotiate on terms more favourable to the Arab countries.
As the film is mainly set during the Yom Kippur war that Israel lost and was unprepared for, the film depicts a terrible, depressing and desperate time for Israel. As such, it is hardly a film that would get the audience all excited. The audience sees how the loss came about. What is interesting to see from the film, which is seldom depicted in any other war film, is how much preparation, intelligence and guessing goes into the planning and execution of battle plans. The film reaches a few highs when Golda makes her points, like the Iron Lady of Israel wielding her iron arm. Still, history shows Madame Prime Minister having to face the consequences of a lost war with more casualties than the Arabs due to unpreparedness and the wrong decision to immobilize on the most Holy Day of the Jews when the attack began.
The film, a little uneven though a compelling watch largely due to Mirren's performance, unfortunately opts for a cop-out glossy happy ending that puts GOLDA up on a pedestal without any faults, going against the flow of the other parts of the film.
GOLDA received its world premiere at the 2023 Berlin International Film Festival on February 20, 2023 with mixed reviews. It is scheduled to be released in the United States on August 25, 2023.
Trailer:
KILLER BOOK CLUB (El Club de los Lectores Criminales)(Spain 2023) ***
Directed by Carlos Alonso Ajea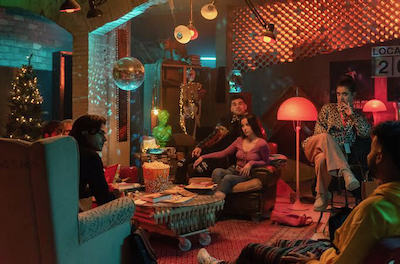 KILLER BOOK CLUB opens with several open incidents that can take the film - touted as a mystery, thriller and horror many ways, thus allowing the film more opportunity to entertain.
The Killer Book Club is a university book club that has 8 members, one of which is not an undergraduate student. The members or students are taking a course of writing.
The 8 students are introduced in an early scene, right after a woman is shown burnt along with lots of papers on the floor (quite a chilling scene), as they walk to class. The 8 members are the main protagonist Angela, followed by Sara, Nando, Rai, Cold, Eva, Semis and Virginia. Angela has already written a successful novel, has a current writer's block and is planning a second book.
One can argue that the number of 8 could be too few or too many. Too few for the reason that a book club might normally be bigger and contain more members or too many as the film' story has to have the audience remember 8 different characters. To the film's credit, the 8 are made to look radically different, from the hairstyles or colours or other means.
The film then moves to videos online of clown pranks. The club discusses clown horror and one brings up the term coulrophobia - the fear of clowns. The term actually exists if one is to Google it, surprisingly. Coulrophobia is a rare phobia that makes a person afraid of clowns, making it stressful to see, imagine, or interact with them. While many people know that it exists, most link it to small children — yet, it is also common in adults. Believe it or not, experts suggest that about 1 in 100 children have a fear of clowns. Others estimate that the number is closer to 1 in 10 when it comes to adults. It is also reported that films like IT and JOKER have propagated this type of phobia.
The film moves on to another scene where Angela is asked into a well respected professor's office. Angela is seeking advice but is sexually assaulted by the professor. She is warned by the professor not to report it and she doesn't The case of female sexual abuse comes into the picture. "Why does she not report it?' a male club member asks. The answer comes from a female that a female cannot report it as she would be seen as an opportunistic student.
But the film's storyline is: Eight horror-loving friends fight for their lives when a killer clown who seems to know the grim secret they share begins to pick them off, one by one.
The film moves fast, is entertaining enough, especially for teenage horror fans and has a script that manoeuvres well enough to create suspense and mystery. Though no horror masterpiece, KILLER BOOK CLUB is entertaining enough as a guilty no-brainer pleasure. And a good combination between horror and whodunit, Agatha Christie's TEN LITTLE INDIANS style. The film opens for streaming on Netflix, a Netflix original Spanish horror movie on August the 25th.
Trailer:
YOU ARE SO NOT INVITED TO MY BAR MITZVAH (USA 2023) ***
Directed by Sammy Cohen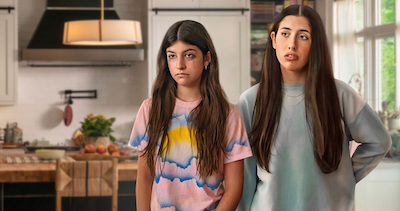 YOU ARE SO NOT INVITED TO MY BAR MITZVAH is an American comedy drama film directed by Sammi Cohen from a screenplay by Alison Peck, and produced by Adam Sandler. It is based on the 2005 young adult novel of the same name and tells the story of two best friends whose bar mitzvah plans get affected by a popular boy that they fight for the attention of.
A successful star understandably wants his children to be just as successful in business as himself - especially in a business like show business where a star can pull many strings. Will Smith has put his sons in many films and in this film, as in the past, though not as visibly, Adam Sandler has done the same. Sandler's two daughters Sunny and Sadie Sandler play two sisters in this film ,just as Adam Sandler plays the part of their father.
The film follows the safe track that introduces the story's characters before going into the daughter's bar mitzvah. Stacy Friedman and Lydia Rodriguez Katz are best friends who have always dreamed about having epic bat mitzvahs, but things start to go comically awry when a popular boy, Andy and middle school drama threatens their friendship and their rite of passage. As expected, the daughter learns about life in the coming-of-age rites of passage story, but not through the Bar Mitzvah but through connected circumstances. The comedy drama that results is short of not only the comedy element but the drama. The teenagers in the audience and with parents would be able to better appreciate this film, especially if one is Jewish since the film follows Jewish family, though the script tries to stay away from Jewish jokes and the stereotyped Jewish family.
"Mum and dad do not get it. And that is why my Bar Mitzvah is going to suck,"complains Tracy at one point in the film. The same can be applied to this supposedly funny comedy on Jewish mores. The audience might get all the perks, frustrations and intricacies of bar mitzvahs and the film is going to suck for many. It is difficult to sit through a film about teenagers and Bar Mitzvahs unless one has similar experiences. But Sandler, director Cohen all try their best to make everything work, especially making the film more accessible to non-Jewish audiences. The bar mitzvahs are glamourized with star DJs and with a solid teenage playlist. The teen problems of jealousy, infatuation and parent relationships - universal problems faced by all races are highlighted.
YOU ARE SO NOT INVITED TO MY BAR MITZVAH marks yet another collaboration between Sandler and Netflix, that began with his first original film for Netflix THE RIDICULOUS 6. It was downright awful but despite being universally panned by critics, the film had been viewed more times in 30 days than any other movie in Netflix history. His more successful ones are the serious ones UNCUT GEMS and HUSTLE, though one must give the comedian credit for the MURDER MYSTERY films which he starred with Jennifer Aniston.
YOU ARE SO NOT INVITED TO MY BAR MITZVAH is amusing and succeeds as standard Adam Sandler fare.
Trailer: