FILM REVIEWS:
ALL MAN: THE INTERNATIONAL MALE STORY (USA 2022) *
Directed by Bryan Darling and Jesse Finley Reed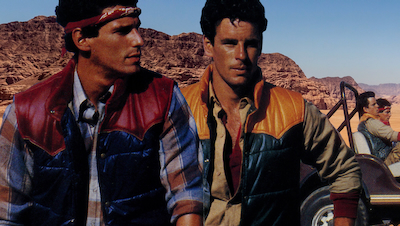 This eye-popping doc follows the catalog of the brand International Male. International Mal was a mail-order clothing brand and, at one point in the brand's history, carried brick-and-mortar stores of the same name. The company that created and owns the brand, originally Brawn of California, started in 1974–1975, has since been sold in its entirety in 1987 to Hanover Direct, based in New Jersey.
Directed by Bryan Darling and Jesse Finley Reed, the doc delivers a dynamic, sexy, behind-the-scenes look at the creation of the iconic International Male catalog, which changed the way men looked at themselves.
The catalog once spun off into a separate catalog, Undergear, which focused exclusively on men's underwear, swimwear, and some casual wear. The last mailed catalog of International Male was published in 2007. The brands are both available via their own websites, but the International Male site is now defunct and redirects to the Undergear site.
As of 2009, Hanover Direct consolidated these two product platforms under the Undergear label. Undergear is now the sole catalog and web site and incorporates the non-underwear items that would earlier have been in the International Male catalog-website. The selection of non-underwear clothing is quite limited in comparison to the former years (when International Male was its own separate catalog and website containing many items of clothing besides underwear and swimwear). Over the years, many famous models and actors have posed for the catalog, such as Shemar Moore, Cameron Mathison, Charles Dera, Christian Boeving, David Chokachi, Gregg Avedon, Reichen Lehmkuhl, Rusty Joiner, Brandon Marcel and Scott King. It took more than a decade and a half for this doc to be made. Not that it has run into problems for being made, not that the doc is the doc of all docs or even an excellent one but it is a passable one, the delay should have been mentioned itself in this documentary.
The company was founded by Gene Burkard, a once-closeted Midwesterner and GI, found freedom in San Diego, where he transformed men's fashion into something cosmopolitan, carefree, and trend-setting. International Male reached gay and straight customers alike as it redefined images of masculinity in American culture, generating revenue and circulation in the millions. Burkard, who participated in the documentary, died in 2020 during post-production.
ALL MAN is mostly man candy and an absolute delight for the gay male. The doc does not break new barriers but provides some invaluable insight but it is extremely fun to watch and go goo-goo eyes at all the handsome models on display.
But there is always a little downside to every success story. For International Male, a big challenge arose during the AIDs epidemic, where gay people were dropping like flies. The magazine lost a lot of talent and family. Another downwards trend was the magazine being sold to a bigger catalog company. The last mailed catalog of International Male was published in 2007. The brands are both available via their own websites, but the International Male site is now defunct and redirects to the Underwear site.
ALL MAN: THE INTERNATIONAL MALE STORY premiered at the Tribeca Festival and Outfest Official Selection and arrives on digital platforms June 6.
Trailer:
A BEAUTIFUL LIFE (Denmark 2023) ***
Directed by Mehdi Avaz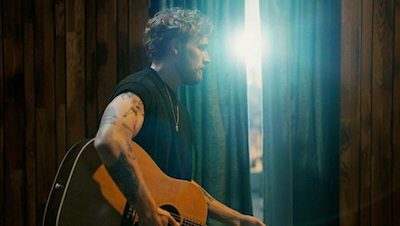 A BEAUTIFUL LIFE begins with a man, Elliot (Christopher) getting up shirtless ninth morning from his boat, which is taken to be his living quarters. The film follows him to work where he crushes ice for the fish and earns a decent wage for what looks like hard work Elliot is shown to be a decent chap. In short, he is a drunk fisherman but he can sing and write songs. He says away from gambling away his wages and meets a friend at a bar where they are supposed to perform,
Elliott, a young fisherman with an extraordinary voice, gets the chance of a lifetime when he is discovered by the successful high-profile music manager, Suzanne. Suzanne soon pairs Elliott with her estranged daughter and music producer, Lily. On his way to becoming a star, struggles from the past threaten not only his big breakthrough, but also the budding love with Lily.
A BEAUTIFUL LIFE is described as a romantic comedy. Rom coms are a dime a dozen these days, churned out with ho end in sight from not only Hollywood but from other countries as well. They usually are cliche-ridden following the formula of the harlequin books with the couple coming together at the end after some silly obstacle they'd to overcome on the way. A beautiful LIFE is a rom com that stands out by being different from the crowd. Director Stefan Jaworski's script spends a fair amount of time on the story's characters so that the audience can associate and sympathize with the protagonist. The actors playing the leads deliver solid credible performances that create real drama thus intensifying the story. This is instead of providing silly comedic set pieces which are nothing more than a bore half the time.
The film's best moment is when Elliot opens his mouth to sing for the first time on stage. Not only are the patrons at the bar mesmerized but so is the audience of the film. Elliot's voice and song isa show-stopper in the very sense of the word.
A BEAUTIFUL LIFE, shot in Danish and filmed in Copenhagen is available Netflix June the 1st, 2023.
Trailer:
THE BOOGIEMAN (USA 2023) **
Directed by Rob Savage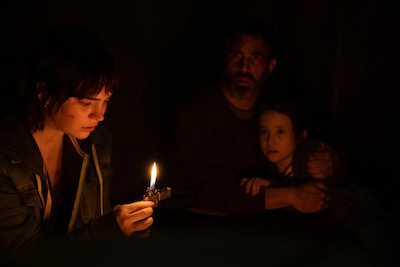 After a troubled production that involved cancellation in production due to Disney takeover of Fox and of course the pandemic, British director Rob Savage eventually takes over the director reigns in what is a muddled and generally boring piece of Stephen King horror (based on his short story) that fails to identify the origin, nature, looks and weaknesses of this monster called THE BOOGIEMAN. Somehow, the victims discover that the monster is afraid of the dark, but not really as the film shows that it is more scared of fire. Which animal isn't?
` THE BOOGIEMAN is an upcoming American supernatural horror film directed by Rob Savage from a screenplay by Scott Beck, Bryan Woods and Mark Heyman and a screen story by Beck and Woods, based on the 1973 short story of the same name by Stephen King. The film stars Sophie Thatcher, Chris Messina, Vivien Lyra Blair and David Dastmalchian.
THE BOOGIEMAN begins with a disturbed Lester Billings (David Dastmalchian) forcefully letting himself into therapist Will Harper's (Chris Messina) house for treatment, It is revealed that he is the prime suspect for the death of his children. The session ends with Billings hanging himself in Will's home. Will himself has two children, high school student Sadie Harper (Sophie Thatcher) and her little sister Sawyer (Vivien Lyra Blair) who are still reeling from the recent death of their mother. Devastated by his own pain, their father Will, gives them neither the support nor the affection that they try to claim from him. Billings brings in a terrifying entity, THE BOOGIEMAN that preys on the family and feeds on their greatest suffering.
In Stephen King's 1973 short story THE BOOGIEMAN, the story follows Lester Billings and the death of his children.The film changes the story totally, with THE BOOGIEMAN after Will's family. The original story is much scarier and the modified story in the film is senseless and there is no reason for THE BOOGIEMAN which follows families in distress to follow Will's and not another distressed family. Sadie's conquest over the monster is also utterly silly.
The film is filled with the usual jump in the dark horror scares that are are annoying than scary. The film ends up a rehash of the familiar dime a dozen horror slasher/monster movies.
Chis Messina is the most well known of the cast. Messina has proved his acting chops as the suave and all dressed lawyer in I CARE A LOT. He plays the father in this film, dishevelled and seemingly unable to look f after his two daughters.
THE BOOGEYMAN is 89 minutes of a slow burn which leads eventually to the destruction of the monster by the protagonist heroine , who in this case is a young preteen student. There are so many loose ends that it appears that the filmmakers and even King seem to be making it up mat the story goes on, The film opens May the 26th and it's best to avoid this one , together with the big box-force duds like FAST X and THE LITTLE MERMAID.
Trailer
THE FIRST STEP (USA 2021) ***1/2
Directed by Brandon Kramer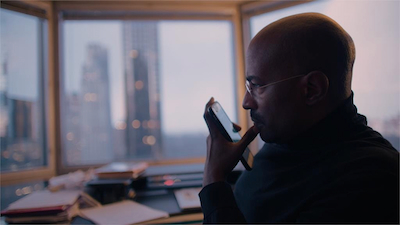 THE FIRST STEP is an angry but important documentary that needs to be made and seen. THE FIRST STEP is a doc on prison reform with the title referring to the importance of the first step that needs to be taken. Prison reform is so important for a variety of reasons. One is that it is a human rights issue. People serving time are also human beings. Secondly, prison reform affects everyone as almost everyone would have a relative or know a friend or acquaintance that has served time in jail.
In a divided America, Van Jones controversially works across party lines on landmark criminal justice reform and a more humane response to America's addiction crisis. Attempting to be a bridge builder in a time of extreme polarization takes him deep into the inner workings of a divisive administration, internal debates within both parties, and the lives of frontline activists fighting for their communities. The doc opens in 2016 when Trump has just been elected President.
Facing fierce opposition from both political parties in a climate where bipartisanship has become a dirty word, Jones and his team enlist the support of justice-impacted individuals, faith leaders, grassroots activists and cultural figures — including Kim Kardashian — to pass legislation that would fix some broken aspects of the justice system and bring thousands of incarcerated people home early. The bill's champions immediately find themselves navigating a high-stakes game of political chess in Washington, D.C. Their quest brings them face-to-face with progressive champions like Congressman Hakeem Jeffries, U.S. Senators Kamala Harris and Bernie Sanders, as well as conservative figures like U.S. Senator Rand Paul, Kellyanne Conway, Jared Kushner — and ultimately, Donald Trump himself.
While trying to pass a bipartisan bill through a deeply polarized Congress, Jones is condemned by the right for his progressive beliefs — and by the left for working with conservatives. This is a losing battle if ever there was one. No side can ever be satisfied. And no side appears willing to compromise. The film reveals an intimate portrait of an activist's isolation and internal struggles, what it takes to make change in a divided nation, and everyday people in both political parties drawn into a historic fight for freedom and justice.
Bringing the topic of prison reform to home in Toronto, Toronto boasts a new $594 million superjail opened in 2015 that contains a fresh air room and flat screen TVs. But if one speaks to an inmate in the new facility, he makes the valid complaint that there is nowhere inside that one gets to see the sun or the open sky. Inmates have the most valid says. In THE FIRST STEP, Van Jones spends time talking to inmates to hear their points of view.
It is also intriguing to learn that Van Jones as a child lisps and could not speak properly. But he is taught that if one puts one's entire life into something, that one will succeed. The film also takes pains to emphasize the frustrations than Jones undergoes in his thankless task of prison reform - which is indeed inspiring.
THE FIRST STEP, a doc on prison reform and the fight for prison reform that is as informative as it is urgent is one that should be seen. Canada VOD Release is on June 6
Trailer:
LOVE GETS A ROOM (UK/Spain 2019) **
Directed by Rodrigo Cortés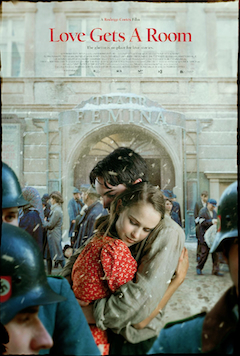 The beginning credits emphasize the fact that what follows is a true story or at least based on true events. The titles indicate the setting as the January of 1942 in Warsaw, Poland. The audience is told that in a narrow ghetto 40,0000 Jews are confined by the Nazis in the middle of the city. No one can leave or enter the perimeter, which are guarded by German troops. Outside, the audience is informed, life goes on but inside, people die of illness, hunger and the cold. But amidst all this, the audience is to believe that art goes on. Inside, and cut off from the outside world by a towering wall, LOVE GETS A ROOM follows Stefcia and her fellow Jewish theatre actors as they fight to keep their passion for performing alive.
As life in the Nazi-occupied ghetto becomes a fierce fight against cold, hunger, and epidemics, the actors, against all odds, embark on a daring mission to stage Jerzy Jurandot's play, risking their lives to create something beautiful in a world of chaos and destruction.
Written and directed by visionary filmmaker Rodrigo Cortés, the film takes the audience on an emotional journey back to the tumultuous time of World War II. With what the press notes describe as masterful direction and outstanding performances, LOVE GETS A ROOM attempts to provide a poignant exploration of the power of love, hope, and sacrifice in the face of unimaginable adversity.
LOVE GETS A ROOM is a prime example of a film that tries too hard and relies on past films on theatre to make important points - a fact that fails as audiences are often familiar with war time theatre films, such as the famous Francois Truffaut's 1980 masterpiece LE DERNIER METRO (THE LAST metro) being the best of the lot. Director Cortés uses the all too often used tactic of the play mirroring the true events the actors are facing. In the play, the main lead is torn between two overs, just as in the main story, Stefcia is torn between two lovers. She has to decide who to go with - to escape with the one who loves her who she does not love anymore, or stay with the one she loves. And she has a little daughter to compact matters, The worst of the film's flaws is the use of cheap theatrics to make a point. In the film, the flaw occurs with a German entering the theatre amidst a performance firing a rifle many times and making lots of noise and drama to make a silly point. The German wishes to dispose of a resistance fighter that has nothing to do with the characters of the story.
LOVE GETS A ROOM is based on true events during Nazi occupied Poland and Is rich with period atmosphere. But this well-intentioned retelling of Jewish history is marred by cheap theatrics, sappiness and cliche-ridden tricks of at theatre within a theatre setting.
LOVE GETS A ROOM finally gets a release, finally gets a VOD release on Friday, June 30, 2023.
Trailer:
MIXED BY ERRY (Italy 2023) ****
Directed by Sydney Sibilia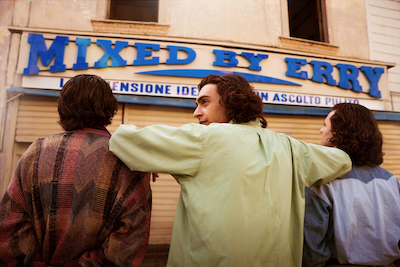 MIXED BY ERRY (Erry is short for Enrico) tells the story of Enrico Frattasio, known as Enrico or DJ Erry, who in the 1980s created a business, and an empire, thanks to the counterfeit cassettes sold throughout Italy and subsequently also internationally.
The brand was called 'mixed by Erry. The [irating business got so popular that even this brand was pirated. How is that for a compliment for the Frattasio Brothers? Thanks to Netflix for bringing this Italian film to North American audiences, the film premiering this week June the 2nd on Netflix. Without Netflix, this gem of a film would have never been seen. MIXED BY ERRY is a charming true story of the Fratasio Brothers, humorously told and surprisingly accurate and entertaining due to the songs on display complete with mafia intrigue and some romance told Italian style.
The film begins with the arrest of Enrico Frattasio in Italy in 1991. The beginning credits in bold letters, ensure that the audience realizes that the film is based on a true story. As Enrico is shown the squalid jail quarters, he is told that he is rich, as the money he makes is stored under concrete for 10 years. The film then goes back several times to the years 1976, 1985 and then the 90's to reveal the story of Enrico and his mixtape empire.
Enrico, Peppe and Angelo Frattasio are three brothers from Forcella , a district of Naples , who live in very modest conditions in 1976: their father Pasquale smuggles tea for a living, passing it off as whisky, put in Jack Daniel bottles. Enrico has a passion for the world of music and would like to be a DJ, but his lack of good looks and shy nature prevent him from even trying; the boy consoles himself by mixing compilations for friends and clients, using the recorders of the appliance store where he works.
Thanks to the connections of Angelo, who ended up in prison for a fight, the two brothers decide to extend the turnover: at first they have to contend with criminals from outside the EU who would like to prevent their activity, but soon, also thanks to the acquaintances of Angelo in the criminal undergrowth, they will have the upper hand. In a short time, the Frattasios set up numerous laboratories in which they will mix thousands of audio cassettes, which they will then sell throughout Italy by exploiting the black market.
There is much more in the story but it leads up to Mixed By Erry becoming the first record label in Italy for revenues.
The songs used in the film at various periods are accurate enough. For music enthusiasts, there is such nostalgia that comes off screen from the mixing and opting machines together with the wonderful songs of the times. At times, the film feels like the old Italian comedies of the 70's.
The film also proves the saying that if there is a will there's a way. The Frattasion Brothers succeed after overcoming one obstacle after another. Ironically, the last one is the currency changing to the Euro when their money stored becomes worthless.
Trailer:
SAM NOW (USA 2022) ***
Directed by Reed Harkness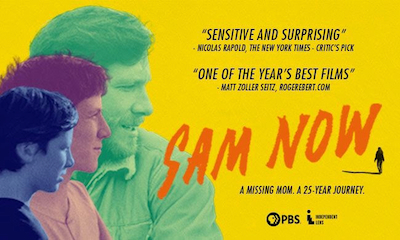 Filmed over 25 years, the film follows filmmaker Reed Harkness and his brother Sam as they embark on a 2,000-mile road trip in search of Sam's missing mother. Because of his mother's absence, the film witnesses the effects of Sam's trauma in his interpersonal relationships, both in adolescence and adulthood. The film also explores themes of intergenerational trauma, mental health, and coming of age through a unique hybrid narrative approach.
The documentary traces Sam's life from the age of 10 to 31. Sam and Reid come from the same father and different mothers, Sam from the father's second wife. Since the age of 11, Reed at age 16 then, has been filming his brother in a series of home movies. The home movies are shown in black and white, mostly filmed for fun, as most home movies are. Sam is shown to be an energetic kid, loving to pretend to fall down and often wears a super action hero suit to become the Purple Panther.
One day in 2000, Sam's mother, Jois disappears, leaving Seattle without a note or explanation. Reed convinces Sam and they decide to make a movie on finding Jos. Tracking cryptic clues of her whereabouts years later, Sam and his half brother head out on a West Coast road trip to try and find her. But solving the mystery of her disappearance is only the beginning of their story.
SAM NOW is simply a delightful and playful documentary made up of home made movies but turning really into a mystery dealing with coming-of-age issues as well as discovering one's identity. Totally entertaining and a celebration of what life has to offer. SAM NOW premiered at last year's HOT DOCS 2022 and launches video on demand June the 6th on various platforms including iTunes and Amazon.
Trailer:
SPIDER-MAN: ACROSS THE SPIDER-VERSE (USA 2023) ***
Directed by Joaquim Dos Santos, Kemp Powers and Justin K. Thompson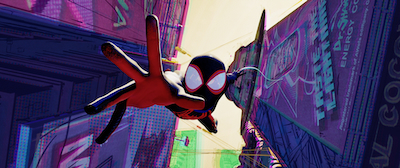 The new Sony animated super action-hero Spider-Man movie SPIDER-MAN: ACROSS THE SPIDER-VERSE is a 2023 American computer-animated superhero film featuring the Marvel Comics character Miles Morales / Spider-Man. It is the sequel to Spider-Man: Into the Spider-Verse (2018) and is set in a shared multiverse of alternate universes called the "Spider-Verse". v The film is directed by Joaquim Dos Santos, Kemp Powers, and Justin K. Thompson (in their feature directorial debuts) from a screenplay written by Phil Lord, Christopher Miller, and David Callaham. Shameik. The new Spider-Man meets a new team of Spider-People, known as the Spider-Society, led by Miguel O' Hara / Spider-Man 2099, but comes into conflict with them over handling a new threat.
The sequel to SPIDER-MAN: ACROSS THE SPIDER-VERSE, INTO THE SPIDER-VERSE (which won the Oscar for Best Animated Feature in 2018) requires a bit of recall of the first film. In the first film, Spider-Man is killed with a new one taken on by a black kid, Miles Morales (Shameik Moore). To re-cap. New York City teenager Miles Morales struggles to live up to the expectations of his father, police officer Jefferson Davis (Bryan Tyree Henry), who sees Spider-Man as a menace. Miles adjusts to prep school, and visits his uncle Aaron Davis, who takes him to an abandoned subway station to paint graffiti. Miles is bitten by a radioactive spider and gains spider-like abilities similar to Spider-Man. Returning to the station, Miles discovers a collider built by Wilson Fisk, who hopes to access parallel universes to bring back his late wife and son, whose deaths he blames on Spider-Man. Miles watches as Spider-Man attempts to disable the collider while fighting Wilson's henchmen, Green Goblin and the Prowler. Spider-Man saves Miles, but Green Goblin shoves Spider-Man into the collider, causing an explosion that kills Goblin and wounds Spider-Man. Spider-Man gives Miles a USB flash drive designed to disable the collider, warning that the machine could destroy the city if reactivated. After watching in horror as Wilson kills Spider-Man, Miles flees with Prowler in pursuit, eventually getting away from him. As the city mourns Spider-Man's death, Miles tries to honour his legacy and become the new Spider-Man. This is where ACROSS THE SPIDER-VERSE, the sequel begins. The film ends with " ….to be continued" and the sequel to be released in 2024 "BEYOND THE SPIDER-VERSE".
Over a year after the events of Spider-Man: Into the Spider-Verse (2018), Miles Morales is unexpectedly approached by his love interest Gwen Stacy (Hailee Steinfeld) to complete a mission to save every universe of Spider-People from the Spot (Jason Schwartzman), who could cause a catastrophic disaster. Miles is up for the challenge, where he and Gwen journey through the Multiverse together and meet its protectors, a group of Spider-People known as the Spider-Society, led by Miguel O'Hara (Oscar Isaac). However, Miles finds himself at odds with Miguel and the Spider-Society on how to handle the threat and must redefine what it means to be a hero so that he can save the people he loves.
Too many Spider-Men that includes an Indian one.
The animation is nothing short of stunning with a different animated look designed for each alternate Spider-Verse. There is a lot that is happening on screen, often too much for any one to absorb, propping one to perhaps view the film repeatedly. Sacrificed however, is the story, though present, takes second importance to the animation. The film feels like FAST X and JOHN WICK CHAPTER 4 where the story is sacrificed for expensive special effects and in the case of this film, more experimental animation. It would not be surprising that many an audience would have no clue as to what is going on. But see it for the animation!
SPIDER-MAN: ACROSS THE SPIDER-VERSE is scheduled to be theatrically released in the United States on June 2, 2023, in premium large formats and IMAX.[42] Internationally, it is being released on dates ranging from May 31, 2023 to June 22, 2023.
Trailer: