CREED III (USA 2023) ***½
Directed by Michael B. Jordan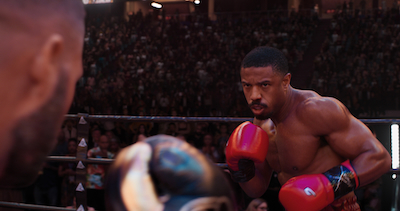 CREED III is a sports drama film directed by and starring Michael B. Jordan (in his feature directorial debut) from a screenplay by Keenan Coogler and Zach Baylin. The film is the sequel to Creed II (2018), the third in the Creed series, and the overall ninth installment in the Rocky film series.
After the events of Creed II (2018), Adonis "Donnie" Creed (Jordan) is thriving in both his boxing career and family life. When a childhood friend and former boxing prodigy, Damian "Dame" Anderson (Jonathan Majors), resurfaces after serving a long sentence in prison, he is eager to prove that he deserves his shot in the ring. The face-off between former friends is more than just a fight. To settle the score, Donnie must put his future on the line to battle Dame – a fighter who has nothing to lose.
The story offers no real surprises in terms of clearing any cliched territory.  There is the argument between fighter and his wife, the care for their daughter (here a deaf/mute one); the enmity between the fighter and former friend now turned foe; the hard training; the climactic fight at the end where the underdog must win and the list goes on.
Jonathan Majors steals the show as the villain of the piece.  As he had proved in the recent QUANTUMANIA: ANT-MAN and WASP. Majors proves himself a superb actor to be reckoned with.
Michael B. Jordan does an admirable job with his directorial debut.  He has acted in boxing films before (the other two CREEFD films) and with the production team of Chartoff/Winkler of over 2 dozen films to their credit, Jordan is in good hands with probably lots of advice given.  Sylvester Stallone, who does not appear in this film, also serves as a producer.
Director Jordan shoots in a linear timeline with very few flashbacks.  The only confusing plot point is when at the film's start, the two teens run from the police.  How this act affects their lives later on are gradually explained and satisfactorily.
Jordan's film is necessarily violent with some slow motion shots of the combatants being hit.  The film is as violent as the other ROCKY and CREED films in the franchise but not as bloody as the more serious boxing film, Martin Scorsese's RAGING BULL.
The climatic match between Adonis and Damien is shot with some variety.  The spectators are blackened out during part of the match.  At another pat, jail bars enclose the ring, making the match look like a caged fight.  Director Jordan also limited the sue of edits during the match of the faces of the spectators, concentrating more on the fight between the two combatants.  But ultimately the fight with the spectators shown without any vibration proves the most effective.  But credit to Jordan fro attempting something novel.
Running at around the two-hour mark, CREED III is not bad a sports boxing drama with exciting enough match scenes that should keep ROCKY fans at the edge of their seats, despite the cliche ridden script.Creed III


A LITTLE WHITE LIE (USA 2022) ***
Directed by Michael Maren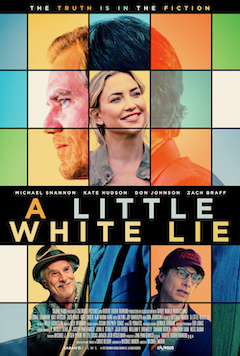 A LITTLE WHITE LIE is based on Chris Belsen's novel entitled 'Shriver', also the name of the famous author and title character featured in the book and film.  The script is written and the film directed by Michale Maren in what is a decent and no-nonsense story about a poor down on the luck individual who does not realize how to make good.
Shriver (Michael Shannon) is a down-on-his-luck handyman who has the same name and therefore mistaken for a writer who has disappeared forever 20 years,  A desperate college literary department headed by a pretty Professor Simone Cleary (Kate Hudson) decides to invite Shriver for their annual literary event to boost their name and reputation.  Trouble is that Shriver  has never read a book in his life.  When he gets the letter, he happens to be fixing the toilet.  When he tells his friend he got a letter, the immediate response is: "Are you in trouble?"  His friend comically says at another point to Shriver: Are you having a lack of confidence or are you really drunk and an imposter?"  Probably all the above.   Shriver is thus mistaken for the famous writer that has been in hiding for over 20 years.  With nothing to lose, he accepts an invitation to attend a college literary festival and finds himself surrounded by adoring fans and an English professor who captures his heart.  Shriver must do whatever it takes for his shot at love in this fish-out-of-water comedy.
Maren's film moves slow and steady without much incident for the first half of the film.  The audience is treated to a little laughter while the story and characters are introduced.  It is at the half point of the film when a detective suddenly appears on the scene, a Detective Karpas (Jimmi Simpson) that the story takes a more intriguing turn.  There is an unexpected twist in the story that will surprise everyone, this surprise will not be revealed in the review, except to say that it makes a big difference to whatever has been seen in the film's first half.
There is a bit of a hint of romance between Simone and Shriver though there is not one scene of kissing or touching. 
A SIMPLE WHITE LIE is a small little film with a slight story.  One wonders the reason Kate Hudson was so enamoured by the book that she served as a producer for the film.
The film benefits from Michael Shannon, always good in playing off-beat and odd out of whack characters. M. Emmet Flash, veteran of more than 200 movies and best known for the Coen Brothers' BLOOD SIMPLE has a small role as ProfessorArthur Baldwin.  Walsh is showing his age, is given a few funny lines to say but without such effect. Young actor Zach Braff and older actor Don Johnson deliver supporting performances.
A LITTLE WHITE LIE is writer/director Michael Maren's second feature after his little seen debut A SHORT HISTORY OF DECAY (2012).   Maren  began working as a screenwriter. selling scripts to HBO, Sony and independent producers. 
A LITTLE WHITE LIE In theatres and on Digital and On Demand March 3, 2023
Trailer: 
PALM TREES AND POWER LINES (USA 2022) ***
Directed by Jamie Dack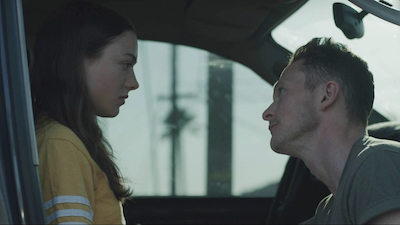 Two films coincidentally open in March that have the protagonist in a field of transformer power lines.  Both are relationship dramas, the first film being the Canadian BROTHER by director Clement Vito and the second PALM TREES AND POWER LINES by American director Jamie Jack who also co-wrote the script with Audrey Findlay.
Seventeen-year-old Lea (Lily McInerny) spends her summer break aimlessly tanning in her backyard with her best friend, tiptoeing around her needy mother, and getting stoned with a group of boys from school.  This monotony is interrupted by a chance encounter with Tom (Jonathan Tucker), an older man who promises an alternative to Lea's unsatisfying adolescent life.  This is both a case of falling in love and peer infatuation  But as things progress between them, red flags about Tom's life begin to surface, and Lea chooses to ignore them.  Under Tom's influence, Lea begins to see her mom as unfit and her friends as a waste of her time.  Isolated from those around her, Lea discovers Tom's true intentions and finds herself in a situation that she never could have imagined. 
The chemistry between McInerny and Tucker is solid and their performances credible, important factors as their two characters carry the story.  Both actors create sympathetic characters that the audience has sympathy for despite their shortcomings.
Director Dack takes his time to tell his story, sometimes lingering on for too long a while at the important scenes.  The encounter between Lea and her older 'client' can be seen to be stretched out in order for the audience to feel as discomforting as Lea's character feels.
The film takes an unexpected turn.  For a film with a story such as this one, one expects Lea to come to her senses and turn back to the mother, which she does for a bit and totally rejects Tom.  That she does not, leaves the audience with a somewhat unsatisfactory (though braver and more risky with credit going to the director) ending and a nasty taste in the mouth.
The film serves as Lea's coming-of-age story.  Though Lea still cannot decide for sure what the right decision is to be made, she has at least witnessed both the good and evil that lie before her.  Her unplanned teen lifestyle of hanging around is typical of many in small towns and the film is also a reflection of the troubled youth of America.  This is a problem that has no simple solutions as is evident by the events that occur in the film.  The power lines depict the danger and the palm trees the comfort that might appear before the youth.
The film has won multiple festival awards.  Dack, winner of the Sundance Film Festival directing award in the U.S. Dramatic section, also received Torino's prize for best script The film was also nominated for four Independent Spirit Awards, including first feature for Dack and Leah Chen Baker; first screenplay for Dack and Audrey Findlay; supporting performance for Tucker; and breakthrough performance for McInerny.
PALM TREES AND POWER LINES opens in theatres and VOD on March the 3rd.
Trailer: 
QUEENS OF THE QING DYNASTY (Canada 2022) ***
Directed by Ashley McKenzie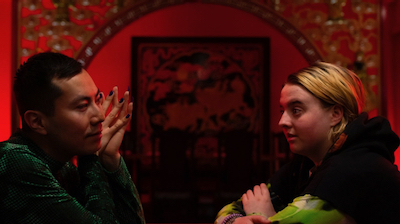 "I'll be your housewife  making you dinner.You can be my husband,"  so says the Chinese hospital volunteer caseworker from China to a young female patient, Sarah suffering from mental trauma at a local hospital.  The scene plays out for some 10 minutes or so with Sarah replying,  "I am not queer.  You are evil, you are giving me poison," before the two eventually bond in a rare friendship.
QUEENS OF THE QING DYNASTY is a queer friendship romance that breaches the absurd and poetic. In a remote small town, Star (Sarah Walker), a neurodiverse teen, forms an unlikely rapport with An (Ziyin Zheng), an international student from Shanghai volunteering at the hospital.  Between the two, a bond forms, cemented by their candid conversations, nightly text messages, and exchange of their deepest secrets. The boundaries of their friendship quickly expand into something special, altering both Star and An's inner alchemy.Both intimate and intense, it explores the intrinsic beauty and innate flaws of what it is to be human, the profundity of connection, the vortex of mental illness, and the creativity of neurodivergence. The electronic music score blurs between cinema foley and sound design to create a feeling of an alternate plane. An affectionate ode to women, asexuals, and genderqueer individuals who exist beyond the norms of society by writer and director Ashley McKenzie.
Actor Zheng is himself in real life suddenly from China, arriving partly to find a gay soulmate besides completing his studies.
Director Ashley McKenzie (she/they) is a filmmaker who has made the mark as a rising star director based in Unama'ki–Cape Breton Island, Canada.   The director writes and directs films in collaboration with people in the community, compelled by the stories near that may otherwise be overlooked.  McKenie's debut feature WEREWOLF won the Rogers Best Canadian Film Award from the Toronto Film Critics Association in 2017, the most generously endowed film prize in Canada. It was theatrically released by Factory 25 in the US and Les Alchimistes in Europe. Film Comment called Werewolf "an austere, marvelously focused debut feature," while The New Yorker named it to their "Best Movies of 2018" list. Ashley's films have screened at the Berlinale, New York Film Festival, and Toronto International Film Festival, as well as been curated by the Criterion Channel, MUBI, and Anthology Film Archives. QUEENS OF THE QING DYNASTY premiered in the Encounters Competition of the 2022 Berlinale, before going on to screen at TIFF and NYFF in the Wavelengths and Currents section respectively.  The film is a slow trudge but often than not, it takes time to tell a story that needs to be settled in -  a real story with real life characters.
The film will have its theatrical release across Canada beginning on March 3, screening at TIFF Bell Lightbox in Toronto, followed by March 10 in Ottawa and Winnipeg and March 17 in Vancouver with more cities to be announced soon
THE QUIET GIRL (An Cailín Ciúin) (Ireland 2022) ***** Top 10
Directed  by Colm Bairéad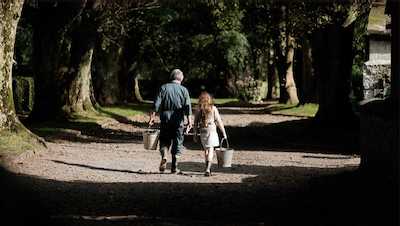 THE QUIET GIRL is very Irish, shot in the counties of Co Dublin and Co Meath, while keeping on the tradition of the Irish language.  The film exhibits stunning countryside cinematography that includes shot of the trees in the forest and a natural well to boot.  It has the feel of the old Charles Dickens films directed by David Lean.  One difference in that THE QUIET GIRL contains only a slight story of a girl who spends her summer away from her dysfunctional family.  No great tale but an equally moving one of simplicity and raw emotion.  The film is based on Foster, a 2010 novella in English by Claire Keegan. The film was originally titled Fanacht ("Waiting").
The story is set in the summer of 1981 with its subject as a nine-year-old Cáit (Catherine Clinch), one of many siblings, living with her impoverished and neglectful parents in rural Ireland. With her mother pregnant again, it is decided to send their quiet daughter away to live with middle-aged distant cousin Eibhlín Kinsella (Carrie Crowley) and her husband Seán (Andrew Bennett) .
Eibhlín immediately welcomes Cáit into the Cinnsealach home, showing her love and teaching her how to do chores around the house and farm. She also shows Cáit a well on the property, claiming that the water has healing powers, while warning that the well is deep and to exercise caution when retrieving water from it. As Cáit arrived at the Cinnsealach home with no luggage, Eibhlín places her in a spare bedroom and initially dresses her with boys' clothes left in the wardrobe.  It is later revealed that the couple had lost their son some time back.  She later buys Cáit new girls' clothes.
The film is more a film about women, or one with a strong female slant.  The men in the story are peripheral and they are shown to be ones that hide their emotions.
Director Colm Bairéad elicits an almost perfect and wonderful perfjoamcne from the young Catherine Clinch who plays Cáit, who appears in a most every scene in the film.
If there is one film that should be seen this year, THE QUIET GIRL is the one.  Written and directed by  by Colm Bairéad, THE QUIET GIRL is a quiet, simple story that drives the fact that the simplest tale can create the greatest emotional impact.  The film is both a coming-of-age story of a 9-year old girl, who while still wetting herself occasionally in bed, discovers love and kindness in a temporary family for the first time.  And the effects are incredibly moving.  THE QUIET GIRL is filmed mostly in Gallic, with subtitles and has been nominated for the upcoming Academy Awards for the Best International Feature.  It is the highest grossing Gallic language film so far.  THE QUIET GIRL has opened in Ireland and makes its debut this week in theatres.
The film is dedicated to the late Jim Crowley.
Trailer: 
SPOONFUL OF SUGAR (USA 2022) ***
Directed by Mercedes Bryce Morgan
The innocent sounding title SPOONFUL OF SUGAR (think also the MARY POPPIN S song, "Just a Spoonful of Sugar") is nothing compared to what is in store for audiences brave enough to venture into watching a really nasty piece of horror, the film recently picked up by Shudder, the horror streaming service.  The sugar of the title refers to lysergic acid, a medication taken by the young protagonist to control her behaviour.  The more common name for lysergic acid is LSD, the hallucinatory drug much used in the 60's.  Very few people have died from overdose but many have died from the effects of the hallucinations like jumping in front of danger, not knowing any better.
Director Mercedes Bryce Morgan delivers an incisive psychological horror laced with nightmarish visions of hallucinogenic beauty and horror.
The film begins with the familiar song "Oh My Darling, Clementine '' followed by an interview for a new babysitter.  This song has been sung and heard many times by kids, but the words are actually quite scary under closer examination.  " You are gone and lost forever dreadful sorry, Clementine."  The young babysitter, Millicent (Morgan Saylor) lies about everything and completely fools the mother, Rebecca (Kat Foster) who is interviewing her.  She is not what she claims to be, a point that enforces the importance of having valid references for a job.  The boy to be looked after, Johnny (Danilo Crovetti) is no ordinary kid as he is first seen wearing a spaceman costume.  The reason is that the b  oy is allergic to everything from sugar, inorganic good to allergies in the air.  The boy has also never spoken.  The strict and over-bearing mother insists:  "My instructions are to be followed to the utmost.  The boy must never, under any circumstances leave the compound."   
But every character in the story appears to have a dark secret.
This disturbed babysitter also experiences a sexual awakening while using LSD to alternatively treat a seemingly "sick" child from a family with dark secrets of their own.
Firstly, Millicent is quite an overbearing, manipulative little bitch, despite her innocent exterior.  When examined by Dr. Welch (Keith Powell), she says and answers the questions that she knows the doctor wishes to hear.  She manages to have him describe more LSD for her treatment, which she believes will also help Johnny.  Millicent laces Johnny's medication with LSD.  It is also revealed that another secret Millicent has is her secret desire to have a family at all costs.  The father is a sexy Jacob whose primary weakness is sex.  He can be manipulated by sex by his wife and later on, by Millicent.
SPOONFUL OF SUGAR turns really nasty in its second half - so be prepared.  There are a lot of masturbation scenes as well as graphic violent acts like Johnny stabbing the back of his mother's hand as well as others too nasty to mention.  The film is generally devoid of humour except maybe for one laugh-out loud scene when Millicent is hallucinating while on the bus.
SPOONFUL OF SUGAR succeeds as a horror film and a very nasty one at that.  As for a happy ending, the best that can be said is that every character in the story gets their comeuppance, which makes a satisfactory, rather than a happy ending.
SPOONFUL OF SUGAR streams on Shudder Thursday March the 2nd.
Trailer: 
THERE'S ALWAYS HOPE (UK 2021) **
Directed by Tim Lewiston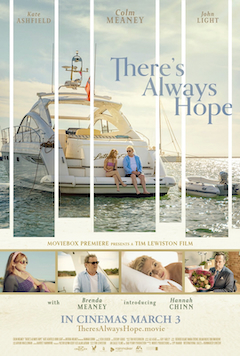 There is a an obvious play of words in the title of this new British comedy THERE'S ALWAYS HOPE for two reasons.  Firstly, the main character is named Hope, a grown up daughter who desperately, 'hopes' that her estranged parent get together again.  What child of separating parents does not?  This is a predictable and unimaginative comedy that requires no genius to guess the final outcome of whether the father and mother patch it up.  At least it is all done within the 90 minute mark, so that everyone can go home.
THERE'S ALWAYS HOPE is a comedy drama in which a young woman, Hope (Hannah China) travels to Portugal in an attempt to orchestrate a reconciliation between her parents, Jonathan (Colm Meaney) and Samantha (Kate Ashfield).   The film is shot in beautiful Algarve and the cinematography shows.  Sam has meanwhile had an affair with her work partner, the rather dashing Luke (John Light, the actor in Florian Zeller's THE SON in London).
Irish actor Colm Meany (Stephen Frears' THE SNAPPER) is always so entertaining to watch, but the script by Lewiston does not offer him much opportunity to show his true colours.
The scene in which the two males, Luke and Jonathan argue by the swimming pool is so contrived, even with Luke standing, slanted just by the edge of the pool, as if waiting to be pushed in,   Jonathan does push him  into the water which is of course, of no surprise.
If one  has never heard of director Tim Lewiston, THERE'S ALWAYS HOPE is his second feature after THE HOT POTATO in 2010 that also starred Meaney.  London born Lewiston started his career in the film industry in the cutting rooms working on commercials and documentaries. He also worked as a 2nd assistant director to legend, Karel Reisz on commercials and on Love from A to Z, directed by Mel Stuart and starring Liza Minnelli.
THERE'S ALWAYS HOPE appears to be and actually is a lame comedy that shows privileged and wealthy Brits on holiday abroad, in this case the Algarve in Portugal, flaunting their wealth (Jonathan wears posh clothes and drives a sports Jaguar) in all their pomposity.
THERE'S ALWAYS HOPE opens in theatres across Canada on the 3rd of March.
Trailer: