FILM REVIEWS:
CHAMPIONS (USA 2022) ***
Directed by Bobby Farrelly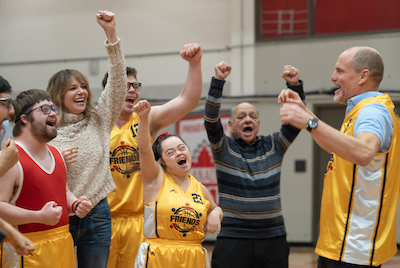 CHAMPIONS opens in theatres on March 10th, 2023
Trailer: 
SCREAM VI (USA 2023) ***
Directed by Matt Bettinelli-Olpin and Tyler Gillett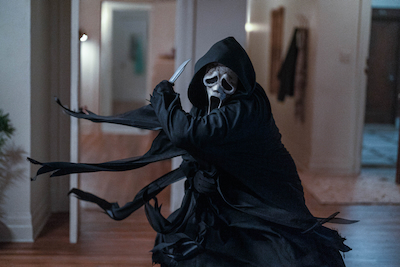 It is a pity Kevin Williamson has give-up the directing reins to serve as executive director for the latest SCREAM VI in the SCREAM franchise.  Williamson was responsible for many excellent and inventive horror films, often than not, invoking a bit of fun with it.  His directing hits like the original SCREAM, and other hits like THE FACULTY and TEACHING MRS. TINGLE made a mark in horror entertainment.
SCREAM VI is an American slasher film, now directed by Matt Bettinelli-Olpin and Tyler Gillett, and written by James Vanderbilt and Guy Busick, with original franchise writer and creator Kevin Williamson returning as executive producer.  It will be the sixth instalment in the Scream film series and serve as a direct sequel to Scream (2022).  The film stars Melissa Barrera, Jasmin Savoy Brown, Mason Gooding, Jenna Ortega, Hayden Panettiere, and Courteney Cox, all reprising their roles from previous instalments, alongside Jack Champion, Henry Czerny, Liana Liberato, Dermot Mulroney, Devyn Nekoda, Tony Revolori, Josh Segarra, and Samara Weaving.  Unfortunately and noticeable absent is the franchise star Neve Campbell who announced she would not be returning as Sidney Prescott due to not being pleased with the offer presented to her, making this the first film in the franchise not to feature the actress or character.
The film continues with the survivors of the latest Ghostface killings from SCREAM (2022), sisters Samantha (Melissa Barker) and Tara Carpenter (Jenna Ortega) and twins Chad and Mindy Meeks (Mason Gooding), leaving Woodsboro behind and starting a new chapter of their lives in New York City only to again be plagued by a streak of murders by a new Ghostface killer.
Ghostface was likely taken from the composition painting of Norwegian artist Edvard Munch, though no credit has been given to him.
Apparently Ghostface is already quite famous, as shown at the film's opening.  The masks are readily sold and many have imitated the killer including two college students who are committing gruesome murders wearing the mask.  The two eventually get their comeuppance.  Reviewers of this new SCREAM are begged not to reveal any post points or twists in the story, so the details of the comeuppance will not be mentioned.  That said, there are quite a lot of plot twists, so be prepared for some major surprises.  It helps if one can recall the other SCREAM films, which admittedly is quite difficult, but true SCREAM fans will be overjoyed at the references and continuity.
The directors have inserted a few innovative scary segments as in the subway train where the train lights go on and off and the passengers are too engrossed with their own nonsense to notice that someone has been murdered.  The last action set piece in which the survivors set up a trap for ghost face and end up being trapped themselves is also quite ingenious.  ( Hope this does not qualify too much as a spoiler.)
SCREAM VI opens in theatres on March the 10th.