ABOUT MY FATHER (USA 2023)
Directed by Laura Terruso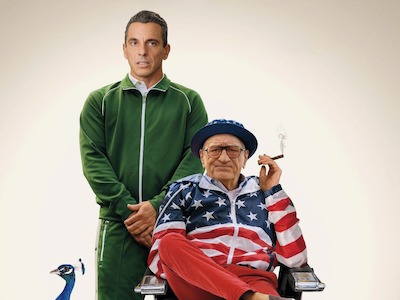 ABOUT MY FATHER is a romantic and father and son relationship comedy with Robert De Niro playing the father and writer/lead actor and writer Sebastian Maniscalco playing the son, Sebastian.
Sebastian informs his traditional Italian immigrant father Salvo about his plan to propose to his American girlfriend Ellie (Leslie Bibb), and Salvo insists on joining them for a weekend with her parents. Despite the clash between their two cultures and initial perception of having nothing in common, they eventually become a single, unified family by the end of the summer holiday weekend. The Elite family is British, with descendants originally from Portsmouth and also immigrants to America.
Robert De Niro reprises the role of the difficult father that he made famous in the MEET THE PARENTS franchise, though he goes alone as the difficult Italian father. De Niro was born in Greenwich Village and is American, though as good and influential an actor that he is, is quite convincing playing an Italian, even speaking Italian in a few of the film's scenes. De Niro plays both comedy and drama (particularly as gangsters) well and has a gangster movie WISE GUYS coming up. He and the main lead and writer Maniscalco have worked together before in Martin Scorsese's THE IRISHMAN in 2019. Maniscalco is himself born American though from Italian immigrant parents. Sebastian Maniscalco wrote the script loser based on his own life and experiences, so there is a lot of decent humour in it.
ABOUT MY FATHER could be described as a romantic comedy as the story concerns his character eventually getting wed at the end. But it takes second place to the other story - the one between the acceptance of his character and his father who means well but shows it in all the wrong ways. There is nothing really innovative in the two stories but at least the film is sufficiently funny with more than a few laugh out moments. It is always good to see De Rio doing comedy, as this man is also quite good in this field. The film can be considered to be a series of comedic set pieces strung together by the common theme.
The best of these comedic set pieces is the tennis match where Sebastian and his difficult mother-in-law to be Tigger are partners in a tennis match against her son and Ellie. "She likes to win," Sebastian is told. At first not to offend his father, he pretends to make mistakes but the funniest parts occur when he shows that he is actually quite good as he had taken tennis lessons. Another funny part is Tigger's Julie Andrews style haircut.
Most of the supporting cast including Maniscalco have their experience in comedy. Sebastian Maniscalco is himself a standup comic while Anders Holt , David Rasche, Kim Cattreall and Brett Dier also have their background in comedy. Cattrall is the funniest of the lot playing the upper class Ivy-league senator mother-in-law to be.
ABOUT MY FATHER is released by Lionsgate that has not got a hit since their DIVERGENT and HUNGER GAMES franchise when their stock was way up. Lionsgate desperately needs a hit but ABOUT MY FATHER, though not bad is not it. ABOUT MY FATHER is released in theatres May the 26th, 2023
Trailer:
CRACKED (Thailand 2022) ***
Directed by Surapong Ploensang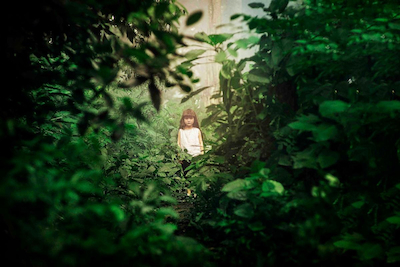 Directed by Surapong Ploensang and written by Eakasit Thairaat, Onusa Donsawai, Pun Homchuen and director Surapong Ploensang CRACKED marks a terrifying new Thai horror film, in which an inherited 'haunted' painting may be worth a thousand screams, just as a picture is worth a thousand words,
Ruja (actress/model Chayanit Chansangavej) returns to Thailand from New York with her young daughter Rachel to settle her late father's estate. Included in her inheritance are two mysterious portraits of a bewitching woman that she is told are worth a fortune, if only they weren't damaged. Desperate to sell the paintings, Ruja hires Tim (K-pop star Nichkhun), an art restorer, to prepare the canvases for sale. But the cracks in the paint have begun to reveal long-hidden secrets, and as strange phenomena begin to emerge around them, Ruja and Rachel quickly realize their lives are in grave danger.
Thai movies are not often distributed in North America. No one can be sure what can be expected - especially of films in the horror genre. The Thai film industry is already quite established and this product shows signs of a solid film industry. CRACKED has high production values. It's production sets, lighting, sound and suspenseful atmosphere is impressive and put into relevant use
Director Ploensang uses the effect of audience anticipation well and can be observed in many scenes like the one where Ruja sees her father's two paintings for the first time. The first one was returned to her father, the owner after the buyer had killed his entire family and then himself, He then left a note by the painting: "I am returning you to the owner." The second painting was never sold but a millionaire is willing to pay a fortune to both of them. When Ruja asks when she would get the money, she is questioned: "Soon't you wish to know how your father died?" The paintings have some cracks that can art restorer need to fix. The cracks are where the horror begins and forms the title of this horror film.
Horror films succeed often when they scare audiences so that they do not know what will happen next. In THE EXORCIST and POLTERGEIST for example, unexpected horror occurs behind the locked doors. Every time the camera moves into a scene in the room, there is great anticipation of some horror. In CRACKED, bits of the painting is peeled away to reveal a bit of a secret….. the more that is peeled, the more will be revealed. The handsome art restorer is eager to find out the secret but Ruja just wants her and her daughter to leave the place.
If the events look confusing, everything is neatly tied up at the end with explanations leaving no stone unturned. The film lacks strong credibility with some silly exorcism bits at the end but the film's strength is its creation of menace and atmosphere in its first half.
CRACKED premieres in VOD and DVD on May 26, 2023 from Film Movement, founded in 2002, the North American distributor of award-winning independent and foreign films based in New York City.
Trailer:
THE HOLE IN THE FENCE (El Hoyo en la Cerca)(Mexico/Poland 2022) ****
Directed by Joaquin del Paso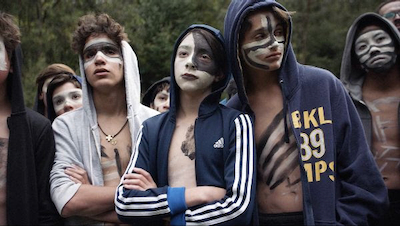 At a secluded exclusive summer camp in the Mexican countryside, under the watchful eyes of their adult guardians, boys from a prestigious private school receive physical, moral and religious training to turn them into tomorrow's elite adults. The discovery of a hole in the fence sets in motion a chain of disturbing events as the boys devolve into a Lord of the Flies-like mob mentality that creates and spreads hysteria in this profoundly disturbing coming-of-age drama that unravels like a horror movie while drawing on actual events.
THE HOLE IN THE FENCE is a film that reveals all the horrors that can result from the worst of human behaviour. When power is in a few hands and cannot be questioned, power is abused. And also the abused victims torture themselves when they are at a loss of what to do. The kids' parents are wealthy and privileged and pay a lot to have the children educated and become men in the process. Many of the fathers have gone through the identical process when younger. But what goes in is quite horrifying. There is bullying and violence, both physically and mentally with no way of escape except maybe for escape through THE HOLE IN THE FENCE, as the title of the film indicates.
As the kids are the age of puberty, the question of budding and emerging sexuality arises and the script written by the director with Lucy Pawlak realizes the fact and includes the subject in the story. Edwin, an elder who dispenses medicine to the boys as a sort of medic, is observed getting a hard-on by the boys when giving mouth-to-mouth. during an incident. Another disturbing scene has Edwin seen drugging a boy and then likely, but not shown on screen, so one is never 100% sure, abusing him. The boys also talk of dicks and other sexual related things. Coming-of-age becomes more complicated in the closed and abusive environment faced by the boys.
The film features an original haunting score by Kyle Dixon and Michael Stein (STRANGER THINGS).

Things come to a boil when one of the kids, Diego goes missing. Blame is on everyone's agenda. The kids notice Diego is missing and start questioning each other on who had seen him last. With unfruitful results they blame one another for Diego's disappearance. The adults start looking for Diego in groups. The villagers are blamed for Diego's disappearance. "Get the kids out of here!" screams one villager in response. The film shows Diego climbing through the hole in the fence from the school compound to get out but leaves the audience guessing as to where he eventually is.
Though a bit slow moving with the plot unfolding slowly, the film might either be too annoying to the impatient but the anticipation and mystery and ultimately horrors of the situation as it (the plot) unfolds is rewarding entertainment for the more patient audience.
The Mexican-Polish psychological drama/thriller that premiered at Venice and the London Film Festivals arrives via VOD and opens in L.A. On May 26th.
Trailer:
L'IMMENSITÀ (Italy/France 2022) ***1/2
Directed by Emanuele Crialese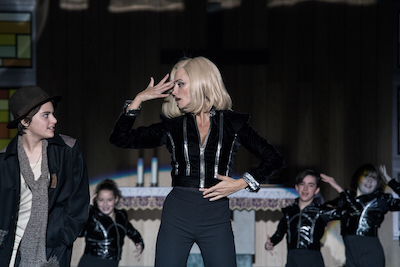 Couples stay together for a number of reasons. If the main reason is love, then the couple's relationship is strong and lasting. In the film L'IMMENSITÀ, the couple live together because they have three kids and have to look after them. This is a formula for relationship disaster, not aided by the fact that the children also pose more problems for the couple. The story of this family forms the premise of this intriguing and absorbing emotional Italian drama starring the beautiful Penelope Cruz in the title role.
The film title is taken from an Italian song, which was first performed by Johnny Dorelli and Don Backy (the songs were sung by two artists) in 1967 and became 9th at the Sanremo Song Contest. The Italian word translates to immensity in English which in simpler terms means 'the extremely large size of'.
The film is set in Rome, 1970s. Clara (Cruz) and Felice (Vincenzo Amato) have just moved into a lush new apartment with their three children. From the film's initial scenes, it is clear that they no longer love each other, yet cannot seem to leave each other either. Their three children are the only thing that keeps them together. Although mentally fragile, Clara is a fun and caring mum, who in one segment turns setting the table into a song-and-dance routine with the kids. Felice, on the other hand, is prone to temper. The dance sequences are a solid lift-me-up in the film as can be observed by the family's kitchen dance sequence and the uppity and hilarious dance numbers of the black and white variety shows seen on TV..
But the story also shifts to the children. Adri is the eldest daughter while the middle son is a plumb boy and the youngest an innocent and charming girl. Their preteen daughter Adri (Luana Giuliani) now identifies as a boy and wants to be called Andrea (Italian for Andrew) – his dogged pursuit bringing the already unstable family to a breaking point. Meanwhile, Andrea falls for a girl (Penelope Nieto Conti) after sneaking out to visit a Roma (gypsy) camp.
The film's most dramatic and insightful segment is the one where Adri hides under the bed of her parents as Felice forces Clara to have sex with him. "I don't want to," Clara screams. To protects mother, Adri screams from under the bed: "She does not want to." following which the father drags her to her bedroom. It is the 20-minute mark of the film which has now packed quite the punch, showing the fragile and volatile relationship among members of the family. Less said of the story the better, so that there are no spoilers revealed,
L'IMMENSITÀ is inspired by Italian filmmaker Emanuele Crialese's own experience growing up. The director is best remembered for his award winning effort RESPIRO back in 2002 also about a free-spirited woman. L'IMMENSITÀ debuted at Venice 2022, where Crialese publicly revealed that he himself is a trans man. L'IMMENSITÀ opens May 26 in Toronto, Vancouver and Montreal! The film opens June 2 in Ottawa and throughout the summer in other cities.
Trailer:
INFLUENCER (USA 2023) ***
Directed by Kurtis David Harder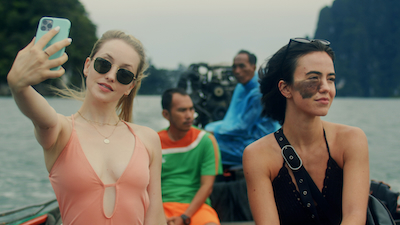 An INFLUENCER is one who influences someone - and in the case of modern age social media, this means one who regularly puts up postings on a subject of interest, in this case travel. The new horror flick INFLUENCER follows one such person as she travels to Thailand and getting into near-death trouble.
While struggling on a solo backpacking trip in Thailand, social media influencer Madison (Emily Tennant) meets CW (Cassandra Naud), who travels with ease and shows her a more uninhibited way of living, but CW's interest in her takes a darker turn. Madison in reality, hates her job as a travel influencer but manages to keep this unknown to her viewers, therefore smiling all the time on camera but frowning otherwise. She cannot wait to leave Thailand as her boyfriend Rory (Rory J, Saper) knows., until CW shows a part of Thailand that totally astonishes her. CW abandons Madison on an isolated island and assumes her identity on social media so that no one notices her missing. Not even her boyfriend, Ryan. CW attempts the same con with newly arrived Jessica (Sara Canning). CW invites Jessica to a huge mansion, which was Madison's place. But when Ryan arrives unannounced to surprise Madison, all hell breaks loose. CW has to explain why Madison is not around and the reasons is at her place, This is whee the film gets more and more interesting. The audience sees CW at
INFLUENCER shares a similar theme as Alfred Hitchcock's second last film - the suspense thriller London-set FRENZY involving a neck-tie serial killer, played by Barry Foster. FRENZY deals with the familiar Hitchcock theme of an innocent man played by Jon Lynch overwhelmed by circumstantial evidence and wrongly assumed to be guilty. The only difference is that the identity of the killer, as in the film INFLUENCER is known to the audience early in the film. As Hitchcock himself had said that if the killer's identity is known, then as compared to a whodunit, every time he appears on-screen, the would be suspense and fear that he would strike again. In both FRENZY and INFLUENCER, the killer's best friend initially trusts the killer and only slowly figures out that the best friend is a killer. It is not often that thriller films have this theme and INFLUENCER makes this welcome change. As a result INFLUENCER is extremely entertaining and different, marred only by too many loose ends in the story.
It also helps that the relatively young but yet to be discovered cast deliver solid performances, particularly Naud as CW. The cinematography of Thailand and its surrounding sea and islands is also captivating.
The main loose end in the story is the reason CW goes back to the isolated island where she deserted Madison. She does that at the end of the film, the only possible reason for that in the script being to give the film a satisfactory close. Another glaring flaw in the plot is how Madison survived all the many weeks without freshwater and food.
Point to note is that the director Kurtis David Harder is Canadian.
INFLUENCER opens for streaming on Shudder this week.
Trailer:
IT AIN'T OVER (USA 2023) ***½
Directed by Sam Mullen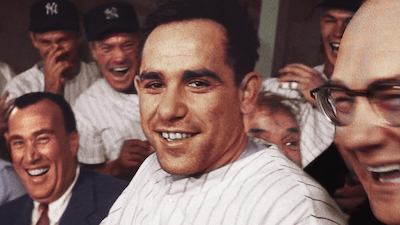 The doc IT AIN'T OVER is the biography of the life and rise to fame of Peter Berra aka 'Yogi Berra". He was an American professional baseball catcher who later took on the roles of manager and coach. He played 19 seasons in Major League Baseball (MLB) and was an 18-time All-Star and won 10 World Series championships as a player—more than any other player in MLB history. Berra had a career batting average of .285, while hitting 358 home runs and 1,430 runs batted in. He is one of only six players to win the American League Most Valuable Player Award three times. He is widely regarded as one of the greatest catchers in baseball history and was elected to the Baseball Hall of Fame in 1972.
First person accounts include granddaughter Lindsay Berra, Yogi's three sons (Tim, Larry and Dale), plus a legion of former Yankee greats (Derek Jeter, Joe Torre, Mariano Rivera, Willie Randolph, Don Mattingly, Tony Kubekand, Ron Guidry). The film begins with Lindsay talking to the camera giving an excellent intro of her grandfather. Also featured are sportscasters Bob Costas and Vin Scully and super-fan Billy Crystal – plus photos and eye-popping archival footage (like Yogi leaping into pitcher Don Larsen's arms after that perfect World Series game - something kids would do). Berra famously said, "I'd be pretty dumb if I started being something I'm not." The film lovingly makes clear he stayed who he was for the benefit of baseball and everyone else.
Yogi's contributions to MLB history are incalculable, but his legacy might be even better remembered for what he contributed to the American language. The doc speaks of Yogi Berra's "yogi-isms" which are some of the most well-known quotes in the world. Two of his quotes are continually mentioned in the film with one of them forming part of this film's title: "It ain't over till it's over." and "When you come to the fork in the road, take it."
Director Sam Mullen has made ALLEGIANCE and the likeable rom com AMIRA & SAM. One observable note about director Mullen is his ability to recognize little things about life that he has included in his films. This can be seen in IT AIN'T OVER as well. The intimate moments that he has included in the doc such as the reading of one of Yogi's love letters to his wife are what makes the doc stand out.
The doc might not appeal to non-baseball fans - one for the reasons seen in one of his quotes. "If the people don't want to come out to the ballpark, nobody's going to stop them." If no one wants to see a baseball doc, no one will stop them. But there is always still lots to offer in the doc that are not related to the game. The audience gets to see the life of a humble, funny little man who grew famous. It is a good human story and everyone loves a good human story. One of his other favourite quotes that can be used to solve world problems is: "I tell the kids, somebody's gotta win, somebody's gotta lose. Just don't fight about it. Just try to get better."
Though Yogi Berra passed on in 2015, his legacy lives on. Truly IT AIN'T OVER for this remarkable baseball player.
The film opens May 26 in Toronto (Hot Docs Cinema) and Vancouver!
Trailer:
THE LITTLE MERMAID (USA 2023) *
Directed by Rob Marshall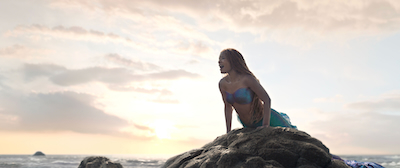 Finally arriving after filming complications as a result of Covid-19, THE LITTLE MERMAID is one of the most anticipated Disney live action fantasy musicals. The film is directed by Rob Marshall from a screenplay written by David Magee. Co-produced by Walt Disney Pictures, DeLuca Marshall, and Marc Platt Productions, it is a live-action adaptation of Walt Disney Animation Studios' 1989 film of the same name, itself loosely based on the 1837 fairy tale of the same title by Hans Christian Andersen.
Ariel (Halle Bailey), the youngest daughter of the kingdom Atlantica's ruler King Triton, (Javier Bardem) is fascinated with the human world but mermaids are forbidden to explore it. After saving Prince Eric (Jonah Hauer-King) from a shipwreck and falling in love with him, she becomes determined to be with him in the world above water. These actions lead to a confrontation with her father and an encounter with the conniving sea witch Ursula (Melissa McCarthy), making a deal with her to trade her beautiful voice for human legs so she can discover the world above water and impress Eric. However, this ultimately places her life (and her father's crown) in jeopardy.
To provide comic relief are three of Ariel's animal friends. Daveed Diggs as the voice of Sebastian, a loyal crab and King Triton's trusted servant and court composer who watches over Ariel. Awkwafina as the voice of Scuttle, a dimwitted northern gannet and a friend of Ariel's to whom she provides inaccurate descriptions of any human/surface world object Ariel finds. Jacob Tremblay as the voice of Flounder, an anxious yet noble tropical fish who is Ariel's best friend. Unfortunately, they are not funny, thanks to the script by Magee, not known for his humour. He wrote A MAN CALLED OTTO, LIFE OF PI and FINDING NEVERLAND.
THE LITTLE MERMAID follows the formulaic route of many a Disney hit but thesis one lacks imagination and innovation. The only one standout is the musical number "Under the Sea' with a whole variety of fish and other sea creatures.
There are no catchy songs in THE LITTLE MERMAID. Is it that difficult to pen a catchy tune with memorable lyrics? The online that comes close is "Under the Sea'' which is played once again during the closing credits. Musicals in the past contains songs that audiences will go away whistling as in musicals like MARY POPPINS (not MARY POPPINS RETURNS), THE SOUND F MUSIC, OLIVIER!, CHITTY CHITTY BANG BANG, ANNIE GET YOUR GUN to name just a few.
THE LITTLE MERMAID is part fairy tale part action movie, especially at the end. There is a girl fight too at the end between the mermaid and the villain. One wonders what the Disney people are thinking regarding the film's target audience. Action fans obviously will avoid girly fairy tales like this film and the action fight set pieces, with Melissa McCarthy with squid tentacles are too scary for kids.
THE LITTLE MERMAID is ultimately quite a bore. The humour is lacking and so is the fairy tale element. The need for a happy ending ends up with a cop out happy ending which as everyone can guess is the one where the prince gets the mermaid as his true love.
Trailer:
TIN & TINA (Span 2023) ****
Directed by Rubin Stein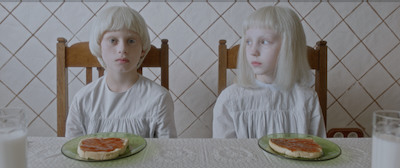 TIN & TINA is director Rubin Stein's debut religious thriller feature starring Milena Smit as Lola ('Parallel Mothers' by Pedro Almodóvar) and Jaime Lorente as Adolfo ('Money Heist').
TIN & TINA are the names of the two ultra-religious children adopted by couple Lola and Adolfo after an accident (yes, a horrid one) that renders Lola unable to bear children. They are so named after some patron saint, so says the abyss at the convent where the adoption takes place. 'They look weird and they are older," the words are uttered but the children are adopted anyway. What follows next snd throughout the story is too nasty to be true, and will not be revealed in the review as the less said the better less spoilers be revealed. Safe today, be prepared for the unexpected.
TIN & TINA is remarkable storytelling enriched by director Stein's constant usage of the audience anticipation factor and suspense. From the very start when wedding vows are exchanged, the audience knows something will go wrong when the priests announced: "for better or for worse, what God has joined late no man put asunder." The ultra religiøs tone of the horror is also worthy of Hitchcock. Like Hitchcock, there are bouts of weird hunour, as in the one scene where the kids watch DRACULA on television for the very first time.
Credit should be given to the makeup artists who create an absolutely creepy and evil look not only of the children but of the mother Maria. Her initial smile at the wedding is also super-creepy, aided by her extra-white makeup.
TIN & TINA is a surprisingly effective Spanish suspense thriller full of suspense and impending terror. Director Stein makes it clear that something evil is always about to happen, and when it happens, it will be something unexpected and truly horrible. TIN & TINA is an absolute delight.
TIN & TINA is directed by rising Spanish director Rubin Stein, Rubin Stein is one of the "10 Spanish Filmmakers on the Rise" by 'Variety'. His black and white suspense-based short film's trilogy called 'Light & Darkness' has been screened at more than 500 film festivals all around the world, receiving more than 100 international awards, highlighting a nomination for the European Golden Méliès and a nomination for the Goya Awards.
The film streams on Ntflix from May the 26th.
Trailer:
VICTIM/SUSPECT (USA 2023) ***½
Directed by Nancy Schwartzman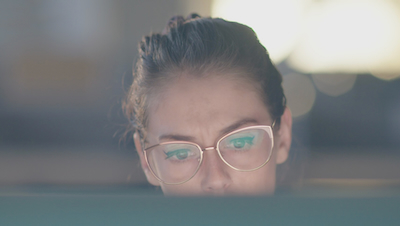 VICTIM/SUSPECT follows its subject Rachel de Leon, a journalist at The Center for Investigative Reporting who discovers a number of legal cases across the United States, where young women are charged by police for making false rape accusations, despite being truthful. She started as an intern and decided to open a study of her own. She eventually got far more than she had bargained for. Rachel who co-produced this intriguing doc with director Schwartzman follows a few of these cases doggedly among some 52 general cases she had traced following this troubling trend. It is a case of rape victims who reports to the police who eventually accuse them of lying, thus becoming suspects for false accusations.
There are films that matter and docs that are meant to be seen. The Netflix original doc VICTIM/SUSPECT is definitely one of these.
It really angers the audience when Rachel hits a brick wall in her investigations and work for one prime reason. The police will not talk. The police will not cooperate. The reasons are immediately obvious as they have nothing to gain and everything to lose. And they have obviously been hiding from the truth and are themselves guilty of a crime. And they are cowards The crime investigator and sheriff decide not to participate in interviews till a detective, Detective Cotto, was suggested. Why Detective Cotto? He was the only investigating detective who admitted to the police using videos for the purpose of a ruse. (A ruse is an action used to deceive a person.).
The film through Rachel examines the purpose of the investigating officers when handling rape cases. There are too many cases and too few officers and thus a result of the system would reward officers who get most of their cases dismissed. One way this is done is to close the rape cases meaning that the victims have to recant their accusations. The investigating officers often use foul means for the purpose. The means are revealed in the film. The officers would show videos of the crime scene often with false footage. For example, they would show footage of a couple making out, then claiming that the couple was of the victim and attacker.
One of the film's most interesting segments has a police officer (who agrees to be interviewed for the film) revealing how easy a victim can be coerced into recanting her/his rape statement. He says that the victim, often an 18 or underaged female who is so troubled with the incident, can be easily threatened by being accused of making out or drinking underaged. Officers are also trained in investigative techniques in order to tag a suspect to make a confession.
The doc paints Rachel De Leon as a diligent hero, helping the victim/suspects in what should have been the work done by the police. Often, she says that the police do not often interview the accused or investigate them at all.`
VICTIM/SUSPECT is an informative and entertaining though often disturbing little doc that needs to be seen on an important subject that matters. It premiered January at Sundance at opens on Netflix for streaming May the 26th.
Trailer:
YOU HURT MY FEELINGS (USA 2023) ***½
Directed by Nicole Holofcener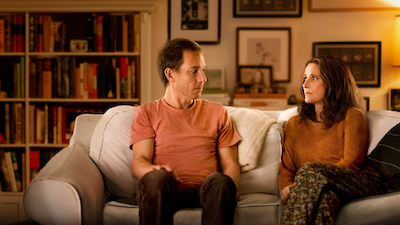 If the latest American comedy, YOU HURT MY FEELINGS, directed by Nicole Holofcener (known for WALKING AND TALKING), bears similarities to the comedic styles of Woody Allen and Neil Simon, it's no coincidence. Holofcener comes from a Jewish family and has a personal connection to Allen, as her stepfather produced some of his films. In fact, she even had the opportunity to be an extra in TAKE THE MONEY AND RUN and SLEEPER. Her first real job in the industry was as a production assistant on Woody Allen's A MIDSUMMER'S NIGHT SEX COMEDY in 1982. With YOU HURT MY FEELINGS, Holofcener once again demonstrates her talent and delivers an entertaining and accomplished work.
The film revolves around Beth (Julia Louis-Dreyfus), a novelist who also teaches writing classes, and her husband, Don (Tobias Menzie), a therapist who charges too much. When Beth accidentally overhears Don expressing his dislike for her writing to her brother-in-law, Mark (Arian Moayed), it not only hurts her feelings but also shatters the trust she had in him. Don argues that his love for her is more important than his opinion of her book. This misunderstanding creates a significant rift in their relationship.
Director Holofcener skillfully balances humorous and dramatic moments throughout the film. Some of the funniest scenes take place in Don's office, where he deals with a couple, Jonathan (David Cross) and Carolyn (Amber Tamblyn), who constantly bicker and can't seem to agree on anything except their desire for a refund. Both Beth and Don present compelling arguments about support and honesty, effectively conveying their perspectives.
One of the film's highlights is the presence of veteran actress Jeannie Berlin, an Oscar nominee for Best Supporting Actress for her role in THE HEARTBREAK KID, directed by her mother, Elaine May, based on a Neil Simon play. Berlin portrays Georgia, Beth and Sasha's mother in the film. In one scene, when Beth tells the doctor, "Her leg hurts," Georgia quickly retorts, "I can speak for myself." It's refreshing to see Holofcener resist the temptation to deliver the expected line, typical of a Neil Simon play, and instead adds a subtle twist.
The only drawback is the rather predictable happy ending. The script introduces significant problems faced by the characters, including the trust between Beth and Don, Beth's strained relationship with her son Elliot (who blames her for his own writing troubles), and Mark's career struggles. Unfortunately, the film opts for convenient and unrealistic solutions to these problems, as it assumes audiences prefer happy endings. Nevertheless, YOU HURT MY FEELINGS succeeds as a sweet and enjoyable comedy about relationships, surpassing the attempts made by Woody Allen in this genre. Holofcener masterfully blends humour and pathos in a concise 83-minute film, providing light entertainment without the shallow nature of recent disappointments like FAST X AND THE LITTLE MERMAID.
YOU HURT MY FEELINGS opens in theatres May 26th, 2023.
Trailer: