FILM REVIEWS:
BURNING BETRAYAL (Brazil 2023) **
(O lado bom de ser traída)
Directed by Diego Freitas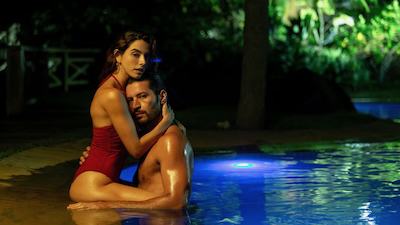 This sexy misery romance drama is based on the book by Sue Becker and directed by Diego Freitas
Babi discovers a betrayal by her long-term partner and decides to embark on a new adventure in life. On this journey, she meets Judge Marco and they begin to live a story permeated by a lot of sexual tension.
The film begins with a sexy night motorbike encounter in which a girl rescues a fellow male biker before having torrid sex. Turns out to be a dream and the girl, Babi (Giovanna Lancellotti) is about to be married but ditches her fiancé, Caio (Laruzi Sampaio) after discovering his unfaithfulness. Babi meets the man in her dream in the form of a mysterious judge, Marco (Leandro Lima). Her best friend and office colleague, Thiago (Bruno Monteleone), who has the hots for her looks on.
All the goings-on are in reality pretty silly and ridiculous, all seemingly an excuse for a scenario for hot sex. The sex scenes are erotic enough with lots of contoured hot nude bodies performing the act in different positions. Babi appears to be in trouble but one could really care what happens to this loose lady. Both boring and silly, best to give this one a miss. BURNING BETRAYAL opens for streaming on Netflix this week.
LOS DELINCUENTES (THE DELINQUENTS) (Argentina 2023) ****
Directed by Rodrigo Moreno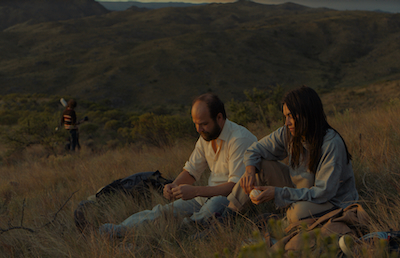 The difference between commercial filmmaking and non-commercial filmmaking is vast. The former follows formulaic rules like the Disney and major studio movies whose only surprises are often the innovative expensive special effects. Director Moreno, on the other hand, has surprised audiences at Cannes this year with his stranger-than-fiction bank heist movie THE DELINQUENTS. It is a different kind of bank heist film, just at the point in which one might term it ground-breaking filmmaking - and one to break the rules. This is what makes THE DELINQUENTS such a pleasure to watch. It is hard to predict where director Lorena will take the journey. Running a lengthy 3 hours, the film is divided into two parts - each part significantly different. THE DELINQUENTS refer to the two responsible for the cash stolen from a bank vault. The bank heist is surprisingly simple enough to execute, without much aplomb or ingenious planning. It is what happens after that is surprising. One can never foretell what life might dish out.
Fed up with his job as a longtime employee at a Buenos Aries bank, Morán (Daniel Eliás) helps himself to $650,000 – twice the amount he would earn if he stayed until retirement. Moran breezily strolls in stuffs the money in a case and walks out. Morán plans to turn himself in. Serving 3 ½ years in prison beats working 25 more years at the bank. But prison holds a few unexpected nasty surprises for Moran, He asks fellow employee Román (Esteban Bigliardi) to hide the money – in return for a percentage, once Morán is released. While Morán slogs away behind bars, Román heads out to bury the cash in the bucolic Cordoba foothills, where he meets locals Morna, Ramón and Norma (Margarita Molfino), the latter to whom he finds himself attracted.
Director Moreno invests a fair amount of screen time in the personalities of Moran and Ramon. Moran is shown to be calculative and rather cunning, smart in both literary and accounting and though looks loutish with his gut and balding head, displays a certain charm. One can see the reason Norma is attracted to this generally outward-looking unattractive man. Moran is one who plans and attempts to control his destiny. Roman, on the other hand, is more of a simpleton who lets fate control his life. As expected when the two clash, the unexpected occurs. There are a lot of 'unexpected's that appear in Moreno's somewhat marvellous tale of fate and life. The life lessons taught in the film are subtle and rather brilliant.
The film progresses rather slowly and at the same pace throughout the 3-hour length. Yet Moreno is a superb storyteller who keeps his story interesting from start to end. He thankfully does not intercut the two stories that would destroy the intrigue built up in each. The one thing that might frustrate audiences with this film is the non-Happy Hollywood ending that Morena reveals at the end. However, on careful thought, the ending would have been the most likely outcome.
THE DELINQUENTS debuted in Un Certain Regard at Cannes 2023 – is Argentina's Oscar 2024 entry for Best International Feature Film. Definitely a recommended watch, THE DELINQUENTS opens October 27 in Toronto, Vancouver and Montreal!
Trailer:
FREELANCE (USA 2023)
Directed by Pierre Morel
(Review embargo lifted on Thursday 3 am.)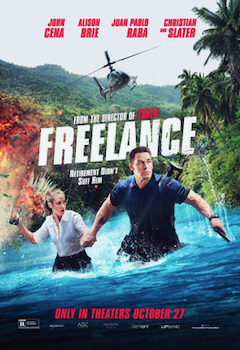 Action pics with a solitary mercenary fitting against a massive enemy are currently a dime a dozen. Action stars range from Bruce Willis to Sylvester Stallone to Liam Neeson are just too many to name. Wrestling stars like Dwayne Johnson and now John Cena have jumped on the action bandwagon.
The question is what sets FREELANCE apart from the standard dime-a-dozen action flick? The unassuming title FREELANCE indicating the mercenary is freelanced is also not one to stand out. FREELANCE, to the film's benefit, has a few benefits. Firstly, wrestler/scot John Cena is an actor with screen presence as well as muscle. Secondly, the director of FREELANCE is Pierre Morel who helmed the exceptional box-office successes of TAKEN DISTRICT 13 and THE GUNMAN and he is French. The third bonus is a script that puts more emphasis on the characters, though this might seem cliched or previously used. And lastly, there is some message here about American conglomerates out to make money at the expense of unknowing victims. FREELANCE is the feature writing debut of television screenwriter Jacob Lentz, who does not do a bad job at all. His one-liners are quite funny and reminiscent of the one-liners used by Clint Eastwood and Arnold Schwarzenegger in their action blockbusters.
The action sequences are sufficiently exciting with some hand-to-hand combat between Cena and the villain. This looks staged as one knows Cena is the stronger fighter, he has a wrestling background and muscles and all.
Years after retiring from the Army, former Special Forces operator Mason Pettits (Cena) takes a job providing security for journalist Claire Wellington (Alison Brie) as she interviews Juan Venegas, (Juan Pablo Raba) president of Paldonia. Paldonia is a fictitious South American country where the recent discovery of oil has attracted foreign interest. The film is shot in Colombia, Colombia standing in for Paldonia. Colombia looks completely stunning with its natural forests and rivers. When a military coup breaks out in the middle of the interview, the three are forced to escape into the jungle together.
FREELANCE is an entertaining enough action comedy with both action and laughs, illustrating that one does not need to spend millions of dollars (this film had a budget of a modest $40 million) with special effects or superstars to create.
FREELANCE opens in theatres on Friday, October 27.
Trailer:
HELL HOUSE LLC ORIGINS: THE IAN CARMICHAEL MANOR (USA 2023) ***
Directed by Stephen Cognetti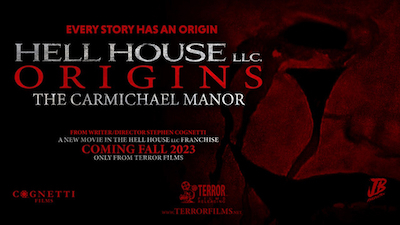 A group of cold case investigators stay at the Carmichael Manor, the site of the grisly and unsolved murders of the Carmichael family back in the eighties. After four nights, the group was never heard from again. What is discovered in their footage is even more disturbing than anything found on the Hell House tapes.
HELL HOUSE LLC ORIGINS : THE IAN CARMICHAEL MANOR is the fourth film in the Hell House LLC series. But rather than being considered a 'part 4' or a prequel the film contains a stand-alone original story within the Hell House LLC universe yet is set in the present instead of making a precursor to the original trilogy. The film explores some of the themes and origins of the hotel's mythology while introducing new characters and mysteries surrounding the events that took place in 1989 in a stand-alone origin story.
The story takes place in 2021 and follows a group of internet sleuths who travel to the remote Carmichael Manor. The film begins with the co-founder of a group called Net Sleuths interviewing a crime writer before moving to two females getting permission and travelling to the mansion. Located deep in the woods of Rockland County, New York, the estate is the site of the infamous 1989 Carmichael family murders that have gone unsolved to film's setting day. What they discover are secrets that have been hidden away for decades and a terror that has been lurking in the shadows long before Hell House. The audience is brought to date with the murders. Mother and daughter are found brutally murdered i bed while the father, Arthur, the chief, and the son Patrick have gone missing.
Director Stephen Cognetti uses the found footage technique in this entry of HELL HOUSE. To his credit, Cognetti builds up each character in the story so that his audience can connect with each character, The film is an example of low-budget filmmaking, the director reported to be working full time while making this film.
The film ends up a combination of a haunted house and found footage horror that works reasonably well given the limitations of the script. Horror fans should not complain.
The film will screen at the IFC Center Theatre on Tuesday, October 24 in New York as part of the Shudder Showcase, a monthly series that serves up special advance screenings of some of the leading genre platform's most exciting and provocative upcoming titles.
The film will be available to anyone with a Shudder or AMC+ subscription in the U.S., Canada, U.K., Ireland, Australia, New Zealand, Latin America, Spain and Portugal.
Shudder offers a promotion to watch HELL HOUSE ORIGINS for free, For fans who do not yet have a subscription, Shudder offers a 7-day free trial. Terror Films Releasing has teamed with Shudder to offer this special promo code: HELL HOUSE LLC The code will be good for a 14-day Free Trial from the date of activation, but this special code expires on October 21, 2023, so be sure to activate it before October 21 but no earlier than October 18 to catch the premiere of Hell House LLC Origins: The Carmichael Manor on October 30.
Trailer:
THE KILLER (USA 2023) ****
Directed by David Fincher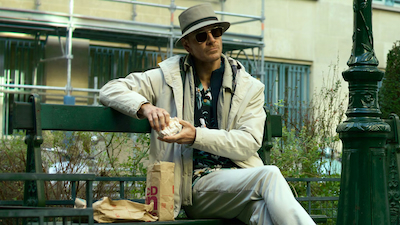 Filmmaker David Fincher took the project to Netflix knowing that he would be allowed more freedom and perhaps more money for THE KILLER, a nuanced thriller from a nuanced and stylish director known for breaking the rules in his creation of crime films like THE USUAL SUSPECTS, his biggest and critically successful hit. Netflix has again got a winner, which explains Netflix being the best and most profitable streaming service in the world, hands down. Netflix stock has gained 16% in one day as a result of beat earnings and subscriber growth. Netflix notably finances films from other countries making it profitable in those countries as well.
Three 'S's best describe THE KILLER. Slick, stylish and sexy.
The film begins with THE KILLER (Michael Fassbender) priming a kill, after spending many days in observation. THE KILLER then describes how boring the job of a killer like himself is, and if one cannot survive boring, then this job is not up your alley. "How difficult it is to endure boredom," he says. Yet, believe it or not, director Fincher attempts to prove otherwise - that boring can be entertaining and succeeds tremendously in proving the fact. Director Fincher shows boredom without being boring. This of course shows director Fincher's prowess, with some groundbreaking filmmaking, With long waits for a killing and with things going wrong, and with lots and lots of voiceovers of the killer contemplating what life means, like being part of the few but not of the many; the importance of not being recognized erc.. The story unfolds in a no-nonsense, very slick way, divided into 7 parts (maybe a nod to Fincher's film SE7EN), each party with the killer targeting a different hit. They all tie into the story in a very stylish way.
The fight choreography, especially the ultra-violent extensive one in the middle of the film is reminiscent of JOHN WICK 4, though this is by far, the more superior film. Scenes like Michael Fassbender crouching naked in a shower stall are also tremendously sexy as is the aforementioned macho fight between the two muscled men.
The film is not without humour, and the humour is a mix between deadpan and observational. The funniest remark is made on the Tilda Swinton character. "What does she look like?' The killer asks. "She looks like a cotton swab," comes the answer. And the description is dead correct, which the killer also admits. There are quite a few surprises in how things turn out in each of the killer's targets, and it is neat to note how everything turns to shit after his first mistake of missing his target. But one has to dismiss a bit of creditability as the killer has managed to attain dozens of different passports and lots of cash and weapons, with no reason given. But such are expert killers in the field. No one ever questions how James Bond can become on top of everything.
The film is an adaptation of the Matz French comic book The Killer, with Allesandro Camon writing the script. The script gets my vote for one of the best-adapted screenplays of the year.
THE KILLER opens for a limited run at the TIFF Bell Lightbox before streaming onto Netflix. Best scene on the big screen and maybe a repeat screening on Netflix.
SISTER DEATH (Spain 2023) ***
Directed by Paco Plaza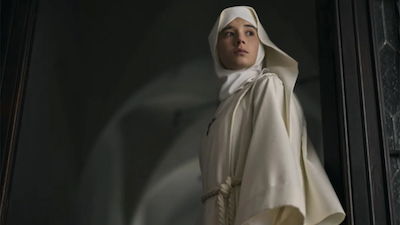 Somewhat related to the well-known horror flick VERONICA, this Spanish horror movie is a well-crafted horror film from start to end.
The film begins with an ambiguous scene in which a young girl holds a cross to defend her villagers from some evil, seen at a distance. She has some powers as the villagers congregate around her. The film flowers 10 years later in what is now the present and Chapter 1 of the story entitled "The Holy Girl". The audience sees a new nun entering a school concerted from a previous convent. The girl is now this sister being shown the ropes at the new school.
But the sister has doubts. She confesses to the priest that she is not ready. "And what if the vision is not the Mother Mary? she asks. The priest says that things would get better if she fasted and prayed, but she is still not convinced. And things get strange.
Director Plaza enlivens his film with some humour. Mother Superior tells the sister: "You think Was not young and beautiful like you? I would have become a cabaret artist."
SISTER DEATH is not a bad horror film, though a bit of a slow burn (her first class is tense and two of her pupils have to be excused from the class, one peed in her clothes), but beware and be warned, aided by some solid period atmosphere. The cinematography is stunning with the pretty nuns all clothed in pure white amidst an often dark and black background.
It is surprising Shudder did not pick this film up. SISTER DEATH opens for streaming this week (October 27th) on Netflix.
WHEN EVIL LURKS (Argentina 2023) ***½
Directed by Demian Rugna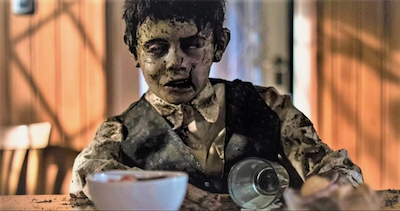 WHEN EVIL LURKS from Argentina, marks one of the best possession horror films in a while. One of the possessed persons is just a bundle of boils and pus and downright ugly to look at if one can bear to look at him. WHEN EVIL LURKS is one prized horror film, in fact, one of the best acquired for premiering on Shudder, the horror streaming network, Though the film is premiering at TIFF Midnight Madness, the film is available for preview on Shudder for Shudder press.
WHEN EVIL LURKS (an excellent title for a horror movie - one just has to love the word 'lurks) has all the elements of a good horror film. There is lots of audience anticipation, violence and gore, evil in its vilest form and a confrontation climax where the evil is finally dealt with.
Director Rugna creates new rules for his demon possession pic. It is not the Roman Catholic church against Satan. The new rules include not turning electric lights on as the demon can hide in their shadows; no guns can be used to eradicate the possessing demon and staying away from animals which the demon can easily enter. There is also a special gadget that can be used at the end of the film to fight the demon. Though these are creative and spin a change over past rules like Dracula being afraid of sunlight or demons of the cross, it is not established where the origin of these rules or the gadget really comes from.
Pus and Blood is a favourite horrific site used in horror films. LORD OF THE RINGS, New Zealand director Peter Jackson took this to the extreme in his horror flick BRAINDEAD (also released a cut version, direct to video under the new title DEAD ALIVE with several cuts made. I was fortunate to see the uncut version at the Toronto International Film Festival and again on video in its cut version with the pus scene modified In the original BRAINDEAD, the mother, turning into a zombie, is at the dinner table. Her ear falls off into her custard and the pus and blood from one of her boils shoots and lands in the bowl of custard of a dinner guest, who unknowingly scoops a large spoonful of custard hiding the bodily fluids into his mouth, In WHEN EVIL LURKS, the possessed person, after being possessed by a couple of months is in a very sorry state. He is in this case a big pus ball, constantly emitting pus and blood through erupting boils on his face and other parts of his body. It does not help that he is also an obese person, wheezing and begging for someone to kill him and end his suffering. It gets more bloody disgusting, in a good way, if one can take it, as his huge corpse is dragged in a bed sheet out to the car outside, the sheet then ripping and the body falling to the ground. "Get a blanket," shouts one of the bearers. This is the film's most grotesque and best scene.
WHEN EVIL LURKS builds up extremely well but suffers a slight letdown at the end. Still, this horror flick has plenty of innovations and scares to offer.