FILM REVIEWS:
THE CREATOR (USA 2023) **
Directed by Gareth Edwards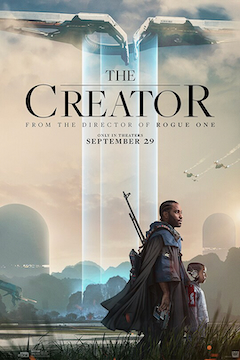 The new 20th Century Fox/Disney sci-fi futuristic A.I. thriller THE CREATOR is a magnificently looking film of extraordinary sets, art direction, and decor but lacks one of the most fundamental elements of human experience - emotion, ironically exactly what A.I. lacks as well. A deity responsible for the creation of the Earth, world, and universe. Great Spirit, or similar deity in Native American religions is often known as "The Creator".
The premise is promising though, and it is about time a film touting the evil of A.I. made its point. Amidst a future war between the human race and the forces of artificial intelligence (AI), Joshua (John David Washington), a hardened ex-special forces agent grieving the disappearance of his wife, is recruited to hunt down and kill the Creator, the elusive architect of advanced AI who has developed a mysterious weapon with the power to end the war… and mankind itself. Joshua and his team of elite operatives journey across enemy lines, into the dark heart of AI-occupied territory only to discover the world-ending weapon he's been instructed to destroy is an AI in the form of a young child. Apparently, according to the voiceover, L.A. had been destroyed by A.I., and A.I. is currently banned in the United States. But not in New Asia. What is new Asia? The New Asia shown are Vietnamese-looking Asians in straw hats working in the padi (rice) fields. The film attempts to be the reverse of what the Americans did in the Vietnam War.
Basically, it is Joshua working with the A.I. child, Alphie (Madeleine Yuna Voyles), and re-connecting with Maya (Gemma Chan), Joshua's love. The lack of emotion is clear from the start to the end of the film. As it is a key point in the story, all of what transpires onscreen is a feast for the eyes but empty on brain and stomach food. The lack of story, premise aside, also adds to the film's tedium, which allowed me to doze off, one too many times.
Running 135 minutes too long, the film at least achieved the great-looking expensive effects with $80 million less than the $100 million mark.
Trailer:
FAIR PLAY (USA 2023) ***
Directed by Chloe Domont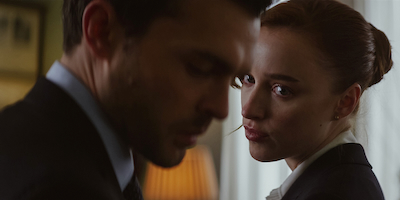 FAIR PLAY is the play that goes on between the two lead protagonists, Emily and Luke. Emily (Phoebe Dynevor) and Luke (Alden Ehrenreich) lead a double life. In one, they're madly in love, share a cozy apartment, and plan to marry. In the other, they are purely platonic colleagues working for One Crest Capital, where worker intimacy is a violation of company policy. When Emily is given the portfolio-manager role Luke had coveted, their private and public relationships become equally strained. Luke must work under Emily as her analyst, and finds himself in a position where even a moment's hesitation can result in his fiancé's advancement or humiliation. Already faced with proving herself within a traditional boy's club, Emily is also forced to contend with the amorous advances of her superior. She's trapped in a high-wire act where anyone might ascend the ranks or be brutally exiled — depending entirely on whether they bring in the money.
The two leads perform well and make good Chemistry but the prized performance belongs to British actor Eddie Marsan, playing an American here. As the sinister boss who hits on Emily, Marsan proves once again he is one of the best of his trade, after first bursting into the acting scene in Mike Leigh's HAPPY-GO-LUCKY as Sally Hawkins' dodgy driving instructor.
Despite the film's dominant male workplace setting, the female gender rules. The main focus in the story is Emily, rather than Luke. The director is also female and one has to give this lady credit for the convincing business jargon and the ability to create a credible trading company atmosphere.
As the film progresses, one can tell that it moves towards delivering more kitsch than anything else. The plot design includes dialogue used like 'dumb fucking bitch'; "Your appearance making you look like a fucking cupcake" to emphasize the #MeToo Movement job used for cheap theatrics or the job dismissal and firing that was considered to be done for the spirit of dramatization coming across as kitsch, instead of reality in the workplace because of excessive garishness or sentimentality. Still, the effects can sometimes be appreciated in an ironic or knowing way making the film a more compelling watch.
The film unfortunately takes too much than it can chew. The film goes downhill after the engagement party. Emily's and Luke's confrontation scene in the toilet comes off as more laughable than anything else. It is a pity as the film worked quite well up to this stage, making the film entertaining to this point.
FAIR PLAY premiered just recently at the recent Toronto International Film Festival and opens in theatres for a limited engagement before opening for streaming on Netflix, the film being a Netflix original film.
Trailer:
FLORA AND SON (Ireland 2023) ***
Directed by John Carney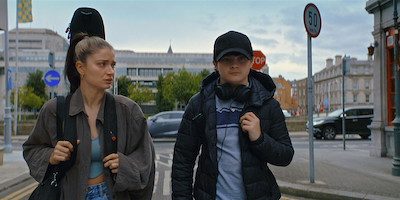 A 2023 Sundance Film Festival and Toronto International Film Festival Selection, FLORA AND SON is the latest feature film from John Carney ("Once," "Begin Again," "Modern Love"), and stars Eve Hewson ("Bad Sisters," "The Knick") and Joseph Gordon-Levitt ("The Trial of the Chicago 7," "Super Pumped," "Mr. Corman").
Flora (Eve Hewson) is something of a hot mess. In her own words, "I live in a shoebox with a son who hates me and a da who will not see me." She's feisty, charismatic, and a trouble magnet. She loves to party, as observable in the first scene with her at a party and bringing a guy home to bed — but she loves her 14-year-old son Max (Orén Kinlan) more, even if it seems like all they do is quarrel. In an effort to bridge the gulf between them, Flora gives Max a guitar, but Max's ideal musical instrument is his computer, which he uses to construct infectious dance tracks.
The film covers several issues with the power of music; song and mother relationship; single mother problems; and coming-of-age both of mother and son among others. Working as both a comedy and drama director Carney also steers his film in the right direction keeping on track with the main subject at hand which is the power of music in overcoming a mother and son's problem relationship The tunes heard on the soundtrack, supposedly arranged by both FLORA AND SON sound quite neat too.
Certain dialogue comes across as too condescending and false, those lines where the mother's or the son's music are praised. When Flora plays the C chord for the first time, she is told: You own the C; No one can take it from you, and so on… sounding quite corny at that,
Single mom Flora (Hewson) is at war with her teenage son, petty thief Max. Encouraged by the police to find Max a hobby, she rescues a beat-up guitar from a dumpster and finds that one person's trash can be a family's salvation. Rather than let the guitar collect dust, Flora opts to develop her own musical chops, Taking online lessons from Jeff (Joseph Gordon-Levitt), a handsome troubadour who shows Flora how to form basic chords and introduces her to the genius of Joni Mitchell. Flora falls for Jeff, despite the fact that she's in Dublin and he is in Los Angeles. But as Jeff pierces Flora's heart, he also inspires in her a creative urge that might lead to a whole new way of connecting with Max.
Director Carney invests an entire segment on the song "Both Sides Now' by Joni Mitchell. Flora is told that there is a song she has to listen to and she listens to "Both Sides Now" as performed by Mitchell on the television. The melody and lyrics, reflecting how life can be looked upon are simply beautiful. Director Carney demonstrates both the seeming effortlessness of coming up with a hit song as well as the care and work that is actually put in (a metaphor for filmmaking?) to create it.
FLORA AND SON is directed, written, and produced by John Carney, and produced by Anthony Bergman, Peter Cron, Rebecca O'Flanagan and Robert Walpole. The film is executive produced by Cathleen Dore, Milan Popelka, Alison Cohen. FLORA AND SON premieres globally on Apple TV+ on Friday, September 29.
Trailer:
NIGHTMARE (Norway 2023) ***
Directed by Kjersti Helen Rasmussen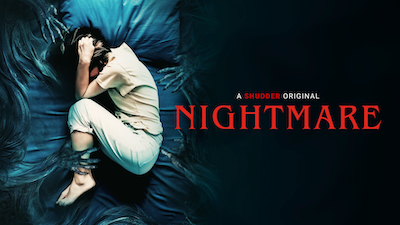 The paralysis of the body, while the brain is fully functional, is a really disturbing thought that makes really scary scenarios movies. In CALVARY, Brendan Gleeson's priest is told of a boy taken to see the doctor by his parents. Something goes terribly wrong and he awakes but is unable to speak, hear, or see. But he can feel the excruciating pain but is unable to scream or tell his parents. And the worst thing DIVING BELL AND THE BUTTERFLY, based on a true story, the patient is almost fully paralyzed except that he can blink with one eyelid, though his brain is fully functional. With therapy, he achieved writing a memoir by blinking that one eye. In the new Norwegian horror film, sleep disorder is the subject.
Mona and Robby are a young couple in love. Robby has just landed his dream job, and they've scored an amazing deal on a spacious, if run-down, flat. Never mind that it requires quite a bit of renovation. Never mind the neighbours' constant fighting, and screaming baby... Never mind that Mona is suddenly plagued by night terrors which grow more intense every time she falls asleep… Robby is eager to start a family, despite Mona's hesitation. Eventually, Mona's issues spiral dangerously out of control as she becomes convinced that she is being attacked by a mythical demon – the Mare – intent on possessing her unborn child.
The audience is quick to be informed at the film's start that 1 in 3 people suffer from sleep disorders, And a definition of sleep paralysis follows - a condition in which the body is paralyzed while the brain is fully awake, trapped between dream and reality. It is often that the inability to distinguish the difference between reality and dream is a huge scare.
Audience anticipation and curiosity are heightened at one point in the film when Mona is asked whether she finds it strange that the sleep doctor is treating so many patients for lucid dreaming in her building. One of his patients, Siren jumped to her death from Mona's balcony during a party. ("Or was she pushed?" questions a cop.
NIGHTMARE, the film has lots of opportunity going for it as a really scary horror flick owing to its creepy and little-known subject. One variation the film goes into is the concept of controlling one's nightmares. It is assumed that if one is awake, then one can get out of one nightmare and control it to some degree, Mona is given this option by her doctor who allows her to flick on a light switch to wake herself up, if she is capable of doing that in her dream. Mona does, but the light is faulty and does not turn on - though Mona is saved in the nick of time.
Not much is used of the Norwegian culture in this film from Norway, though one might say that there is advanced ed technology on dream and sleep disorders, medically, Norway being an advanced country. But there are nice shots of the city with the lights on, a city that often spends days on end without much sunlight.
NIGHTMARE opens for streaming on Shudder, the horror streaming service on Thursday, September 28th, and is definitely worth a look based on content.
Trailer:
PAW PATROL: THE MIGHTY MOVIE (Canada 2023) ***
Directed by Cal Brunker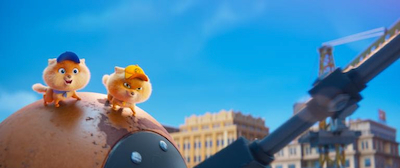 PAW PATROL is a very popular Canadian series for kids, created by Keith Chapman and produced by Spin Master Entertainment, with animation provided by Guru Studio. In Canada, the series is primarily broadcast on TVOntario as part of the TVOKids programming block. TVO first ran previews of the show in August 2013. The series focuses on a young boy named Ryder who leads a crew of search and rescue dogs that call themselves the PAW Patrol. They work together on missions to protect the shoreside community of Adventure Bay and surrounding areas. Each dog has a specific set of skills based on emergency services professions, such as a firefighter, a police officer, and an aviation pilot. In this film, PAW PATROL: THE MIGHTY MOVIE, to keep up with recent super action hero films, a meteor attracted to the earth gives each dog super powers.
All of her life, Skye has felt like she has been unappreciated by the rest of the PAW Patrol. Eager to prove she can be an asset to the team, Skye gets a chance when a magical meteor crash-lands in Adventure City, giving her and the other PAW Patrol members superpowers as they become the Mighty Pups. In order to steal the pups' powers, Mayor Humdinger escapes from prison and teams up with a meteor expert named Victoria Vance to steal the pups' crystals.
For animated films, especially ones for kids like PAW PATROL: THE MIGHTY MOVIE, one would expect a bit more caution in its accuracy. At the film's start, a fire sets propane tanks on fire, and the paw patrol puts out the propane gas fire by water. This is dangerous and children should be taught that not all fires are put out by fire.
The villain, clearly voiced by a black woman from its accent, is played for laughs rather than villainous. "I am not a mad scientist," she claims: "I might be a scientist and I might be mad at times." So much for kiddie humour.
The villain and main protagonist Skye are notably female, proving once again that the female movement in film over the recent years has worked wonders.
You have to take matters into your own hands or paws, if you are the small" Skye" is the smallest and littlest of the PAW PATROL. There are quite a bit of story that goes along with this notion. Skye is the first one to get the superpowers and feels that for the first time, it can excel. st and want a better life. The message comes with an encouraging tune. It is difficult not to like a film that offers endearing moments like these.
It should be remembered that PAW PATROL is a Canadian TV series that many Canadian and North American children grew up with. It is necessarily childish (for example: listen to all the child-like voices) and adults should be forgiving of the film catering more to children than to them. RAW PATROL is a decent effort, and more entertaining for the little ones. Warning: The dialogue also gets quite corny!
Trailer:
THE RAT CATCHER (USA 2023) ****
Directed by Wes Anderson
Wes Anderson (THE GRAND BUDAPEST HOTEL, THE FRENCH DISPATCH, THE FANTASTIC MR. FOX) makes his grand debut on Netflix this week, utilizing the incredible worlds British author Roald Dahl conjured. With Rupert Friend, Richard Ayoade and Ralph Fiennes this 17-minute short THE RAT CATCHER is a story of one such person. A rat-catcher (Fiennes) is a person who kills or captures rats as a professional form of pest control, keeping the rat population.
This story was written in the 40s when Dahl was living at Wisteria Cottage in Amersham. He wrote about the area and the locals.
When the film opens a rat catcher appears at a petrol station greeted by Claud (Friend) and the narrator (Ayoade). This short amplifies the technique Anderson uses in his storytelling/filmmaking that makes him such a unique and wonderful filmmaker. Director Anderson films his story in a way that enhances the curiosity of his story while emphasizing the three different personalities. The characters played by the actors: Fiennes is secretly evil and sinister, Friend is the more talkative one. The contrast of the characters makes the story more intriguing, while Anderson keeps the twist in the plot ahead of the audience. There are choice lines like: Everybody has rats. The bet on how he can kill a rat without touching them is also curiosity taken to its height.
The release of this particular short kicks off a few days worth of Wes Anderson shorts coming to Netflix, with THE WONDERFUL WORLD OF HENRY SUGAR opening Wednesday, this one Friday, and Poison to be released each one on the following days.
THE RAT CATCHER is available to stream on Netflix this week Friday, September 29, 2023.
THE RE-EDUCATION OF MOLLY SINGER (USA 2023) ***
Directed by Andy Palmer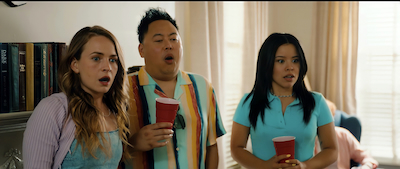 In the recent teen comedy NO HARD FEELINGS, Jennifer Lawrence had to teach her employers' teen son the facts of life. On the brink of losing her home, Maddie finds an intriguing job listing: helicopter parents looking for someone to bring their introverted 19-year-old son out of his shell before college. She has one summer to make him a man or die trying. In a new teen Lionsgate comedy THE RE-EDUCATION OF MOLLY SINGER, a similar premise follows. Talk about film originality. Maddies is a new attorney hired by the law firm but her partying days are overlapping with her work hours. Her boss at the firm now her new boss, asks her to look after her 19-year-old son at her old alma mater.
The details: In college, attorney Molly Singer (Britt Robertson) was the life of every party. Now, she's about to be fired because she cannot leave her partying ways behind. Molly's boss, Brenda (Jaime Pressly), tells Molly there's one way to save her job: re-enroll at her old alma mater, befriend Brenda's socially awkward son, Elliot (Ty Simpkins), and take him from zero to campus hero. Aided by her best friend (Nico Santos), Molly goes to battle with stuck-up hall monitors, boozed-up frat brothers, and her old archenemy in a hilarious quest through the past to save her future.
There is at least, more story in this film than in NO HARD FEELINGS. A few other things have more going for this film. First and foremost is a supporting character, Molly's best friend, Ollie played by Nico Santos, who is immediately recognizable from the comedy TV series SUPERSTORE and also proved himself in films as in CRAZY RICH ASIANS. In MOLLY SINGER, he plays Molly's best friend, who also happens to be gay.
Whether this comedy will make Lionsgate Money is the big question, a company that did well with the DIVERGENT and HUNGER GAMES franchises, but not for want of trying. A new HUNGER GAMES film is set to open this fall. There are plenty of product placements from Coca-Cola to even a burp on Lionsgate Media as can be observed as a headline on the front page of the newspaper that a judge in the court is reading while waiting for attorney Molly to show up.
THE RE-EDUCATION OF MOLLY SINGER is the third movie this year with an irresponsible adult hired to babysit a young teen. Originality aside, the film is entertaining and generates barely sufficient laughs.
SAW X (USA 2023) ***½
Directed by Kevin Greutert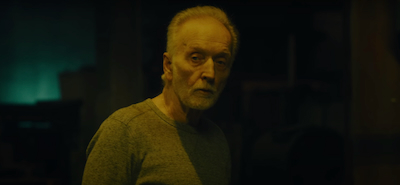 The original 2004 SAW film tells killings revolving around the mystery of the Jigsaw Killer, who tests his victims' will to live by putting them through deadly "games" where they must inflict great physical pain upon themselves to survive. SAW X the latest in the SAW franchise is the tenth instalment. The franchise was created by Australian filmmakers James Wan and Leigh Whannell, and consists of ten feature films and additional media. Nine of the ten films primarily revolve around the fictional serial killer John "Jigsaw" Kramer, while one film revolves around a copycat killer.
SAW X is the tenth installment overall in the Saw film series and serves as both a direct sequel to Saw (2004) and a prequel to Saw II (2005).
Weeks after the events of Saw (2004), John Kramer (Toby Bell) travels to Mexico after learning of a potential "miracle" cure for his terminal cancer. Toby learns of a so-called 'miracle cure' from one of the members of his cancer group. Armed with money and desperation, he travels to Mexico to undergo treatment. However, he soon realizes that the entire operation is a fraudulent scheme targeting vulnerable individuals. Finding a new purpose, the infamous serial killer and his apprentice abduct the con artists and subject them to a horrifying new series of traps. The message in the story is; "We live, you die. F*** You!" Bell is featured in the film more than any other in the series. In fact, Bell is also shown as a killer with a heart, as he believes that innocent people, like the boy he saves, should not die. And f*** the rest! So, Kramer indulges in various ideas, courtesy of Greutret's 'imaginative' script to come up with ideas like chopping off legs, picking brains, sucking out eyeballs ("I don't like what I see…")just to mention a few. The traps get really nasty, including one in which the victim has to cut off his scalp and packman his own brain to fill a jar in order to save himself. Lots of screaming by the victims to enhance the terror. To add a female slant into the picture, the main villain is a really nasty female.aw X
Written and directed by Kevin Greutert, the film surprisingly contains a few twists in the plot. The deadly games get not only more inventive but more violent as the film bloodies towards a worthy climax. Also, one should stay for the closing credits as there is a surprise more-to-come segment occurring midway.
SAW X delivers what is expected from the SAW franchise, so if one is not prepared for torture and more torture, blood, gore, and violence, then best to avoid the film. Victims of]f scammers might especially delight in the torture. Who would not like to see someone who has stolen money from innocent and often helpless victims suffer the consequences? But given the film's 'content', director Greutert succeeds well in a real horror torture flick that definitely makes its mark.
SAW X makes its mark on Friday, September 29th.
Trailer:
SOLO (Canada 2023) ***
Directed by Sophie Dupuis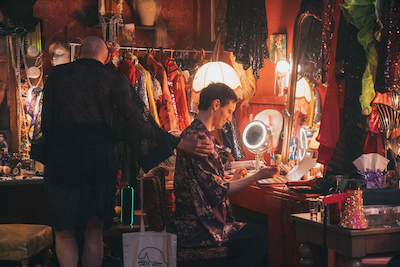 SOLO follows the relationship struggles of Simon (Théodore Pellerin) and Olivier (Félix Maritaud), a handsome, charming fellow drag artist from France. They begin a tumultuous relationship for the reason of a clash of different personalities. Simon is a skilled makeup artist by day and a sensational drag artist by night. Young and carefree, his energies are overwhelmingly set on honing his act and partying. Just as Simon is getting accustomed to this exciting new relationship, his long-estranged mother, Claire (Quebec screen icon Anne-Marie Cadieux), swoops back into his life. Director Dupuis shows Simon is a good-hearted person with reasonable needs, but it's just as obvious he's caught in a pattern of codependence, desperately seeking approval from two strong personalities equally incapable of granting it. In the end, the one person Simon truly needs to commune with is himself. The drag shows are bright and sassily performed complete with elaborate costumes. Director Dupuis captures the behind-the-scenes of the drag shows with credible effect. SOLO is entertaining enough though the depiction of Simon's relationship struggles appear manipulative to a fault.
THE SWAN (USA 2023) ****
Directed by Wes Anderson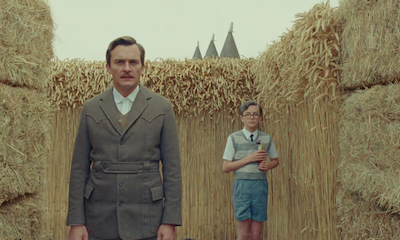 Wes Anderson (THE GRAND BUDAPEST HOTEL, THE FRENCH DISPATCH, THE FANTASTIC MR. FOX) makes his grand debut on Netflix this week, utilizing the incredible worlds British author Roald Dahl conjured. With Rupert Friend s the adult Peter Watson and Ralph Fiennes as Roald Dahl, this 20-minute short THE SWAN tells the story of three boys, two bullies and a swotter.
The release of this particular short kicks off a few days worth of Wes Anderson shorts coming to Netflix, with THE WONDERFUL WORLD OF HENRY SUGAR opening Wednesday, this one Thursday while The Ratcatcher, and Poison to be released each on the following days.
The Wonderful Story of Henry Sugar and Six More is a 1977 short story collection by British author Roald Dahl. The seven stories including THE SWAN are generally regarded as being aimed at a slightly older audience than many of Dahl's other children's novels. The stories were written at varying times throughout his life. Two of the stories are autobiographical in nature; one describes how he first became a writer while the other describes some of Dahl's experiences as a fighter pilot in the Second World War.
Ernie, a loutish school bully, receives a rifle for his 15th birthday. He and a friend use it to shoot small birds before training it on the school swot, Peter Watson. At gunpoint, Peter is made to lie in the path of an oncoming train; he survives by sinking into the trackbed as the train passes. As this short film is an American production the word 'swot' is not used as terms like swot and swotting are not used in North America. A bookworm or pupil that studies all the time likely a teacher's pet is termed a swot. This story is told in the same way as in Anderson's THE WONDERFUL WORL OF HENRY SUGAR, narrated in the first person but spoken by the characters in the story themselves. As the young boy Peter Watson appears on the screen, his adult film also appears by his side as a man narrating the story. Wes Anderson's style is unique though he draws inspiration from other filmmakers like Woody Allen (the narration) and Pedro Almodovar (the colour palette).
Next, the bullies take him to a duck pond and force him to act as their "retriever dog". The bird-loving Peter becomes incensed when Ernie kills a swan, and Ernie responds by promising to make it fly again. He accomplishes this by cutting the bird's wings off and tying them to Peter's arms, before forcing him to climb to the top of a weeping willow. Peter declines the bullies' invitation to jump, but a shot from Ernie's rifle hits him in the leg and knocks him off balance. The rest of the story should not be revealed except to say that this is a very sad yet wonderful story about strength and resilience.
THE SWAN is available to stream on Netflix this week Thursday, September 28, 2023.
SWAN SONG (Canada 2023) ***
Directed by Chelsea McMullan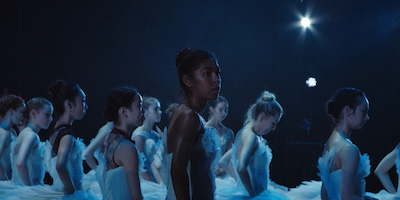 SWAN SONG is more about the legendary ballet dancer and artistic director of the National Ballet of Canada, Karen Kain than of the ballet Swan Lake. The film is called SWAN SONG as it shows Kain's inside the National Ballet of Canada's 2022 production of Swan Lake, directed and staged by the legendary Karen Kain. The segments involving prepared answers in the interviews are obvious for the lack of the word 'like', as compared to the unprepared ones where that word is overused. Director McMullan, who co-directed last year's EVER READY with Tanya Tagaq on throat singing, has an eye for vulnerable moments, as when Genevieve Penn Nabity, a junior member of the company, is offered an opportunity she'd never expected. One complaint is that director McMullan takes her doc to an overdone happy Hollywood ending. Kain is praised so many times that it becomes annoying. Kain, before the opening night was worried as a lot went wrong during the final dress rehearsal but on opening night, Kain kept saying that everything went on perfectly on opening night, going on to praise everyone over and over again.
THE WONDERFUL WORLD OF HENRY SUGAR (USA 2023) ****
Directed by Wes Anderson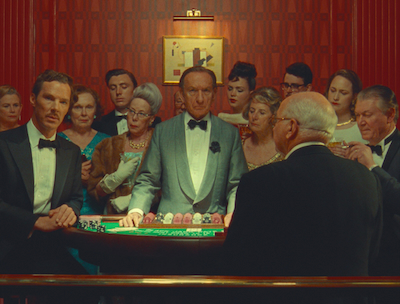 Wes Anderson (THE GRAND BUDAPEST HOTEL, THE FRENCH DISPATCH, THE FANTASTIC MR. FOX) makes a grand debut on Netflix this week, utilizing the incredible worlds British author Roald Dahl conjured. With an all-star cast, this 40-minute short The WONDERFUL WORLD OF HENRY SUGAR tells the story of a rich man, Henry Sugar (Benedict Cumberbatch, POWER OF THE DOG, DOCTOR STRANGE) who learns about a yogi who can see without using his eyes and then sets out to master the skill in order to cheat at gambling." Ralph Fiennes, Ben Kingsley, Dev Patel, and Richard Ayoade also star.
The release of this particular short kicks off a few days worth of Wes Anderson shorts opening on Netflix, with The Swan, The Ratcatcher, and Poison to release each on consecutive following days.
The Wonderful Story of Henry Sugar and Six More is a 1977 short story collection by British author Roald Dahl. The seven stories are generally regarded as being aimed at a slightly older audience than many of Dahl's other children's novels. The stories were written at varying times throughout his life. Two of the stories are autobiographical in nature; one describes how he first became a writer while the other describes some of Dahl's experiences as a fighter pilot in the Second World War.
Henry Sugar, an independently wealthy man who enjoys gambling, finds and reads a doctor's report on a strange patient who called himself "The Man Who Sees Without Using His Eyes". Henry learns how to read playing cards, and wins a large sum of money that he throws out his window only to cause a riot in the street below. A police officer (Ralph Fiennes) scolds Henry ("You are an idiot!)" and suggests that he find a more legal form of charity, and Henry vows to establish the most well-equipped and supportive orphanages on the planet. In Roald's story, this plan works until he reaches Las Vegas, where he unknowingly collects a huge sum from three casinos owned by the same Mafioso and narrowly escapes the owner's thugs. The mafioso part is changed ninth film.
The short story is written and directed as a short film by Anderson in what might be described as a wonderful film by Wes Anderson. Anderson's film unfolds very much like his previous two films THE FRENCH DISPATCH and ASTEROID CITY. The film is narrated in the third person, often read by the character himself, in the first person. For example; Dev Patel's doctor says in one segment in the film: "There's a knock on the door," I said as Patel's character speaks and turns towards the door. Director Anderson makes sure his audience is always aware that they are watching a film with the props and sets moving around as in a studio set. The same tactic is also used with actor Benedict Cumberbatch who plays Henry Sugar. Ralph Fiennes plays the writer, who one assumes is the writer Roald Dahl himself.
THE WONDERFUL WORLD OF HENRY SUGAR opens for streaming on Netflix on Wednesday.
Trailer: