The Toronto International Film Festival runs 7th to the 17th of September 2013. Check this site continually for updates, especially of capsule reviews. In general, capsule reviews have an embargo date and time lifted on its first public screening.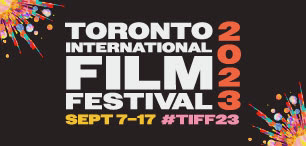 Capsule Reviews:
ABOUT DRY GRASSES (Turkey/France/Germany/Sweden 2023) ***
Directed by Nuri Bilge Ceylan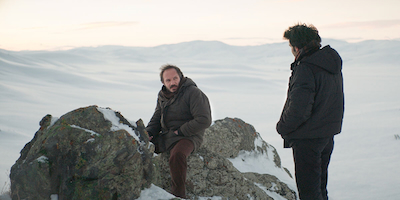 Dedicated teachers or just plain teachers and their demise have been favourite fodder for dramatic stories in films. At TIFF alone this year, there are similar stories to be told in THE TEACHER'S LOUNGE and L'ETE DERNER (THE LAST SUMMER)but not so elaborate as Nuri Bilge Ceylon's (WINTER SLEEP, ONCE UPON A TIME IN ANATOLIA) masses. Elaborate it is as the film runs a full three hours and 20 minutes allowing Ceylon time to tell his take without rush or even urgency.
The film is set in a tight-knit community that seems to only experience two seasons, just summer and winter in Nuri Bilge Ceylan's masterfully character-driven return to the screen probes into power dynamics and the darkest regions of the human soul, as reflected ninth film's setting.
Middle-aged Samet (Deniz Celiloglu) is a quick-witted and quick-to-anger elementary school art teacher–cum–amateur photographer in a traditional village who dreams of a posting in his native Istanbul. shares lodging with his more attractive and likable colleague Kenan (Musab Ekici) and spends his nihilistic days developing an inappropriate fixation on 14-year-old teacher's pet Sevim (Ece Bagci). When a love note written by Sevim is confiscated in a school-wide search, Samet's rotten-to-the-core fantasies grow. The search clearly violates personal privacy, an issue that will never be tolerated these days in North American or Western schools. Meanwhile, Sevim, who suspects her teacher of stealing the letter, makes her heightened discomfort with his behaviour known to the school authorities and an investigation is launched. Enter Nuray (Merve Dizdar), a fellow teacher whose past political activism has rendered her disabled, allowing her to choose postings anywhere in the state — just the escape Samet needs. The only problem is that Nuray seems to favour Kenan.
The film is beautiful to look, at the vast ice and snow of the landscape and even the flowing river during summer. The film is poetic and reflective of the emotions of its characters. But the film is far too long, good as it is, and can be shortened without compromise.
Trailer:
AFTER THE FIRE (France 2023) ***
Directed by Mehdi Fikri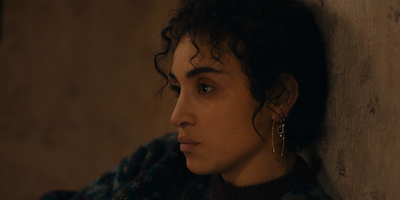 Injustice against minorities is often favourite fodder for French films, (BATIMENT 5 (LES INDESIRABLES) and LES MISERABLES by Ladj Ly being prime examples. In an immigrant French suburb of Strasbourg. Karim, a 25-year-old man, has died at the hands of the police. Devastated by the news, his estranged sister Malika (Camélia Jordana) reunites with her family, compelled to seek justice for her slain brother. Theplice claim the death is due to an epileptic fit due to drug taking. Strategizing with mentorly community organizer Slim (Samir Guesmi) and suave private lawyer Mr. Harchi (Makita Samba), Malika soon begins to face a courtroom battle with overwhelming media exposure, while contending with the growing chaos of her hectic everyday — missed daycare meetings, a failing business, and a strained marriage. But she and her siblings Driss (passionately played by rapper Sofiane Zermani, a.k.a. Fianso) and Nour (Sonia Faidi) are anchored by their renewed blood ties. Together they harness the fire of public outrage against a racist criminal justice system. Director Fikri shows some sympathy for the authorities with the pathologist and the guarding police officer allowing Malika total photos of the bruises from the beatings of the dead brother's corpse while also showing the judicial process and the court case preparations. The sight of the bruised body also gets the emotions of the audience going.
Trailer:
AMERICAN FICTION (USA 2023) ****
Directed by Cody Jefferson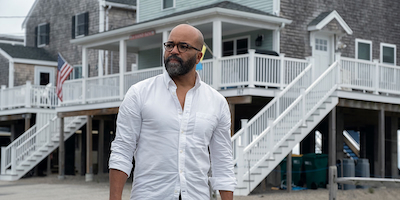 Black films like NEW JACK CITY, 12 YEARS A SLAVE and BOYS IN THE HOOD, all excellent films tell stories of black people that both black and white folk want to hear but there is another very different type of black story that needs and hardly ever been put forth in film. So comes this highly intelligent film entitled AMERICAN FICTION - a satire of stereotyped black stories. The film based on the book, Percival Everett's Erasure — a wicked satire about the commodification of marginalized voices and a portrait of an artist forced to re-examine his integrity, is the book director Jefferson claims is a gift written for him. In the Q&A after the film's Gala screening at TIFF, Jefferson brings out the example that when he was a journalist, he was offered to write a story on a white sheriff uttering the remark that ex-President Obama is a nigger. What else can he write about? he claims, that this is racist or that the criminal code has to be examined. There are more important black stories that need to be told and what better than a satire of stereotyped black stories?
The film begins with a college professor, Monk getting in trouble for writing the word 'artificial nigger' on the board challenging his students who are offered by the word. He is given a leave of absence to go to Boston, which he says he hates because his family lives there.
Thelonious "Monk" Ellison (Wright) is a respected author and professor of English literature. But his impatience with his students' cultural sensitivities is threatening his academic standing, while his latest novel is failing to attract publishers; they claim Monk's writing "isn't Black enough." He travels to his hometown of Boston to participate in a literary festival where all eyes are on the first-time author of a bestseller titled We's Lives In Da Ghetto, a book Monk dismisses as pandering to readers seeking stereotypical stories of Black misery. Meanwhile, Monk's family experiences tragedy and his ailing mother requires a level of care neither he nor his trainwreck of a brother (Sterling K. Brown) can afford.
One night, in a fit of spite, Monk concocts a pseudonymous novel embodying every Black cliché he can imagine. His agent submits it to a major publisher who immediately offers the biggest advance Monk's ever seen. As the novel is rushed to the printers and Hollywood comes courting, Monk must reckon with a monster of his own making. This is satire at its best and it is simply hilarious.
There are quite a few clever lines in the scenario. One is the question asked: "How do you feel defending guilty people? asked Monk to a public defendant lawyer. The answer is 'very good,' ass people are rightly better than their worst deeds.
Jefferey Wright delivers an Oscar-winning performance with a stunning supporting performance by legendary Leslie Uggams playing his ailing mother.
AMERICAN FICTION is excellent entertaining and spirited satire all the way. Brilliant too are the three different endings provided at the end. What best to end a stair with the worst ending (not to be revealed in this review) selected.
ANATOMIE D'UNE CHUTE (France 2023) ***** Top 10
Directed by Justine Triet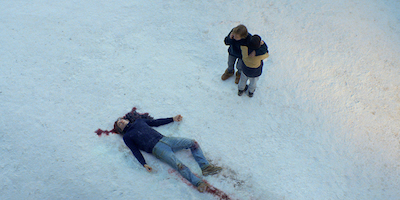 The film that both received great applause during the screening at Cannes and the coveted Palme d'Or (Best Film) is a taut courtroom drama and thriller that keeps one glued to the set from start to end. Great performances from all especially the lead, Sandra Huller and including the dog that voids and has its eyes rolled whitened. Sandra (Sandra Hüller) is a successful German writer who lives in the French Alps with her husband Samuel (Samuel Theis) and their visually impaired son Daniel (Milo Machado Graner). A brilliant, decibel-bursting opening scene suggests tensions in their isolated chalet, so when Samuel is discovered dead in the snow beneath one of their windows, suspicion is quickly aroused. Did he take his own life, or was he pushed to his death? When the investigation proves to be inconclusive — its varying angles hinting at the microscopic examination to come — Sandra is ultimately indicted and put on trial. The prosecuting attorney is understandably nasty and able to twist all the evidence against Sandra, forcing her to unveil all her personal emotions and her life. The twist near the film's end ties all the ends tidily in what is an excellent film all around.
Trailer:
UNE ANNEE DIFFICILE (A DIFFICULT YEAR)N(FRANCE 2023) ***
Directed by Olivier Nakache and Éric Toledan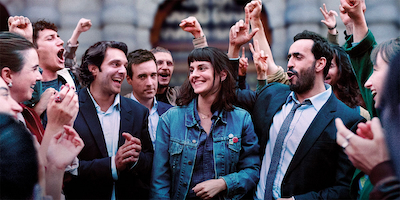 Writer and directors Olivier Nakache and Éric Toledan of C'EST LA VIE return with a similar feel-good commercial French comedy with few relevant messages to boot. It is mainly about two friends who join a movement out of chance with the hope of a little romance.. When Bruno (Pion Marmaï) and Albert (Jonathan Cohen) first meet, neither is in a good way. Bruno has just stolen a television, while Albert responds to being evicted with a bumbling suicide attempt. Bruno manages to save this doped-up stranger's life — only after getting vomited on — and a friendship is born. They have something in common: each suffers an addiction to buying stuff, and both are drowning in debt. They take classes from debt-reduction expert Henri (Mathieu Amalric), though he, too, has a long record of overspending that threatens to follow him forever. They join an activist anti-consumer anti-climate change group, both falling for the group's beautiful leader (Noémie Merlant), who manages to persuade them to participate in elaborate demonstrations that Bruno hopes will spark a love affair. An entertaining enough fare lacking in any power in the messages put across.
ARTHUR & DIANE (Germany 2023) **
Directed by Sara Summa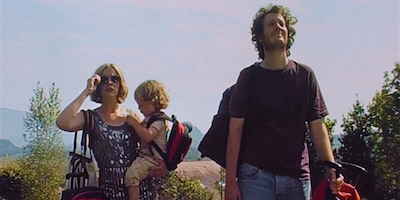 Writer-director Sara Summa stars alongside her real-life brother Robin Summa, in this playful auto-fictional road trip from Berlin to Paris with she takes with her brother Arthur and two year old son, Lupa. The mission to renew an expired MOT — a certificate confirming a vehicle's compliance with road safety and environmental standards — on their shared car, a rusty childhood relic, they also plan on visiting their aging mother along the way. Arthur and Diane travel from Point A to Point B without much director nor purpose (for example, they diverge to a lake to swim) The film feels the same way. Though a quite a neat exercise in filmmaking, one cannot help but feel bored and listless rather than charmed or excited, - though director Summa at least does not try to manipulate her audience. The ultimate question though out the movie is: Are we there yet?"
BOIL ALERT (Canada 2023)
Directed by Stevie Salas and James Burns
Review embargoed till after 315 pm screening Sept 15th Friday)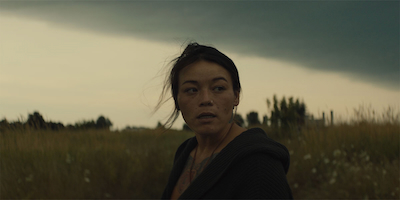 BOIL ALERT follows an indigenous woman, activist Layla Staats as she undergoes a journey through First Nations reservations to shine a light on the devastating struggle for clean water and discovers herself in the process.
Trailer:
THE BOY AND THE HERON (Japan 2023) ***½
Directed by Hayao Miyazaki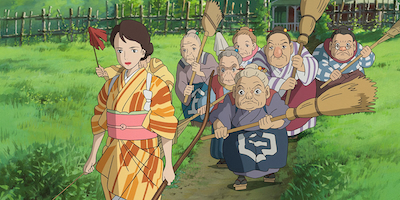 The film is a labour of love and an elaborate effort from the legendary Japanese animator Miyazaki who astounded cinemagoers with SPIRITED AWAY and other classics. The film is based on Genzaburo Yoshino's novel How Do You Live? During the Second World War, young Mahito Maki (Soma Santoki) suffers a heartbreaking family tragedy and must move immediately to the countryside, where his father (Takuya Kimura) works for a family making planes for Japan's military, as Miyazaki's own father did. Isolated, Mahito begins exploring the mysterious landscapes and encounters a grey heron, persistent in its presence. The boy also happens upon an abandoned tower. Curious, he enters. From there, The Boy and the Heron expands into a wondrous, often startling phantasmagoria. The story is too complicated to follow and a bit too ambitious in the director's storytelling, but the animation is nothing short of superb, mixed with great colours, Japanese folklore, and myth while accompanied by a marvellous soundtrack. The animated grannies (see image) are hilarious and a real treat. Another visual classic from Miyazaki.
Trailer:
THE BURIAL (USA 2023) ***
Directed by Maggie Betts
THE BURIAL is so-called as a so-called family funeral home business that is about to be buried by an oil conglomerate. As he turns 75, Biloxi, Mississippi funeral director Jeremiah O'Keefe (Tommy Lee Jones) feels blessed by his wife and children and the legacy he's proud to leave to them. But debts force Jeremiah to sell parts of his business to a corporation rapidly buying up funeral homes, cemeteries, and insurance companies to profit from what its CEO, Ray Loewen (Bill Camp), refers to as "the golden age of death." When Jeremiah's contract with Ray is in dispute, he solicits the services of Willie E. Gary (Jamie Foxx), a flamboyant personal injury lawyer who hasn't lost a case in 12 years — but who doesn't know a thing about contract law. The performances are nothing short of superb, flamboyant Foxx's performance playing against sombre and controlled Jones'. Many of the courtroom segments are clearly performed for the sole reason of eliciting audience audible cheers. There is a disclaimer at the end of the film stating, that much of the dialogue and many scenes have been changed for dramatic effect.
THE BURIAL is a feel-good large-budget courtroom drama that relies on Oscar winners in the leads and cheap theatrics that could be achieved much more cheaply like the 1997 2-week made efficient Australian, also David and Goliath courtroom piece, Rob Sitch's THE CASTLE.
Trailer:
LA CHIMERA (Italy/France/Switzerland 2013) ****
Directed by Alice Rohrwacher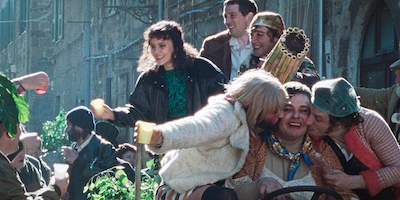 LA CHIMERA follows the adventures of a linen-clothed British archaeologist first name of Arthur (Josh O'Connor) as he digs up tombs and sells treasures in the likes of Indiana Jones. Arthur has the uncanny ability to be able to foretell where treasures are buried. Unlike the Spielberg movies, this is art-house Indian Jones, competing with the latest Indiana Jones and the Dial of Destiny. LA CHIMERA has its major surprises and is an utter delight in its delivery, presentation and originality. Arthur is a handsome fellow and O'Connor portrays him with a certain suave and likability. It turns out that Arthur has just been released from prison, the only one caught the last time he was tomb digging with the gypsy romans, who are eager to get up with him again. The Romans are shown to be a colourful and playful art and director Rohrwacher delivers many of the film's funniest and brightest moments of this group. many members of which love to dress in drag. The film's ending has a nod to Alfred Hitchcock's final scene in NORTH BY NORTHWEST, in which Cary Grant reaches out to Eva Marie Saint as she almost falls off the cliff only to reveal the final scene where Grant lifts her to the top of the bunk bed on the train.
Trailer:
CHUCK CHUCK BABY (UK 2023) **
Directed by Janis Pugh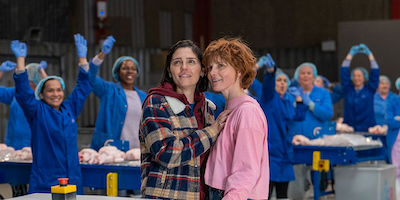 Director Janis Pugh's feel-good romantic comedy that is filled with popular songs, sung in part by Helen played by Louis Barely and set in a chicken factory sounds more promising than it really turns out, Helen has a complicated domestic situation: she lives in the same crummy terrace as her oafish husband Gary, from whom she is separated but seemingly not actually divorced, and shares the place with his new, much younger, girlfriend Amy (Emily Fairn) and their newly arrived baby. Also on the premises is Gary's terminally ill mother Gwen (Sorcha Cusack), for whom Helen acts as a carer but is the quasi-maternal figure that Helen appears to long for. The film is Welsh and set in a small Welsh town, so living comfortably with an in-law, is common there though odd in North America. The individual segments are lively done but fail to come together as a whole. The feel-good ending feels like a complete cop-out too.
Clip:
THE CONVERT (Australia/New Zealand 2023) ***½
Directed by Lee Tamahori
Since breaking into the filmmaking scene with his debut ONCE WERE WARRIORS, New Zealander Lee Tamahori's newest action-filled historical epic stars Guy Pearce as Thomas Munro, a newly arrived preacher in a colonial town in early 19th-century New Zealand who finds himself at the centre of a long-standing battle between two Māori tribes. It is a more ambitious film with closeups of ships, and Maori villages with superb cinematography and indigenous wardrobe. Munro soon learns to navigate the complex dynamics at play within the community and with the iwi. Epworth itself leases its land from the local iwi headed by Maianui (Antonio Te Maioha) whose nation struggles with the aggressive might of his counterpart, Akatarawa (Lawrence Makoare), whose ruthlessness in claiming territories threatens Epworth's tenuous stability. The film also shows the greed of the British white man and the problems thus caused by its influence and wars. Another worthy effort from director Tamahori that offers insight into the history of dispeople.
THE CRITIC (UK 2023) ****.
Directed by Arnold Tucker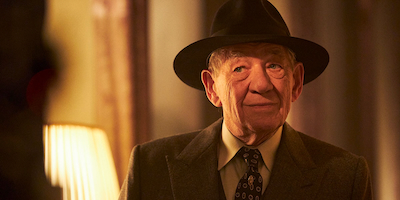 The period piece, a black satire THE CRITIC based on Anthony Quinn's novel Curtain Callis set in the year 1936, prior to World War II. The Nazi-like blackshirts have a scene bearing up a gay Jimmy Erskine, the theatre critic played by McKellen near the end of the film. Ambition and status is the subject at hand. Gemma Arterton and Ian McKellen star as adversaries forced to take desperate measures to save their careers, in this scintillating tale of ambition and deceit in the theatre world. The dialogue is ripe and ready for this yet another extraordinary performance for cinema and theatre actor McKellen. When asked how he could live with himself after dishing out blackmail and deceit, Jimmy spews up the script's best line: "It is a struggle." McKellen delivers an unmatched Academy Award Winning performance of a critic - more beast than beauty, (he has not won but has been twice nominated in FELLOWSHIP OF THE RING and GODS AND MONSTERS). Arterton and Mark Strong also deliver worthwhile performances in a wonderfully created atmospheric and wicked piece worthy of classic period drama.
THE DEAD DON'T HURT (Canada/Mexico/Denmark 2023) ****
Directed by Viggo Mortensen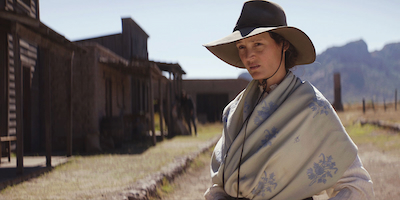 Impressive and ambitious second feature after FALLING by actor Viggo Mortensen has an 1860s setting in an elegantly realized feminist western starring Mortensen himself and Vicky Krieps as immigrants attempting to forge a life in a corrupt Nevada town. There are a lot of French spoken in the film. French-Canadian flower seller Vivienne Le Coudy (Krieps) and Danish carpenter Holger Olsen (Mortensen) meet in San Francisco. Vivienne is irreverent, fiercely independent, and refuses to wed, but agrees to travel with Holger to his home near the quiet town of Elk Flats, Nevada. There, they begin a life together — Vivienne grows roses and waits tables at a tavern and Holger builds barns until the couple is separated by Holger's decision to fight for the Union in the burgeoning Civil War. Left on her own, Vivienne must fend for herself in a place controlled by corrupt Mayor Rudolph Schiller (Danny Huston) and his business partner, powerful rancher Alfred Jeffries (Garret Dillahunt). Alfred's violent, wayward son Weston (Solly McLeod) aggressively pursues Vivienne, who is determined to resist his unwanted advances. A bit disorienting at first as the story unveils in non-chronological order without titles, the tactic forces the audience to think a bit and puts all the pieces into place. Necessarily violent, this is a violent revenge western. Director Mortensen sets up all the I justices down toward the couple before exacting the well-deserved revenge that would have the audience cheering.
DEATH OF A WHISTLEBLOWER (South Africa 2023) ***
Directed by Ian Gabriel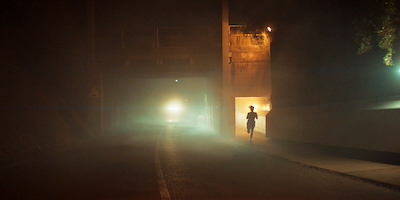 THE DEATH OF A WHISTLEBLOWER is a combination of suspense thriller and real-life whistleblowing that does not really blend together but is not due to lack of trying. When an investigative journalist is killed, it falls to his colleague to expose the corruption that cost her friend his life. From returning director, Ian Gabriel comes this high-energy political thriller highlighting the devastating risks faced by South African whistleblowers. The film ends with a list of South African whistleblowers who have lost their lives due to other convictions. When her friend and fellow reporter Stanley Galloway (Rob van Vuuren) is murdered for daring to release catastrophic state secrets, investigative journalist Luyanda Masinda (Noxolo Dlamini) is thrown headfirst into a dangerous search for those responsible. Stanley is the latest victim in a string of suspicious killings across South Africa intended to silence those committed to rooting out government corruption. Unintimidated, Luyanda is propelled into action, scouring her friend's files for details about the explosive story he was chasing, knowing it holds the key to exposing his killers. Luyanda uncovers what Stanley had learned about the government's latest privatization scheme and the double-dealing profiteers who stand to benefit.
railer:
DUMB MONEY (USA 2023) ***1/2
Directed by Craig Gillespie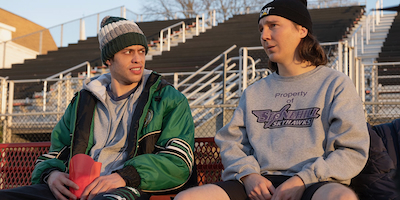 DUMB MONEY is a timely drama comedy written by Lauren Schuker Blum and Rebecca Angelo based on the 2021 book The Antisocial Network by Ben Mezrich and chronicles the GameStop short squeeze of January 2021. Keith Gill (Paul Dano) and Gabe Plotkin (Seth Rogen) find themselves on opposite ends during a tug-of-war, in Craig Gillespie's take on the outrageous battle of wits between amateur investors and hedge fund billionaires that became the infamous GameStop Wall Street scandal. DUMB MONEY captures the rabid creativity of the internet and the power of the community many found there in 2021. What started as a silly gamble quickly turned into a national battle of wits between the haves and the have-nots, with nurses and college students. The film is necessarily manic, and what better actors to portray crazed personalities than SNL's Pete Davidson, Paul Dana (last seen as Spielberg's dad in THE FABELMANS) and of course, Set Rogen. One crazy scene has the brother played by Davidson and Dana running naked on the track in the middle of the night. The music soundtrack contains lots of street music that adds to the film's manic pace. Everyone loves a David and Goliath story. And the big guys like Wall Street fund managers do not play fair.
Trailer:
ESTONIA (Estonia/Sweden/Finland/Belgium 2023) ***
Directed by Miikko Oikkonen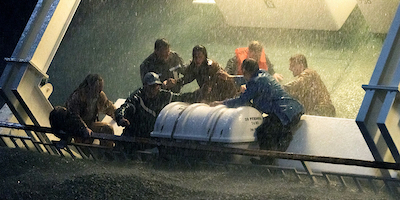 Just after midnight on September 28, 1994, MS Estonia was caught in a catastrophic storm on its way from Tallinn to Stockholm. The cruise ferry is fully loaded and dangerously lilting from side to side; the 989 people aboard, a mix of guests and crew (including Kaspar Velberg), begin to panic. As the ship begins to sink, one of the worst maritime disasters of the 20th century is underway: a tragedy that will involve numerous nations, hundreds of lives lost, and many families impacted forever. This is a TV series about the account of the disaster, with real footage coupled with dramatic re-enactments. The series is made up of 8 episodes of which two are seen in this film at TIFF. The film is revealed primarily with two main characters, a rescuer, Ari Luoma-Aho (Pelle Heikillä) and a priest Mikaela Karlsson (Cecilia Milocco). The film documents the direct countries arguing and blaming each other, the withholding of passenger information and the frustration of the friends and relatives of the passengers. The film documents the direct countries arguing and blaming the other, the withholding of passenger information and the frustration of the friends and relatives of the passengers.
FALLEN LEAVES (Finland/Germany 2023) ****
Directed by Aki Kaurismaki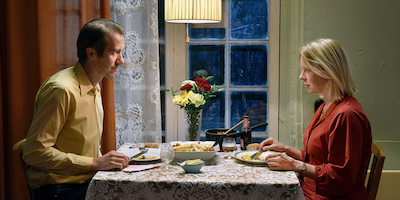 A love story of sorts between two lonely working-class people showing that love can still be found, Ansa (Alma Pöysti) and Holappa (Jussi Vatanen), spend their waking hours in drab workplaces, bars full of stone-faced patrons, and sparsely decorated homes in which a radio is the height of modern technology. FALLEN LEAVES is simply wonderful because of all the little details and observations Kaurismaki inserts in his film. His distaste for the Russian invasion of Ukraine is made loud and clear as a message from the radio broadcasts heard throughout the film. The film pays tribute to lots of oldies, particularly David Lean's BRIEF ENCOUNTER, the Finnish poster seen in the background, both films share similar stories of lost love opportunities. Even the dog in the movie is called Chaplin, another tribute to another Master of film.
Trailer:
THE FEELING THAT THE TIME FOR SOMETHING HAS PASSED (USA 2023) ***
Directed by Joanna Arnow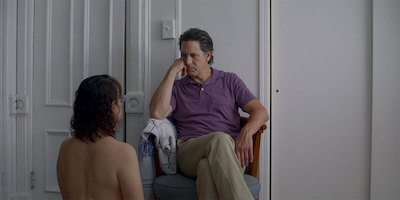 THE FEELING THAT THE TIME FOR SOMETHING HAS PASSED follows Ann (Arnow), a 30something Brooklynite who passes time in her long-term BDSM relationship, low-level corporate job and quarrelsome Jewish family, with Ann's parents played by Arnow's real ones. For nine years, Ann has been involved as a submissive partner with an older man (Scott Cohen) who can't even remember what college she attended (Wesleyan, Arnow's alma mater). Ann decides to move on to other men (including one who wants her to wear a pig costume) and finally meets someone with whom she might find love. Director Arnow is unafraid to go all out for her film including full frontal; nudity.. Director Arnow is fond of using the style of Director Roy Andersson especially in his use of deadpan humour and stationary camera.This is clearly an Arnow's styled film, the auteur serving as star, writer, director and editor of the film. Though not autobiographical, the press notes claim that the film is based on the filmmaker's experiences.
Trailer:
FOUR DAUGHTERS (France, Tunisia, Germany, Saudi Arabia 2023)
Directed by Kaouther Ben Hania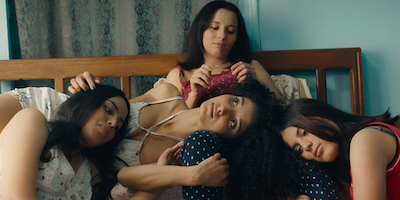 FOUR DAUGHTERS is a film about the four daughters of Olga, a Tunisian, the film's French title being LES FILLES D'OLFA. This is hardly the subject of a film that might sound interesting to a male audience but this prize winner for Best Documentary at this year's Cannes Festival is a powerful piece of filmmaking that both genders should watch. Using actors to fill in the gaps, the film documents the story of Olfa, a Tunisian mother of four daughters, with her two eldest disappearing as teenagers. The two have been taken away by a wolf, Olfa says of the two older daughters on camera while the two youngest daughters Eya and Tayssir (as themselves) are still living with her. The missing ones are Ghofrane (Ichraq Matar) and Rahma (Nour Karoui). Olfa plays herself, with actor Hend Sabri also standing in. Majd Mastoura plays all the disappointing men – Olfra's husband, her lover whom the kids initially see as a step-dad, and a Tunisian officer who refuses to help. A compelling documentary about female abuse with a strong statement that the female gender is just as strong as the male and will do anything in order to prove themselves and to survive!
Trailer:
FRYBREAD FACE AND ME (USA 2023) ***
Directed by Billy Luther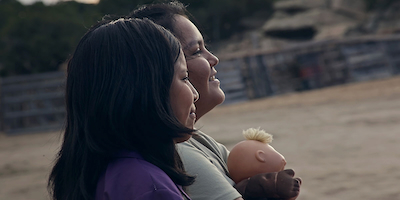 FRYBREAD FACE AND ME is a Navajo Indigenous entertaining coming-of-age story of a pre-teem named Benny who is sent to the reservation to spend the summer with his grandmother. A city boy with long hair so that he looks like a girl, he loves Fleetwood Mac. A lifelong city kid, Benny is a fish out of water in the rural northern Arizona community. Grappling with feelings of abandonment, his initial isolation is enhanced by not being able to communicate with his loving, Navajo-speaking grandma (who has refused to ever learn English). Making matters worse is his bullying uncle Marvin, who sees Benny's sensitivity as a weakness. But Benny's summer takes a new twist when Dawn (a.k.a. Frybread Face), his bold and brashly confident cousin, is also unexpectedly dropped off at Granny's. A refreshing look at a coming-of-age story in a different Navajo setting, Benny learns about rodeo, driving and sheep herding. Director Luther goes for more humour than drama though Benny does lose it a few times.
Trailer:
GOD IS A WOMAN (Dieu est une Femme) (Switzerland/Panama 2023) **
Directed by Andrés Peyrot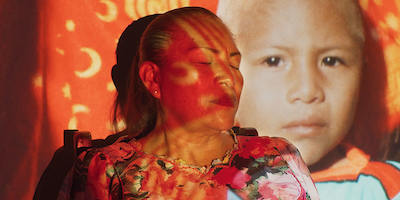 Though many might not have heard of the Kunas, the Kuna community is one of the largest remaining Indigenous tribes in Latin America. Based in the Guna Yala islands off Panama's Caribbean coast, they organized a revolution in the 1920s that helped establish their independence. In 1975, they attracted the attention of Pierre-Dominique Gaisseau, an Oscar-winning French filmmaker and anthropologist. He moved with his family to spend a year documenting the Kuna's matrilocal society. He promised to share the resulting film with the community, but that never happened. This doc is about the Kuna's claim for the film.
as they seek to lay claim to a 1975 documentary that captured their community, but never was shown to them. One of the most motivated is Arysteides Turpana, who studied in France and doggedly pursues the film's trail through the bureaucracy of government ministries. Though one can hardly feel the same zest as the Kunas, the doc still serves as a cautionary tale raising questions around how and why documentaries are made and for whom, and a testament to the power of what it means to see yourself on the big screen.
HAJJAN (Saudi Arabia/Jordan/Egypt 2023) ****
Directed by Abu Bakr Shawky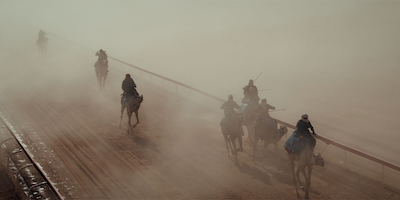 Following his 2018 Cannes Competition debut, Yomeddine, Egyptian Austrian writer-director Abu Bakr Shawky brings a western of a different sort - one set in the hot and dry deserts of Saudi Arabia. A grand Arabic epic, both in concept and execution complete with an evil villain, Jasser (Saudi actor Abdelmohsen Al Nemer) who does not show his evil till 45 minutes It is also a renegade, mythic coming-of-age adventure by director Abu Bakr Shawky is set in the legendary, high-stakes world of Bedouin camel racing. The camel racing is something seldom seen in North America and the filming of the races is as exciting as the chariot races in William Wyler's BEN-HUR. Director Shawky also sneaks in a message of the empowerment of movement with the female characters in the story playing a major part. Intelligent, exciting and fresh, HAJJAN is a welcome surprise to TIFF.
HELL OF A SUMMER (USA 2023) **
Directed by Finn Wolfhard, Billy Bryk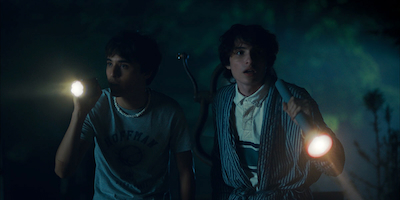 A tribute to horror slasher movies, HELL OF A SUMMER has its main protagonist named Jason, an obvious tribute to the FRIDAY THE 13th franchise, also set in a summer camp. Some masked killer is doing away with all the camp counsellors before the kids arrive the following week. The victims are all good-looking human specimens and the counsellors assume that they are being done away in the order of the best looking. The main suspect is the least good-looking of the lot, Jason. The violence and vote are still there but the directors concentrate more on the humour, which is amusing at best. Again horny teenagers are done away with in a variety of ways from axe in the head to stabbings and so on. Nothing that audiences have not seen before, and the film is barely amusing at best!
Trailer:
HOLIDAY (Italy 2023) **
Directed by Edoardo Gabbriellini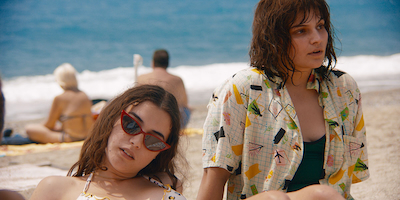 This is a courtroom drama done all wrong. It is void of suspense or mystery because it begins with the defendant's release, so one knows she is likely innocent. Whether this is true at least forces some curiosity into the audience. Just before her 20th birthday, Veronica (Margherita Corradi) is released from prison after a long and public trial in which she stood accused of brutally murdering her mother and her mother's lover. She was found not guilty in court, but the court of public opinion is another matter, and now every move she makes is under society's microscope. She has become a social pariah, and only Veronica's father (Alessandro Tedeschi) and her best friend Giada (Giorgia Frank) — who was also there on the fateful summer night when the couple was found stabbed and floating in the pool at a swanky seaside villa — are by her side. Now, with the ordeal in the near-distant rearview, Veronica, who maintains her innocence, is simultaneously beating a drum in search of a fugitive while trying to reclaim her young life, which was abruptly frozen just as she was discovering her sexuality, thus adding the coming-of-age element into the story. A disappointing and confusing drama that misses its mark.
THE HOLDOVERS (USA 2023) ***** Top 10
Directed by Alexander Payne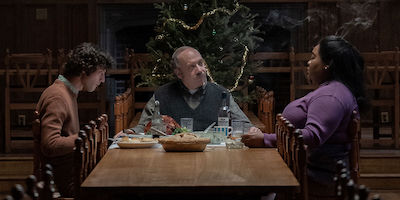 Written by David Hemindson and directed by Alexander Payne, this film won the runner-up roil for the Audience Choice Award at TIFF, but should have been the prize winner. The film is an updated variation of the Charles Dickens' A CHRISTMAS CAROL, in which the miser is replaced by a very strict and unflinching schoolmaster whose past catches up with him with the help of a troublesome student who eventually brings out the man's good side. The film is both sad and funny with Paul Giamatti delivering a career-best Oscar Winning performance. Set in the early 1970s (the year no revealed till the new year is shown on the TV), the film follows Paul Hunham (Giamatti), a disliked teacher at Barton Academy, who's responsible for supervising students who are unable to return home for the Christmas holidays. During this process, Paul is forced to deal with one particularly rebellious but troubled student, Angus (Dominic Sessa), who is grieving the loss of his father. One also learns the all-important lesson that there is much more alike in human beings than one can imagine. Extent funny and quotable dialogue too!
Trailer:
I DON'T KNOW WHO YOU ARE (Canada 2023) ***
Directed by M.H. Murray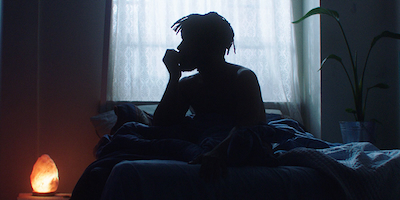 I DON'T KNOW WHO YOU ARE is an impressive and knock-out debut by both director Murray and lead actor Mark Clennon. Gay Toronto musician has a complex personality that few including the audience can understand - hence the film's title, Benjamin (Lennon) is not a likable character, has problems with social interaction, and often displays attitude when comes across instead of his insecurity and a failure to commit in life and in relationship. His character is less likable to the audience as director Murray surrounds this man with faithful and sincere friends and a decent and loving boyfriend. "Call me Benjamin, not Benji", he tells a friend at a party. After being raped, he fails to go after his attacker leaving him free to assault others. Benjamin is also broke and frantic trying to raise money for an HIV treatment after the rape. Though director Murray's character is a hapless fool unable to care fro himself, he shows a broken-down system where the city is unable to help the weaker and minority population. A worthy and unforgettable debut of a film.
I TOLD YOU SO (Italy 2023) **
Directed by Ginevra Elkann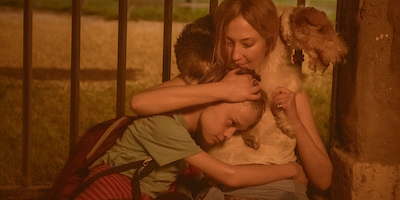 The film is set in Rome during one sweltering hot Indian summer in January when temperatures are around the 40C mark and all the characters are sweating to death. Amid the bustling streets and piazzas, Gianna (Valeria Bruni Tedeschi) is honing a decade-long obsession with her ex–best friend Pupa (Valeria Golino), an aging, bankrupt porn star from the '80s desperately clutching to her golden days with cosmetic retouches and corny appearances.
Gianna depends (but mostly co-depends) on her sweet daughter Mila (Sofia Panizzi), who dotingly cares for a housebound older woman (Marisa Borini) — and is trapped in a cycle of bingeing and purging — as well as on her forthright priest, Father Bill (Danny Huston), a half-Italian, half-American former heroin addict, whose sister (Greta Scacchi) has arrived to the Italian capital to bury their estranged mother's ashes according to particular wishes.
The Father, too, is a true piece of work, though he remains a committed sponsor to Caterina (Alba Rohrwacher), an artist struggling with addiction, who recently lost custody of her young son to her heartbroken ex (Riccardo Scamarcio). The drama, jealousy and humour do not really work and sympathy for the characters is lost. It is good to see Danny Hudson and Greta Scacchi together in an Italian movie. The film is shot in red and haze to depict the heat of the sun, but the gimmick wears thin.
LES INDESIRABLES (BATIMENT 5) (France 2023) ***½
Directed by Ladj Ly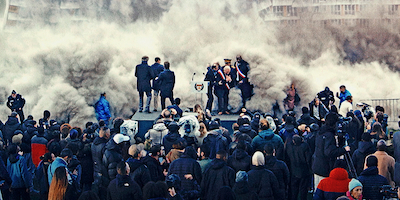 LES INDESIRABLES (BATIMENT 5) is co-writer and director Ladj Li's second feature after his excellent Cannes Jury Prize–winning debut, LES MISERABLES (TIFF '19), which was also French's entry for the Oscar's Best International Film that lost all its glory to the over-rated PARASITE.

LES MISERABLES' actor Alexis Manenti who played the racist white cop with the nickname 'Piggy' now plays the unlikeable, white new deputy mayor who has some slight good in him but carries policies out the wrong way. In LES MISERABLES, his cop says "Le loi, c'est moi!" (The law - it's me!) In this one, his mayor, Pierre says: "The law is harsh, until it is the law!" Pierre is woefully unfamiliar with the less affluent members of his constituency and soon realizes he's in over his head. Manenti is a superb actor and it is clear the reason director Ly chose him again for his second feature. Newcomer Anta Diaw, is also especially good in the main role of the running mayor, dramatizing a most divisive social theme.
As Pierre's administration unleashes an aggressive campaign targeting immigrants, Haby decides to put herself forward as a candidate in the forthcoming mayoral election. But can she and her team act fast enough to prevent their community from being evicted wholesale?
Director Ly also includes a few more intimate scenes at the start of the film to show the plight of the poor. These include a bus driver strike, a disastrously executed demolition, and a scene in which a family must move a casket carrying the remains of a loved one down multiple flights of stairs.
Director Ly proves himself apt at shooting spectacle. The fire on the upper floor of a building is shown at a distance as well as a demolition of a building at the film's beginning. The riot scenes are also well-shot.
LES INDESIRABLES (BATIMENT 5) pale in comparison to Ly's masterwork LES MISERABLES for its lesser biting humour and spirit (that one begins with tParis' celebration of winning the world cup), but still shows the director in fine form, tacking key issues, in this case, mis-sue of power and the law as well as poverty housing. Praise to director Ly for carrying out his convictions out into film.
Trailer:
IRENA'S VOW (Canada/Poland 2023) ****
Directed by Louise Archambaul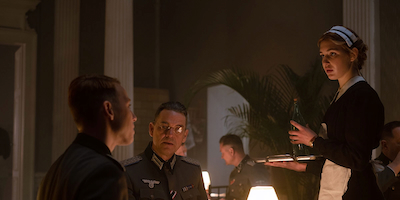 IRENA'S VOW follows her solemn silent and personal vow Irena makes when she witnesses a German officer killing an innocent Jewish baby by crushing it with his military boot. It is a terrifying scene that makes the entire audience gasp in shock and sets the raison d'ete for Irena's actions for the film. In occupied Poland, a former nurse (Sophie Nélisse) risks her own life to shelter a dozen Jewish men and women from the Nazi war machine. The setting is Warsaw, 1939: when the Nazis invade Poland, and nurse Irena Gut (Sophie Nélisse) is displaced and forced to work in support of the German war effort, eventually assigned to run the home of a Nazi commandant (Dougray Scott) where she hides the Jews. Director Archambaul keeps the tension mounting throughout from start to end, with the fear that the Jews will be discovered at any moment. But one knows Irena survived since the film is based on her story. The film shows the triumph of the spirit over impossible odds, all made the more astonishing that the story is all true. One of the best Canadian films of 2023.
JE'VIDA (Finaland 2023) ****
Directed by Katja Gauriloff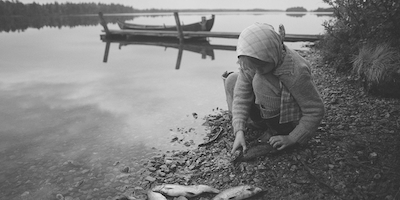 Shot in black and white in the languages of the rare Skolt Sámi and Finnish, this engrossing tale tells the emotional journey of a woman now in her old age, confronting the past she struggled to bury after abandoning her family and community decades earlier. She and her niece are summoned to her mother's house which is sold and to beeped out. So, Iida (Sanna-Kaisa Palo) journeys back to the far north of Finland to her childhood home. She's joined by her artist niece Sanna (Seidi Haarla) — whom she barely knows — as the related but distant pair are tasked with clearing out the small house of Iida's estranged elderly mother who recently died.
The film traces different parts of her life told in flashbacks- her as a child with her grandfather fishing; her schooling in a boarding school and her courtship. One can not only see but experience the hardship Iida got through. Beautiful cinematography of winter in North Finland making up a wonderful film to watch!
KANAVAL (Canada/Luxembourg 2023) ***
Directed by Henri Pardo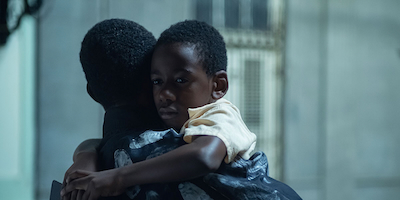 The film KANAVAL the term for Carnival, in Haiti begins with the carnival celebrations in Haiti. Haiti is a country that has always faced political turmoil and the time of unrest is presently felt during the carnival time, especially for Erzulie (Penande Estime), a young mother involved with revolutionaries, and her young son, Rico (Rayan Dieudonné). Director Pardo's film traces the story of one young boy's journey from a small port town on the coast of Haiti in 1975, during the town's carnival celebrations, before a traumatic event forces him and his mother to flee to Quebec. The story is told from Rico's point of view. It is a younger coming-of-age story combined with rites of passage as he wrestles between right and wrong and who he can trust. Canada, Quebec in particular is shown from both sides, from the loving couple who take Rico in to the racist bullies who'll not leave Rico alone. The film is a bit over-ambitious, especially in introducing Rico's imaginary and scary friend but director Pardu gets his message across in the end.
KNOX GOES AWAY (USA 2023) ***½
Directed by Michale Keaton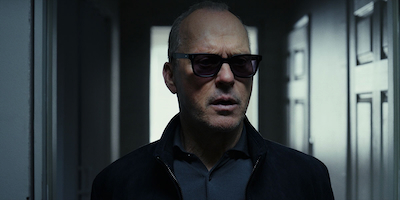 Impressive, moody and atmospheric hit-man noir sophomore effort directed by Michael Keaton based on Gregory Poirier's script who plays the lead role of Knox. Knox is a hitman losing his memory (a very fast version of an Alzheimer's type illness), putting him in a race against time to help his estranged son (James Marsden) cover up a messy crime. Knox has to put everything right before he goes away. It all begins one night, though, his estranged son, Miles (James Marsden), shows up at his door. Covered in blood and barely able to speak, he begs his father for help covering up a violent crime. Knox sees only one way out, developing a tricky scheme with multiple steps that require precise execution. Keaton elicits superb performances from Marsden, as one has never seen before, Al Pacino and Marcia Gay Harden. A few bouts of humour that do not really work - the beginning diner scene but the film succeeds as a totally engrossing suspensor aided by the minimal use of music.
L'ETE DERNIER (LAST SUMMER)(France 2023) ****
Directed by Catherine Breillat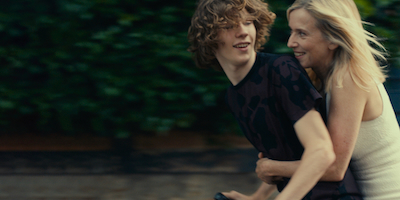 French director Breillat returns to the screen with another provocative film as in one of her best films MA SOEUR. Breillat films can never have the adjective 'pleasant' to describe them, but their unpleasantness and unease make her films so memorable. In the latest film by French provocateur Catherine Breillat, a prominent lawyer's passionate affair with her 17-year-old stepson threatens both her career and family. Anne (a radiant, fierce Léa Drucker) is a prominent lawyer in her forties who lives with her loving yet overworked husband Pierre (Olivier Rabourdin) and their two young, adopted girls in a stunning, sun-soaked villa on the outskirts of Paris. A woman of plenty with as much to lose, Anne soon falls under the spell of the tousled-haired Théo (Samuel Kircher, a revelation in his first role), her husband's rebellious 17-year-old son from a previous marriage, when he comes to stay with them. Their steamy affair seems less premeditated than accidental as Anne, coaxed out of her conjugal ennui, gradually gives into Théo's advances, excited not only by his physical beauty but also by the thought of being lusted after by someone half her age. Though the film is a remake of the 2019 Danish film Queen of Hearts by May el-Toukhy, Breillat's version has her imprint all over it. Superb performances by all especially from Druker in the lead.
Trailer:
LIMBO (Australia 2023) ***½
Directed by Ivan Sen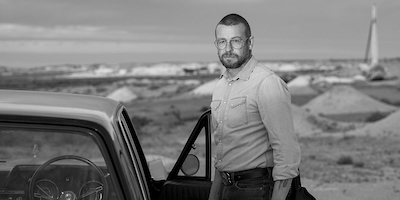 LIMBO is a meditative, slow burn but by no means uninteresting study on justice and law enforcement that investigates the cold case of a murdered Indigenous girl in an outback mining town. There is a hotel named Hotel Limbo in the film. The protagonist of the piece is no faultless hero. He is is Detective Travis Hurley (Simon Baker), seen shooting heroin in a motel in one scene before arriving in the eponymous outback town. The town is filled with labyrinthine tunnels; many of the dwellings, including Hurley's motel, are built into the earth and stone to provide escape from the oppressive heat of Southern Australia. This is gorgeous black and white cinematography on display, well worth the price of the film. Hurley is in town to close a 20-year-old case of case of a murdered Indigenous girl, Charlotte, whose killer may still live locally. From the mood and atmosphere of the film, one would not expect a mystery whodunit to be solved. Director Sen's purpose for his film is more ambitious, with LIMBO succeeding as an engrossing tale about regret and time lost and unrecoverable.
LOST LADIES (India 2023) ***½
Directed by Kiran Rao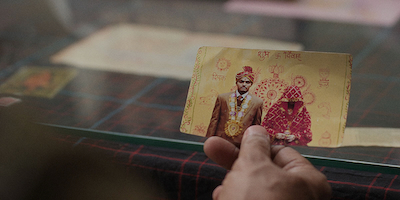 This very funny comedy from India having its world premiere at TIFF could very well be called HEY DUDE, WHERE'S MY BRIDE? Two young brides in India in 2001 accidentally swapped before their big day. New brides Jaya (Pratibha Ranta) and Phool (Nitanshi Goel), veiled in their crimson, filigreed marital saris, are accidentally swapped when Phool's timid groom Deepak (Sparsh Shrivastava) mistakenly escorts Jaya out of their overnight train. Now, self-possessed and secretive Jaya temporarily enters Deepak's joint family, while docile and fragile Phool finds herself abandoned at a remote railway station. Soon, Phool is befriended by a railway urchin and his accomplice, and sheltered by the coarse but matronly tea kiosk owner Manju Mai (Chhaya Kadam). Jaya, on the other hand, experiences doting sisterhood, innocent flirtation, and an opportunity to flex her intellect in Deepak's raucous household. Meanwhile, in a gradually unfurling investigation led by goofy and power-tripping local police officer Shyam Manohar (Ravi Kishan), the grooms cluelessly search for their respective wives. India is shown in old its expansive splendour, landscapes that many have not seen before but to be much admired. Certain scenes like the first report at the police station are pricelessly hilarious. The film is merrily paced to a tinkering and hummable score and the entire film pure delight. The funniest line is uttered by a street samosa seller when she questions one of the brides and finds out that she is lost and does not even know the address of her groom, but yet claims that's she is smart to know how to cook, sew and do chores. "There is nothing wrong with being a fool, but it is shameful to be proud of being a fool."
MANDOOP (Saudi Arabia 2023) ***
Directed by Ali Kalthami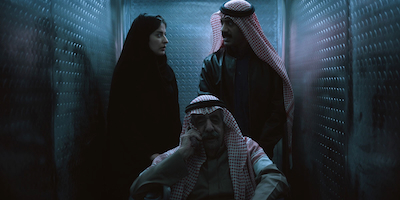 The term Mardoop has several meanings and the first two meanings are flashed on the screen, which the audience learns soon refers to the film's main protagonist. Unlucky try hard Fahad Nassir (Mohammed Aldokhi) is, at best, mediocre at his call centre day job. He's been showing up for work late, exhausted by his nighttime hustle working as a delivery app mandoob (courier) cruising the streets of Riyadh, filling orders to save money for his aging father's medical treatment. When Fahad's mistakes catch up with him and he is fired from the call centre, he decides he won't go quietly. He learns to back to his stash and steals six cases of counterfeit whisky he hopes to sell to the first buyers he can find. Caught up under the weight of real-world pressures while courting the comforts of delusion, Fahad has now initiated his free fall further and further into a lifestyle he is completely unprepared for. This is a cautionary tale that has a setting one is unfamiliar with - in the Kingdom. A bit difficult to follow due in part to customs North Americans might not be familiar with - like the wearing of Fahad's and others' headdresses.
MOTHER, COUCH (USA 2023) **
Directed by Niclas Larsson
Writer/director Larsson's MOTHER, COUCH reveals the drama among three estranged children as they come together when their mother refuses to move from a couch in a furniture store. Star talent is on display that includes the talents of Taylor Russell, Ewan McGregor, and Rhys Ifans as the adult children, Ellen Burstyn as the mother, and F. Murray Abraham and Lara Flynn Boyle as the furniture store manager and daughter respectively. However, the film is played more as a surreal fantasy dysfunctional family drama than anything else. There is nothing wrong with surrealist drama but this one is delivered in confusion and incoherency. The dialogue spilled out by McGregor at one point on a beach looking for his young daughter also is a flowery monologue that makes no sense at all. The best performance belongs to Taylor Russell as the distraught chain-smoking daughter who does not give a f*** at what is happening. MOTHER, OUCH!
MOUNTAINS (USA 2023) ***
Directed by Monica Sorelle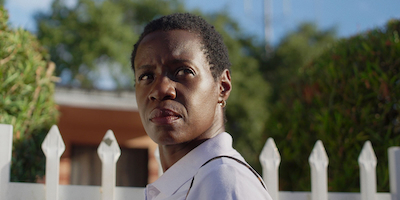 'Behind a mountain is a mountain' is the Haitian quote seen on the screen at the beginning of the film. Indeed whether the mountain refers to problems, daily routines, or humdrums of life, there is always another around the corner. Monica Sorelle's narrative feature debut is a slice-of-life portrait of an immigrant worker and family man gradually contending with his class aspirations and housing insecurities in a rapidly gentrifying neighbourhood. Though the main character is a male, she infuses the power of women, through his wife, quiet, foreboding and strong in keeping the family together. Based in the immigrant enclave of Little Haiti in Miami, Xavier (Atibon Nazaire) is a middle-aged, working-class Haitian demolition worker who hopes to one day buy his beloved seamstress wife, Esperance (Sheila Anozier), a new and spacious suburban home. Meanwhile, their doted-on college dropout son Junior (Chris Renois) struggles against his father's rigid expectations by day while quietly pursuing a career as a stand-up comic by night. There are long shots of demolition and the routines are captured realistically though they do slow down the narrative.
SIMPLE COMME SYLVAIN (Nature of Love) (Canada 2023) ***
Directed by Monica Choki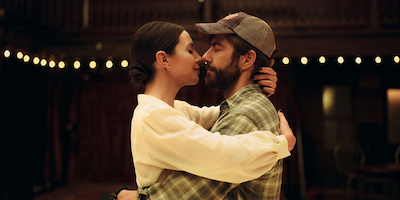 Simple like Sylvain is what being with Sylvain is like, as Sophia Magalie Lépine Blondeau) discovers. Sylvain (Pierre-Yves Cardinal) is a simple carpenter hired by Sophie to fix up her country home. Sophia is a 40-something dissatisfied professor who teaches love relationships and hangs out with literary and art-loving folk who look down upon ordinary people. Opposites attract here — she's the brains and he's the brawn — and they quickly begin a tumultuous affair. But Sophia has a hard time reconciling the reality of their differences, especially when they introduce their family and friends to one another, and their disparate political leanings and varying viewpoints become comically apparent. As their affair continues, the tension between their different worlds comes to a very uncomfortable head. The first major argument comes fast and furious and Sophie is distraught. What follows too is fast and quick compared to the film's slower pace in the first half. Director Choki creates a credible somewhat angry fable of relationships that does not conform to the standard romantic drama.
Trailer:
A NORMAL FAMILY (South Korea 2023) **
Directed by Hur Jin-ho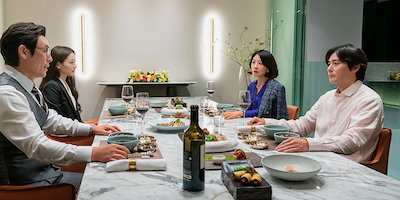 Credit must be given to the source material for its compelling tale of family struggles on decisions of how far one might go to protect one's child. The question is: What would you do? Based on the celebrated Dutch novel Het Diner (The Dinner) by Herman Koch, which has sold more than a million copies and has been translated into several languages. In A NORMAL FAMILY, one family member says that nothing good ever comes from one of these dinners. And rightly so. There are several of these dinners during the film including one at the climax. The film plays more like a mystery than a drama and the most interesting aspect of the film is the fine one between good and evil and how that line can be crossed due to various reasons some not for evil.
Trailer:
PAIN HUSTLERS (USA 2023) ***½
Directed by David Yates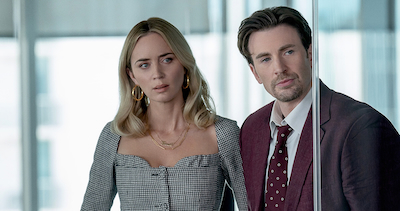 The film introduces its protagonist Liza Drake as an awful person. As her co-worker interviewed by the crime squad describes her; she would do anything it takes and is an awful person. But the film paints a different picture - that of a desperate person, initially a pole dancer who tries her best to make it good for her epileptic daughter and herself. Based on the real-life story of capitalism run amok in a journal article — chronicled by journalist Evan Hughes in his 2022 narrative non-fiction book, The Hard Sell — the film lures one into the glamour and excitement of success, however, it may be achieved. Liza Drake (Emily Blunt) is a single mum working as a dancer at a bar when she meets Pete Brenner (Chris Evans), a greasy drug rep for a pharmaceutical startup on the verge of bankruptcy. With a hunch about her talent, he recruits her to peddle a new kind of opioid designed to give pain relief to cancer patients. The film is interesting enough to show all the ins and outs of the pharmaceutical marketing business and how these companies make their money at the expense of sufferers. A Netflix original film, PAIN HUSTLERS is also besides being entertaining, is informative and insightful with a message to boot.
Trailer:
PERFECT DAYS (Japan 2023) ***/2
Directed by Wim Wenders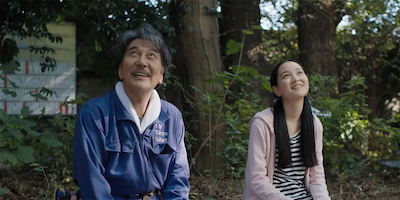 PERFECT DAYS is an almost perfect little simple film about a simple man, content with his daily job as a public toilet cleaner. He wears his form as a badge and does his job efficiently and diligently with pride and dignity. One can also learn how to properly clean toilets from this man. Kôji Yakusho, in one his best performances that won him the Best Actor prize at Cannes this year, plays Hirayama, the cleaner of these toilets, named after the protagonist of Yasujiro Ozu's last film, An Autumn Afternoon. Hirayama lives alone in a small house full of plants, his days going by according to quiet rhythms that never seem to change. But there is much surprise in store for the cleaner and the audience as German director Wim Wenders delivers another prized movie.
Trailer:
THE PROMISED LAND (BASTARDEN) (Denmark/Germany/Sweden 2023) ***** Top 10
Directed by Nikolaj Arcel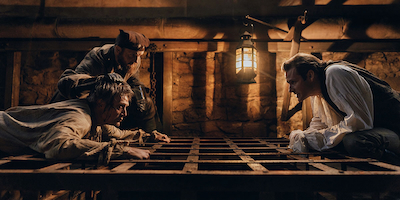 THE PROMISED LAND comes across as an efficient enough epic, epic in emotional and storytelling proportions that come with an all-important message to boot. It is a gripping adventure drama, compelling and riveting from start to finish. Mads Mikkelsen stars as Ludvig Kahlen, the illegitimate son of a maid and a nobleman, who defied his low status to succeed in Denmark's military. He took 25 years to attain the position of captain whereas a nobleman with royal blood would have taken much, much less time. He demands more! But director Arcel slowly but surely demonstrates that ambition, wealth and fortune are inferior traits to charity, kindness and devotion. The cinematography depicting the harsh first and blowing winter snow and ice demands mention. THE PROMISED LAND aka BASTARDEN displays filmmaking at its best, executed with verve and conviction, by a director and actor both at the top of their form.
Trailer:
A RAVAGING WIND (Argentina/Uruguay 2023) ***½
Directed by Paula Hernández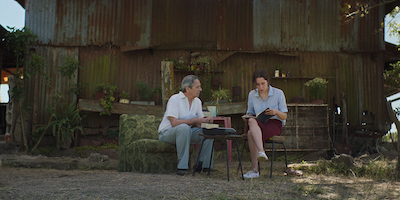 A RAVAGING WIND is a metaphor for the enormous changes that will affect two fathers in their relationships with their offspring. The two fathers are strong-willed males with their own unique way of rearing children - both of which are imperfect. One is a famous Protestant preacher, aided by his feisty daughter who is beginning to exert a will of her own. The other is a no-believing father whose slightly mentally and physically challenged son is continually beaten by his car mechanic father. When the vehicle of the first family breaks down, the two families meet. the film is set in the Argentinian countryside. A RAVAGING WIND is a welcome unfamiliar dysfunctional family drama in an unfamiliar setting, both enhancing the curiosity and interest of the audience. What results is largely unpredictable. Director Paula Hernandez goes outside her comfort zone in a male-dominated environment that still can prove the resilience of the female against strong adversities.
Trailer:
A ROAD TO A VILLAGE (Nepal 2023) ***1/2
Directed by Sabin Subba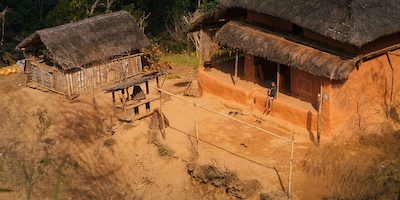 Insightful, sad and moving A ROAD TO A VILLAGE is that rare film from Nepal that follows a rural Nepal family as it struggles with poverty amidst tempting modernity. Since the road to the village had been constructed the family becomes exposed to the marvels of technology that includes a new TV set and cell phone that the brother of Maila (Dayahang Rai) affords to buy after going to work in Malaysia. Maila is a poor bamboo basket weaver whose life has changed relatively little since the time of his parents and grandparents. Maila's seven-year-old son, Bindray, has always been clever and resourceful, making toys from plants and soccer balls from socks and paper, but now he is eager to drink Coke, wear sunglasses, and listen to hip hop. What's more, Bindray begs his father for a television: an item with as his neighbours would now prefer to buy a cheap tarp than an artisanal bamboo mat. The film offers a look into struggles that have no immediate solution. It is heartbreaking to watch Maila's family suffer so much and director Subba paints an unforgettable picture of a family facing problems of basic survival. The most moving scene has Maila crying by himself at night after losing face, confidence and dignity while his wife watches on.
Trailer:
RU (Canada 2023) ***
Directed by Charles-Olivier Michaud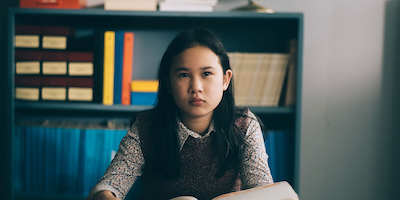 Based on the Governor General's Award–winning novel by Kim Thúy who also serves as producer of the film, RU is the story of the arduous journey of a wealthy family fleeing from Vietnam in 1975 after the fall of Saigon, then spending time at a refugee camp in Malaysia, before landing in Quebec. The story is told from the point of view of the daughter of the family, Nguyen An Tinh. The mother is also called An Tiny but in Vietnamese, the names have different meanings for different types of 'peace' from the different characters used that sound the same in English or French. There is not much story in the film, the story is replaced by experiences of what the family goes through from the time the soldiers break into the house in Vietnam to their selling in winter Montreal. The art direction is nothing short of superb, down to the very detail of the 'stubby' beer bottles used during the time. The Canadians are shown their best, thanks to Canadian director Michaud, where hospitality and kindness are shown to strangers looking for sympathy and a new home.
Trailer:
EL SAVOR DE LA NAVIDAD )Mexico 2023) **
Directed by Alejandro Lozano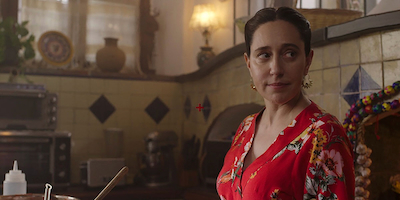 Three stories that told during the festive season in Mexico City that intertwine together for a feast at the end, all in the celebration of food. Mexican-American superstar Salma Hayek Pinault produces this supposedly heartfelt Mexican dramedy that unfortunately lacks not humour but heart, but not for want of trying. One story is a romantic sob story between Valeria and Gerardo. When Gerardo sneaks into Valeria's kitchen to help her prepare traditional dishes for the Christmas dinners of several families, he realizes her deep commitment to cooking is all about love. He tries to express his sudden feelings for her but to no avail. Another deals with a trans, one of the adult children who promises to attend dinner after a four-year absence. Then there are two brothers, Chava and Santi take on shared duties as Santa Claus in the public arena to make ends meet for the season, but through a series of misunderstandings end up fighting. It is difficult to say which is the best of the three stories as they are all equally awful. The introduction of a controversial trans character does not help matters any better.
SEAGRASS (Canada 2023) ***
Directed by Meredith Hama-Brown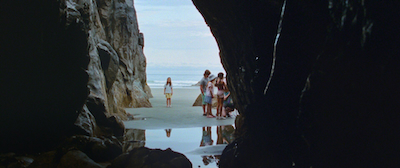 SEAGRASS has an idyllic opening on a ferry where two young sisters (Remy Marthaller and Nyha Huang Breitkreuz) playfully run around enjoying the view and the trip aboard the ferry. They are going to a retreat with their parents traveling via the ferry. Set in the mid 1990's, a Japanese Canadian woman, Judith (Ally Maki, THE BIG DOOR PRIZE) grappling with the recent death of her mother brings her family to a self-development retreat. When her distressed relationship with her husband (Luke Robertws, GAME OF THRONES) begins to affect the children's emotional security, the family is forever changed. The film covers several key issues and explores questions relating to fear and security, it is about a distressed family, motherhood, grief, shame, intergenerational trauma and racial identity. It is about all these seemingly disparate things, but the thematic tissue that connects them all is "fear" and the various ways that uncertainty affects our relationships and sense of stability. Director Hama-Brown steers her relationship family drama into its emotional climax that includes a little suspense to boot in what can be termed s meticulously crafted gem.
Clip:
SHAME ON DRY LAND (Malta/Sweden 2023) ***½
Directed by Alex Petersen.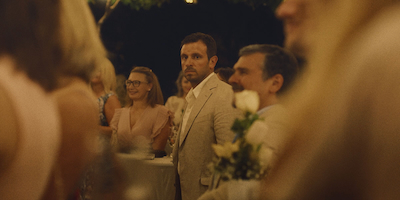 SHAME ON DRY LAND plays for the film's major part in confusion with the pieces of a puzzle that need to be put together. Director Petersen makes sure his audience has to work to decipher the story, which actually comes quite neatly together by the last reel. The film begins with what appears to be a former swindler suddenly appearing at the residence of a groom and his bride, seeking redemption after years away at sea. Dimman (Joel Spira) is clearly the wrong man for the job when he's enlisted for some seriously shady business. Dimman is an uninvited and unwanted guest, but he's sincere in his efforts to make amends. Alas, that ambition is derailed when Kiki (Jacqueline Ramel) — the charismatic woman who helped Dimman put his life back together — tasks him with tailing a mystery man who turns out to have his own nefarious agenda. The film is set in a sun-baked setting: Malta, where a wealthy community of Swedish expats is preparing for the nuptials of two of their own, though no Maltese or Italian can be hardly heard at all - only Swedish and English. SHAME ON DRY LAND, a challenging mystery film noir shows that it takes a lot more effort to put together a puzzle than to actually solve it.
Trailer:
SLEEP (South Korea 2023)
Directed by Jason Yu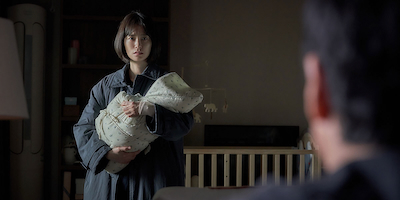 Review embargo lifted after midnight Sep 15th screening
About to be challenged is their wall plaque motto that reads "Together We Can Overcome Anything".
Trailer:
SMUGGLERS (South Korea 2023)
Directed by Ryoo Seung-wan
Embargo lifted after 930pm, screening Wed 13th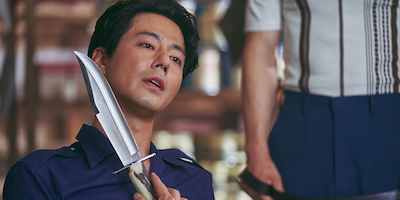 How far must a man (or woman) go to make a living? That is the question posed by SMUGGLERS when all the oysters and other fish end up dead in the sea due to a chemical plant nearby spilling its toxins into the sea. "And they don't even get a fine," says one fisherman. Credit must be given to the suspenseful and credible underwater and boating sequences, especially the first one when customs show up by boat and an accident occurs. Using their specialty in diving and knowledge of the waters, old friends Choon-ja (Kim Hye-soo) and Jin-sook (Yum Jung-ah) start to smuggle goods. But when notorious smuggler and criminal Mr. Kwon (Zo In-sung) expands into their territory, a violent confrontation results. With the help of Jin-sook and their haenyeo friends, Choon-ja risks her life to plan for the most mind-bending and dangerous job, one that could become her biggest break — or the end of it all. The trouble with this supposed action movie is that director Ryoo plays the film for laughs and very funny ones at that. Coupled with over-acting and a story that lost interest in an overlong film, SMUGGLERS is a film best kept under keeps.
Trailer:
SOLO (Canada 2023) ***
Directed by Sophie Dupuis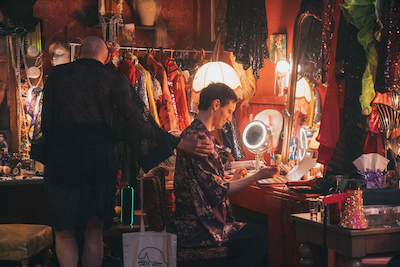 SOLO follows the relationship struggles of Simon (Théodore Pellerin) and Olivier (Félix Maritaud), a handsome, charming fellow drag artist from France. They begin a tumultuous relationship for the reason of a clash of different personalities. Simon is a skilled makeup artist by day and a sensational drag artist by night. Young and carefree, his energies are overwhelmingly set on honing his act and partying. Just as Simon is getting accustomed to this exciting new relationship, his long-estranged mother, Claire (Quebec screen icon Anne-Marie Cadieux), swoops back into his life. Director Dupuis shows Simon is a good-hearted person with reasonable needs, but it's just as obvious he's caught in a pattern of codependence, desperately seeking approval from two strong personalities equally incapable of granting it. In the end, the one person Simon truly needs to commune with is himself. The drag shows are bright and sassily performed complete with elaborate costumes. Director Dupuis captures the behind-the-scenes of the drag shows with credible effect. SOLO is entertaining enough though the depiction of Simon's relationship struggles appear manipulative to a fault.
SONGS OF EARTH (Norway 2023) ****
Directed by Margreth Olin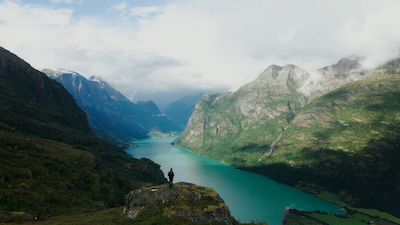 If there were not a more stunning cinematographed film at this year's TIFF, the Norwegian SONGS OF EARTH is it. I have been to Norway twice, but many of the scenes in this film can only be reached on foot and not on tour cruises or buses. The film is indeed a sight to behold and to be seen on the big screen. Filmmaker Margreth Olin brings viewers to experience Norway's landscapes of mountains, glaciers, and fjords, guided by her 84-year-old father, Jørgen, enabling us to escape the hyperactivity of modern times and absorb the profundity of nature.
With the film's first image of a lone elderly man trekking through an untouched snowy landscape, we sense that director Margreth Olin is taking us somewhere special. That promise is fulfilled over and over in this stunning cinematic experience that's unique from anything else in this year's documentary selection. It makes the audience wonder why they would not give up all their worldly financial ambitions to live and experience nature's paradise. The film unfolds in the 4 seasons from spring to fall, reminding one that in winter, it is 24 hours of darkness, but beautiful darkness. The 4 parts are bookended with a prologue and epilogue. Jørgen speaks during the entire film, delivering his view on nature. Its artistry has won the support of executive producers Wim Wenders and Liv Ullman both serving as the film's executive producers. The film follows Olin's 84-year-old father, Jørgen, who has been exploring Norway's wilderness all his life. A vigorous trekker who uses two walking sticks to explore the mountains around his hometown, he invites his daughter to join him over the course of four seasons to share his insights.
Trailer:
SORRY/NOT SORRY (USA 2023) *
Directed by Caroline Suh and Cara Mones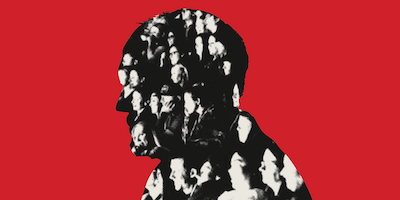 The doc re-examines the case of Louis C.K., who was accused of sexual harassment in 2017. They explore his comeback and the unseen effects of this on the women who spoke publicly about his behaviour. The difference between C.K.'s and other similar cases is that C.K. asked permission of the victims he fancied. All he wanted to do was to masturbate in front of them. But C.K. got away with heinous behaviour for so long and how he staged a comeback soon after the scandal. Nine months later, he was back on stage and, within a few years, he was selling out large venues across the country. The doc unveils in 7 parts. Rather than condemn the man, the film also looks at him, as not being innocent but being a human being with foibles that should be forgiven. He never assaulted anyone. The victims beg to differ, in what is an interesting look on both sides. The film sides the victims clearly. C.K. refused to be interviewed for the doc which explains his shame despite pretending to have overcome the charges.
SPIRIT OF ECSTASY (France 2023) ***** Top 10
Directed by Héléna Klotz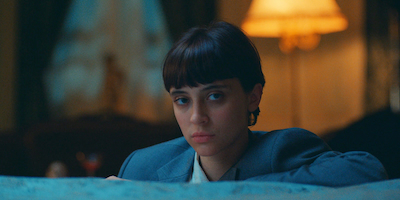 A stunning second film from director Héléna Klotz (11 years after her ATOMIC AGE) sees the director in top form adapting a script she co-wrote with Noé Debré. The film follows Jeanne Francoeur (French pop star Claire Pommet in her first but impressive role), a young non-binary person (who dresses like a man but looks like a girl but nothing else is disclosed about her non-binary character) from a long line of gendarmes. Jeanne lives on a military base with an abrasive father, forced to care for their younger siblings while dreaming of breaking out of the family's milieu by becoming a high-powered financial analyst. Life can be as tricky as it is wonderful, The question is whether Jeanne should give up her ambition of being a quant (short for a quantitative analyst) or give up her family. The clever script shows that it is possible to have both. "You are very clever at talking shit," says Jeanne's job interviewer at one point in the film. The same can be said of this film, which is extremely smart, confident, funny and totally winning. The additional bonus is the stunning cinematography, particularly of the night scenes.
SUMMER QAMP (Canada 2023) **
Directed by Jen Markowitzz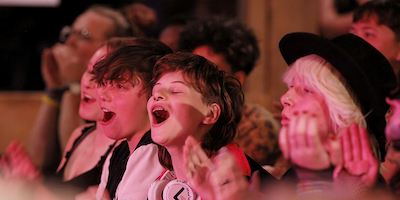 At Camp fYrefly in rural Alberta, queer, non-binary, and trans teens get to just be kids in a supportive space, surrounded by counsellors who can relate to their experience. Toronto-based filmmaker Jen Markowitz brings her camera on the queer kids can spend a few days hanging out and just getting to be kids together "without any of the explanations," as one camper puts it. The director aims the film to be warm, funny, and moving ― and made with obvious consideration for, and clear cooperation from, the people in front of the lens. Good intentions do not always translate to good documentaries. Markowitz's doc seems all over the place, especially concentrating the doc on the kids and what they say without much focus on anything else. The doc obviously gets monotonous after a while. Yes, the audience gets it. These kids undergo a difficult time in their growing-up lives but the campers in the doc are seen to each have to say the same thing many times. It is at least good to see the kids so happy at camp.
SWAN SONG (Canada 2023) ***
Directed by Chelsea McMullan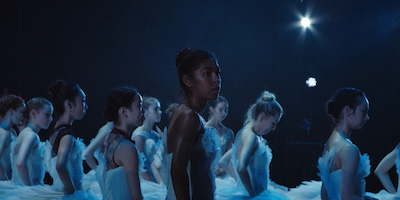 SWAN SONG is more about the legendary ballet dancer and artistic director of the National Ballet of Canada than of the ballet Swan Lake. The film is called SWAN SONG as it shows Kain's inside the National Ballet of Canada's 2022 production of Swan Lake, directed and staged by the legendary Karen Kain. The segments involving prepared answers in the interviews are obvious for the lack of the word 'like'. Director McMullan, who co-directed last year's EVER READY with Tanya Tagaq on throat singing, has an eye for vulnerable moments, as when Genevieve Penn Nabity, a junior member of the company, is offered an opportunity she'd never expected. One complaint is that director McMullan takes her doc to an overdone happy Hollywood ending. Kain is praised so many times that it becomes annoying. Kain, before the opening night was worried as a lot went wrong during the final dress rehearsal but then Kain kept saying that everything went perfect on opening night, going on to rise everyone over and over again.
TAUTUKTAVUK (Canada 2023) ***
Co-directed by Lucy Tulugarjuk and Carol Kunnuk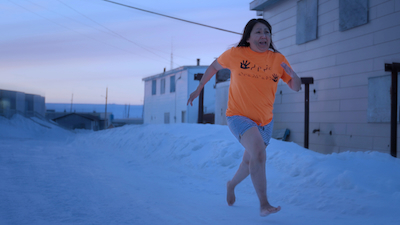 The titles warn at the beginning of the film that the film is based on sensitive material -the material is soon revealed as child abuse and living the aftermath. The setting is the snow and ice-covered northern Canadian Arctic province of Nunavut. Very little is known about this sparsely populated Canadian province and the film hopes to change that while exposing the problems of its residents. The two co-directors play the 2 sisters in the story. After experiencing a traumatic event, Uyarak leaves her community and family in Nunavut to live in Montreal. When COVID lockdowns close off the Canadian Arctic from the rest of the world, Uyarak is further separated from her closest confidant, the eldest sister, Saqpinak. Uyarak doesn't remember much about one terrible night of domestic violence, but Saqpinak does. Through Zoom calls, Uyarak talks about healing from years of trauma and abuse, and how counseling and cultural reconnections are helping. Most of the film is pro-indigenous. Slow-moving yet epic, a story of intimate problems that balloons to a larger scale of uncontrollable proportions, TAUTUKVUK which translates to 'What We See' plays also like an educational documentary that is also quietly entertaining.
Trailer:
THE TEACHERS' LOUNGE (DasLeherzimmer)(Germany 2023) ****
Directed by İlker Çatak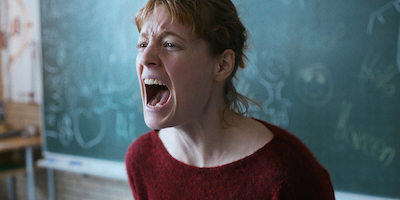 Germany's entry for Best International Feature for the upcoming Oscars in 2024, THE TEACHERS' LOUNGE is a riveting and compelling drama set in a school in which all hell breaks loose after systematic racism rears its ugly head. THE TEACHERS' LOUNGE is where most of the drama takes place. The film follows a newly hired 6th grade teacher, an enthusiastic Carla to teach gym and mathematics. She gains the respect of her class initially and everything appears to go well until a series of thefts occur at the school (hints of THE WINSLOW BOY) and one of her students is suspected (with hints of covert racism), Carla is outraged and decides to get to the bottom of the matter on her own. But her sleuthing finds her up against outraged parents, opinionated colleagues and aggressive students, causing everyone to turn against her. Cancel culture? Adding to the suspense are the film's stabbing music and a backdrop of endless hallways that Carla traverses looking for an answer. In the midst of it all are the adults trying to solve the problem by finding a viable suction using all their adult experience.and education The school principal herself has a doctorate degree and at one pint in the film tells her staff: "Let me use my experience to solve the problem." She also resorts to a democratic vote as to what action should be taken. A cautionary tale evoking raw emotions!
Trailer:
TOGETHER 99 (Sweden/Denmark 2023) ***
Directed by Lukas Mooodysson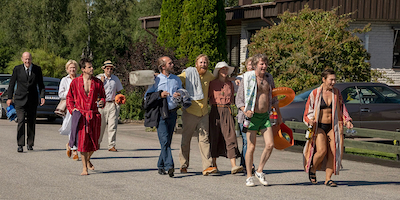 Writer/director Lukas Moodysson returns audiences to his Together ('00), a film that established the director's keen take on human frailty. Director Moodysson once again proves his prowess in comedy based on keen observations and hilarious depictions of human behaviour and dialogue. The film's setting is 1999, 24 years since the events in the film's predecessor, and the passage of time has not been kind to the community. In fact, the membership has dwindled down to two: Göran (Gustaf Hammarsten), the de facto leader, and the sensitive Klasse (Shanti Roney). Clinging to the ways of their 1970s selves, the pair seem poorly equipped for the world on the eve of Y2K. They claim that they have been entered into the Guinness Book of Records for being the smallest commune in the world with just two members. The two hope to up their membership by recruiting past friends. But as their former housemates, a motley crew of misfits who have identity and meant problems, arrive to celebrate Göran's 60th birthday, it becomes clear that even those who left the commune long ago are just as flummoxed by the changes that surround them. Over the course of the evening, connections and conflicts are renewed along with many of the romantic sparks that made commune life so complicated. Performances are spot o, especially from the film's two leads and every character's nuance is hilariously displayed on film.
Trailer:
THE TUNDRA WITHIN ME (Norway 2023) ***
Directed by Sara Margrethe Oskal
At the height of winter, Lena (Risten Anine Kvernmo Gaup) leaves her life in Oslo with her young son in tow and returns to her hometown in Sápmi, in northern Norway. A contemporary visual artist, Lena has returned to begin a residency involving women reindeer herders in her Sámi community. Indigenous daughter leaves the reservation or land giving up family, friends and culture to pursue a career in the big city. She returns with a son to her mother and rediscovers her roots - kind of a late coming-of-age story, She finds romance in the process. This story of a misplaced Indigenous person is a well-worn territory with few surprises despite the Nordic reindeer herding setting. Still, there are a few pleasures to observe, like the odd Sami humour and the difficulty of reindeer herding, especially from the female point of view. Lena's art is also hilarious.
THE UMBRELLA MEN: ESCAPE FROM ROBBEN ISLAND (South Africa 2023) ***
Directed by John Barker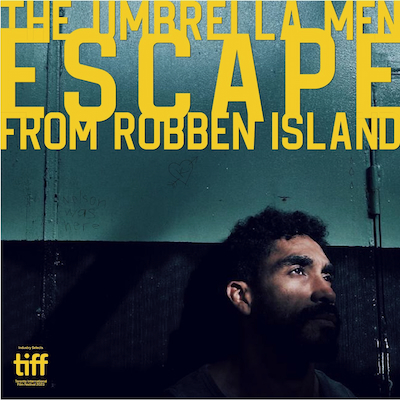 THE UMBRELLA MEN: ESCAPE FROM ROBBEN ISLAND sees the return of the beloved ensemble cast and the spirit and setting once again in the beautiful old quarter of Cape Town – the Bo Kaap. This is the sequel to last year's THE UMBRELLA MEN that was screened also at TIFF, a high-spirited heist movie set in the Cape Malay community that is rich in language, identity, music, and heritage—all again represented on-screen in its iconic splendour. After that heist in the first film, the usual suspects, Jerome, Morty, Mila, Keisha, and Auntie Val life is sweet. But that's when Tariq takes a hand. Not before long, Jerome and Morty are banged up in the recently reopened Robben Island Prison and Keisha, Mila and Auntie Val need to bust them out and team up to take down an outta-control Tariq, who has plans of world domination and clear their names so that they can get to the Bo Kaap as free men. The sequel, a combination of prison break-out and heist movie with women now in the forefront is as entertaining as the first. The sequel is only screened at Industry Selects.
VAMPIRE HUMANISTE CHERCHE SUICIDAIRE CONSENTANT (Canada 2023) ***
(Humanist Vampire Seeking Consenting Suicidal Person)
Directed by Ariane Louis-Seize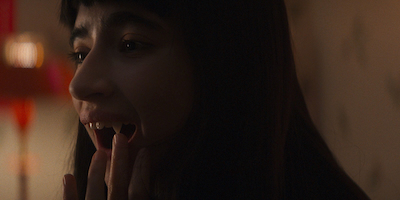 The title of the movie VAMPIRE HUMANISTE CHERCHE SUICIDAIRE CONSENTANT (Humanist Vampire Seeking Consenting Suicidal Person) tells it all. A young teen vampire is unable to kill her victims in order to feed on the victim's blood in order to survive. Sasha (Sara Montpetit) is a teenage vampire — well, "teenage" is relative in their world — with an empathy problem. Unlike the rest of her clan that includes her worried vampire parents, Sasha's fangs don't come out when she's hungry or sensing fear; she needs to feel a personal connection to her prey. And then Sasha meets Paul (Félix-Antoine Bénard), an actual teenager convinced he'll never enjoy anything in life. She befriends him, introduces him to her world and its secrets, and he happily volunteers to be her next meal. Which would be great, except for the whole empathy thing. The film serves too, as a novel coming-of-age story. Director Louis-Seize plays her story deadpan without resorting to theatrics or cheap humour. For example in the dancing scene, Sasha and Paul just move their bodies right and left instead of breaking out into over-styled choreography. The blood and gore though present, are toned down a notch or two in this worthy and amusing take on the teen vampire genre.
Trailer:
VIVA VARDA! (France 2023) ****
Directed by Pierre-Henri Gibert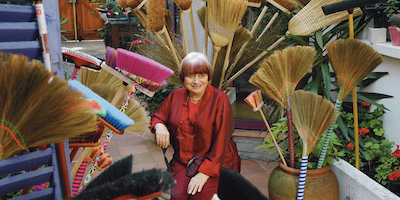 Known recently for her films like the Oscar-nominated Best Documentary VISAGES, VILLAGES and AGES PAR AGNEDS and for her earlier classics like CLEO DE 5 A 7 and VAGABOND with Sandrine Bonnier who appears too in this doc, Agnes Varda of the late French Novelle vague is a force reckoned with all these years. Her artistic independence and female voice strokes one as a very strong woman while her sensitivity in her marriage to filmmaker Jacques Demy who died from AIDs revealed her as a sensitive human being. She made a wonderful film about Demy's childhood and love for filmmaking in JACQUOT DE NANTE. Director Gibert captures all the importance and urgency in her work and life in a doc just so short that one just does not want to end. Pierre-Henri Gibert, a documentarian specializing in cinema history, chronicles her expansive career, embodying her curiosity and whimsy, but filling in notable gaps.
WHEN EVIL LURKS (Argentina 2023) ***1/2
Directed by Demian Rugna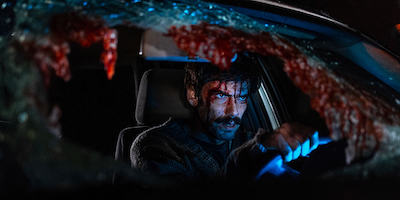 WHEN EVIL LURKS from Argentina, marks one of the best possession horror films in a while. In a remote village, two brothers attempt to release a demon from a possessed person. But they get more than they bargained for as this person is just a bundle of boils and pus and downright ugly to look at if one can bear to look at him. There is a lot of audience anticipation, violence and gore, evil in its vilest form and a confrontation climax where the evil is finally dealt with. Director Rugna creates new rules for his demon possession pic. It is not the Roman Catholic church against Satan. The new rules include not turning electric lights on as the demon can hide in their shadows; no guns can be used to eradicate the possessing demon and staying away from animals which the demon can easily enter. There is also a special gadget that can be used at the end of the film to fight the demon. WHEN EVIL LURKS builds up extremely well but suffers a slight letdown at the end. Still, this horror flick has plenty of innovations and scares to offer.
Trailer: none
WICKED LITTLE LETTERS (UK 2023) ****
Directed by Thea Sharrock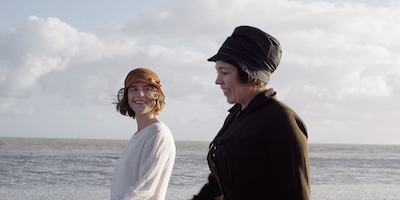 This period piece, supposedly based on a true story that no one has heard of till perhaps now, is set in the 1920s when there is a scandal brewing in the charming seaside town of Littlehampton. Residents have started receiving anonymous, poison-pen letters, brimming with curse words and scandalous prose. The film has these letters explicitly read, so audiences should be forewarned of the foul really foul language used. Who is writing them and how can they be stopped? Edith Swan (Olivia Colman) — pious and respected (if not well-liked) — is one of those residents. The letters assassinate her character in the most blue-tinged language imaginable and, when they stack up, her autocratic, scripture-quoting father Edward (Timothy Spall) insists the culprit be found. With law enforcement reluctantly investigating, Edith bandies a pet theory that her neighbour Rose (Jessie Buckley) might mean her harm. Rose is the opposite of Edith: loud, brash, a lover of spirits and dancing, and unapologetic about all of it. When the police arrest her in the letters case, assuming her guilt because of her "loose moral character," it doesn't sit well with Police Officer Gladys Moss (Anjana Vasan). With her superiors unwilling to listen, she gathers a group of unlikely yet resourceful female volunteers to get to the bottom of the mystery. This wicked little film blinds the thin line between good and evil. While working like a whodunit, it does not take a genius to correctly figure out the culprit of the letters. But that is not the point of the film that sneaks quite a few messages of racial prejudice, suffrage and religion into the storyline. Olivia Colman delivers another Oscar-worthy performance, one able to get a laugh of loud or two amidst all the drama. Veterans Gemma Jones and Eileen Aitkins have cameos amongst heavyweights Coleman and Timothy Spall. A real gem and surprise of the festival.
WIDOW CLICQUOT (France/U.K. 2023)
Directed by Thomas Napper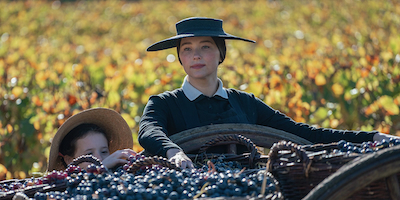 Yet another piece of the difficulties if not impossibilities of success in farming. From JEAN DE FLORETTE to this year's THE PROMISED LAND and THE BEAST, farming in Europe must be torturous. And worse if, one is a woman. WIDOW CLICQUOT has to remain resilient while fighting nature's elements and the chauvinistic males around her to succeed in developing champagne amidst the Napoleon Wars, The film tells the true story of Barbe-Nicole Ponsardin, the "Grande Dame of Champagne," otherwise known as as Veuve Clicquot. At the age of 20, she became Madame Clicquot after marrying the scion of a winemaking family. Though their marriage was arranged, a timeless love blossomed between Barbe-Nicole (Haley Bennett) and her poetic, unconventional, and erratic husband, François (Tom Sturridge).As a beautifully mounted period piece, coupled with the wine-making process and all its intricacies. Too bad the film is shot in English and not in French.
WORKING CLASS GOES TO HELL
(Serbia, Greece, Bulgaria, Montenegro, Croatia, Romania 2023) ***½
Directed by Mladen Djordjevic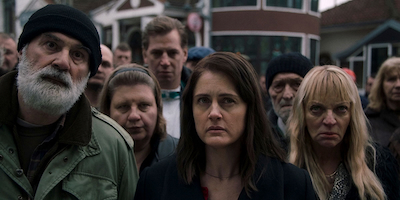 The factory that the community works in has a fire with 9 workers killed. The boss/owner is suspected of arson in order to sell the property to an incinerator company. The town folk demonstrate but it is of no use. Then return a member from Belgrade with the rumour that he can summon the spirits of the dead. Stoic labour leader Ceca (Tamara Krcunovic) refuses to give up hope, but her position grows tenuous when the collective begins to develop a fascination with the pagan practices of its newest member, Mija (Leon Lucev). After Mija leads the union in a ritual that belies a satanic undertone, strange occurrences begin to be reported around town, including the enigmatic manifestation of a decrepit man, seen stalking the most corrupt citizens. This is sly satire at its best. Quietly but deliciously wicked! Director Djordjevic's satire is practically humourless and his sex scenes are graphic and totally un-erotic. The town gets what they want in the end. But it reminds one of the old adage that warns of being careful of what one wishes for.
Trailer:
WOODLAND (WALD)(Austria 2023) ****
Directed by Elisabeth Scharang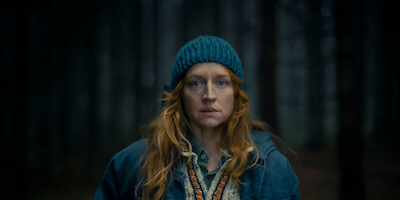 Drawing inspiration from Wald, a 2015 novel by the bestselling author Doris Knecht, as well as her own traumatic experience of witnessing the 2020 Vienna attack, writer-director Elisabeth Scharang retreats to the woods in this atmospheric and soul-stirring film. The attack is not shown in detail, just fragments in flashbacks, sowing it best to leave it to one's imagination. The lead character is Marian Malin (played by the brilliant Brigitte Hobmeier) has everything she could hope for: a successful career, a deep romantic love, and time to pursue her passions. Everything is perfect until she and her husband (Bogdan Dumitrache) witness a deadly terrorist attack in the heart of Vienna, her homeland's capital. Plagued with post-traumatic flashbacks, Marian is unable to function in the city and flees to a Lower Austria country house that once belonged to her grandparents. There, in what seems like relative safety, she freely roams the woods and rekindles a connection to the simple place she once called home. But it is not without its presence, including old friends Gerti (the revelatory Gerti Drassl) and Franz (Johannes Krisch), both of whom stayed in the village and for whom Marian's return summons questions about life-defining events. The story sounds quite simple but the story is revealed with great conviction. Director Scharand gets her audience to feel what Marian feels in what can be described as a moving and riveting film. The film also includes the topic of an outsider coming into a society that takes a general dislike to namers like Sm Peckinpah's THE STRAW DOGS and the recent French drama AS BESTAS.
THE ZONE OF INTEREST (Poland/UK/USA 2023) ***** Top 10
Directed by Jonathan Glazer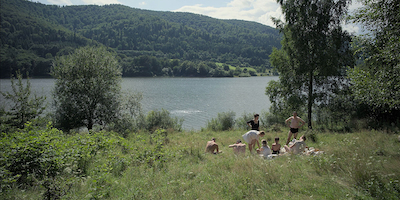 Winner of the Grand Prix at this year's Cannes (2nd Best Film), Jonathan Glazer's (UNDER THE SKIN) THE ZONE OF INTEREST is a horror film about the Holocaust without a single scene of concentration camps. It depicts the banality of evil so well put forward that the audience is left just as silent as in the recent Christopher Nolan nuclear war vehicle, OPPENHEIMER. Auschwitz commandant Rudolf Höss (Christian Friedel), always dressed in white as if to symbolize purity, and his wife Hedwig (Sandra Huller), live so close to Auschwitz camp that one can hear the horrors from the nearby camp (as in a prisoner drowned by the guards for fighting for an apple). They live in a beautiful home, with food, vegetables, fruit and herbs cultivated next to a swimming pool and river flowing with clear water close by. They argue about household problems and are oblivious to the horrors of the war that are going on. The thousands gassed are discussed as a matter of efficiency of transportation in a meeting among Nazi officials. The most chilling film of TIFF that many critics claim should have won the Palme d'Or Prize for its groundbreaking filmmaking.
SHORT CUTS
EXPRESS (Canada 2023) *
Directed by Ivan D. Ossa
EXPRESS is an African-Canadian short about a hardworking young man looking to take his first step into the high-flying corporate world. He is all prepared with his ultra-prepared but obviously pretentious speech that fails to impress rather than impress. As the short progresses, the young man is waiting for the all-important phone call from the company, the call that he strongly believes will get him the poison and make him a success in life. Things turn ironic when his buddies take him to a club of dancing when the call arrives. Well made well-performed with a message to boot, the short established director Ossa as a new talent to be reckoned with. Shown as part of the Short Cuts 4 program.
MOTHERLAND (Canada 2023) ***
Directed by Jasmin Mozaffari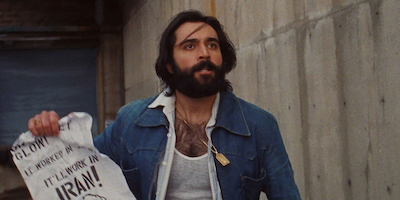 This 24-minute accomplished short, shot in English and Persian could easily be stretched out to a full-length 90-minute feature but the fact that it runs only 24 minutes makes it short, sweet and efficient without any lagging parts, Director Mozaffari's new film (after FIRECRACKERS) tells the story of a man whose personal crises are compounded by the tensions that surround him as an Iranian in America circa 1979. It is set on campus where he runs afoul of Americans and dishonesty with his girlfriend. Shown as part of Short Cuts Program 6.