Alica Hall is the Executive Director of the Nia Centre for the Arts — Canada's first multi-disciplinary professional arts space dedicated to showcasing art from the African diaspora. The Toronto-based not-for-profit community arts organization has, for its primary mission, to be a key destination for the Black community to bolster and showcase the full range of creative diasporic expression.
The Nia centre was founded in 2009 and traces its Genesis as an initiative supported by the Youth Challenge Fund. From the onset, their focus has been on the holistic development of Afro-diasporic young people through photography, music, videography, drama, visual arts, dance, spoken word and other community arts.
I still have an email in my AfroToronto inbox dating back to September 12, 2008, from the nascent organization asking the community to provide insights and feedback to ensure that Toronto's Black youth would receive the guidance and support they need and deserve through the planned Nia African Canadian Centre for the Arts.
It's been great to see the evolution from that first email to the launch of the construction site of their 14,000 sq. ft. facility at 524 Oakwood Avenue in October 2020 — a $5million capital project.
The location of the city-owned property in Oakwood Village, near Little Jamaica on Eglinton West, represents the Nia Centre's strong bond with Toronto's historic Afro-Caribbean community base. The building itself is old the site of Isabella's Ballroom — a popular music venue and nightclub from the 1970s and 80s where the community came to enjoy reggae, soca, and calypso tunes and live performances.
The Nia Centre for the Arts is currently hosting an art exhibit, sponsored by TD Bank, at Toronto's Union Station entitled 'Here Again, At the Cross Roads.' Running from March 23 until May 31, 2021, the installations are the work of three creatives: mixed-media artist Jordan Sook, award-winning American photographer Andre Wagner and acclaimed Queer Afro-Indigenous poet Jayda Marley [also known as Poet MJ].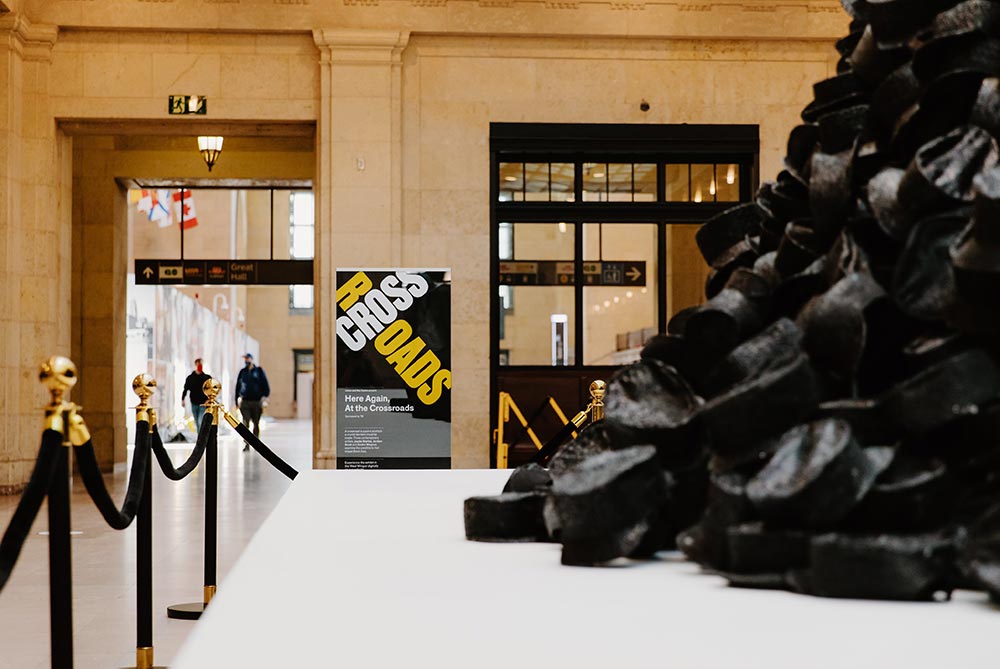 Originally slated to open in February as part of Union Station's Black History Month programming, the art installation was impacted due to the ongoing lockdown measures in Ontario. But as Alica and I both agree. It's much too reductive to mainly restrict the showcasing of the African-Canadian experience during the shortest and coldest month of the year.

"Seeing images of black folks in public spaces is not common," as Alica pointed out. She wanted to disrupt commuters on that walk to the towers of Toronto's financial district — which have played in upholding systemic racism. She also added that we need more arts in the city to help us get through the pandemic and continue the discussion about social justice.