Young People's Theatre's holidays production of the Mary Poppins musical, based on the stories penned by P.L. Travers and the 1964 Disney film, has broken all YPT sales records in the its 53-year history since it hit the company's main stage in early November. The show, featuring 14 cast members and 90 costumes, can still be seen until January 6.
I recently caught up with the show's director, Thom Allison, and immediately delved into the impact of staging a multiethnic cast, including a black Mary Poppins, played by the award-winning Vanessa Sears, for a young audience.
Allison highlighted that cultural diversity has always been part and parcel of Young People's Theatre's mandate. "They were really adamant. They really wanted the production to have as much diversity as possible," as Allison explained. "The casting process was amazing. We knew we wanted it to be very mixed racially and to have everyone in there. We wanted the kids in the audience to see the diversity of Toronto and really reflect it."
As I joked with Thom, this is not the Mary Poppins I remember growing up in the seventies!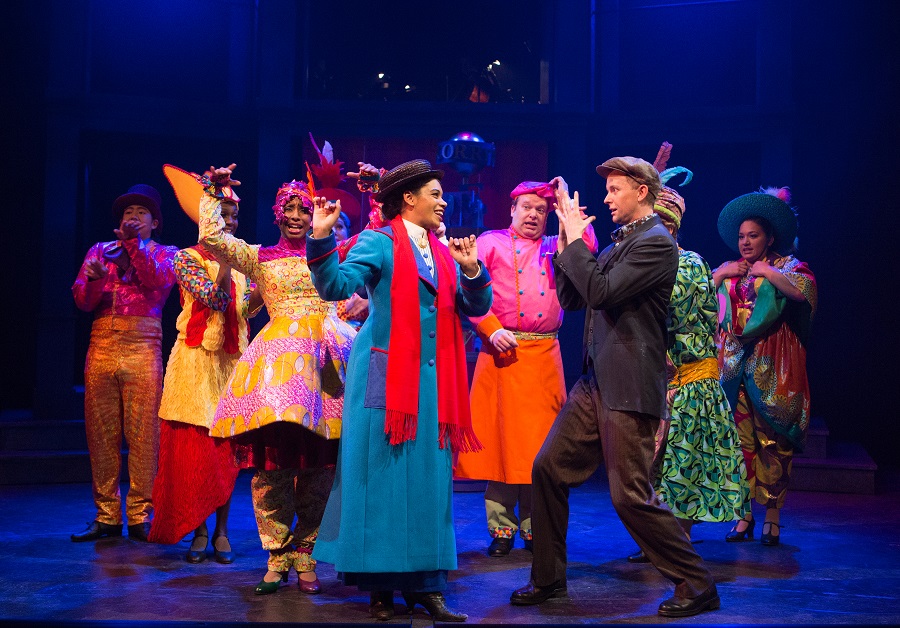 The YPT production has kept the familiar story line and the unforgettable songs like Chim Chim Cher-ee and Supercalifragilisticexpialidocious, but the Edwardian characteristics of the Banks family have certainly been spiced up. 
Sharing an interesting anecdote about this, Allison says:
"One of the things I love about the show is that, we managed to get Jewelle Blackman — who is playing Mrs. Banks. She's an old pal of mine for years. She came in, and she said, 'I've never done an English accent before.' And I said, 'Well, you know, try it.' She tried, and it was fine.
Then I said: 'What other accents do you do?' She goes: 'Oh my god, it's my mother.' Her mother is from Trinidad. I said: "Go, for it!" So she read the scenes with a Trinidadian accent. The choreographer and I were like, "Oh my god, that's it!" That's opened the whole play up."
So it turned out that Mr. Banks, played by Shane Carty, a white actor, is married to a fabulous, black Trinidadian woman. "This gives a whole different level to the kind of man that he is," as Allison added. In addition, the son of the Banks family, Michael, is played by Hailey Lewis — a black actress. 
"So the whole family is mixed."
"It's been a really wonderful and joyous thing to have the diversity that the kids are seeing on stage; and see them experience that, knowing that they recognize their own families. ... There's no boundaries for them."
Young People's Theatre – Mary Poppins
Until January 6
Mainstage (Susan Rubes) Theatre 
165 Front Street East 
Toronto ON M5A 3Z4
$10-$54. Recommended for ages 5 and up.